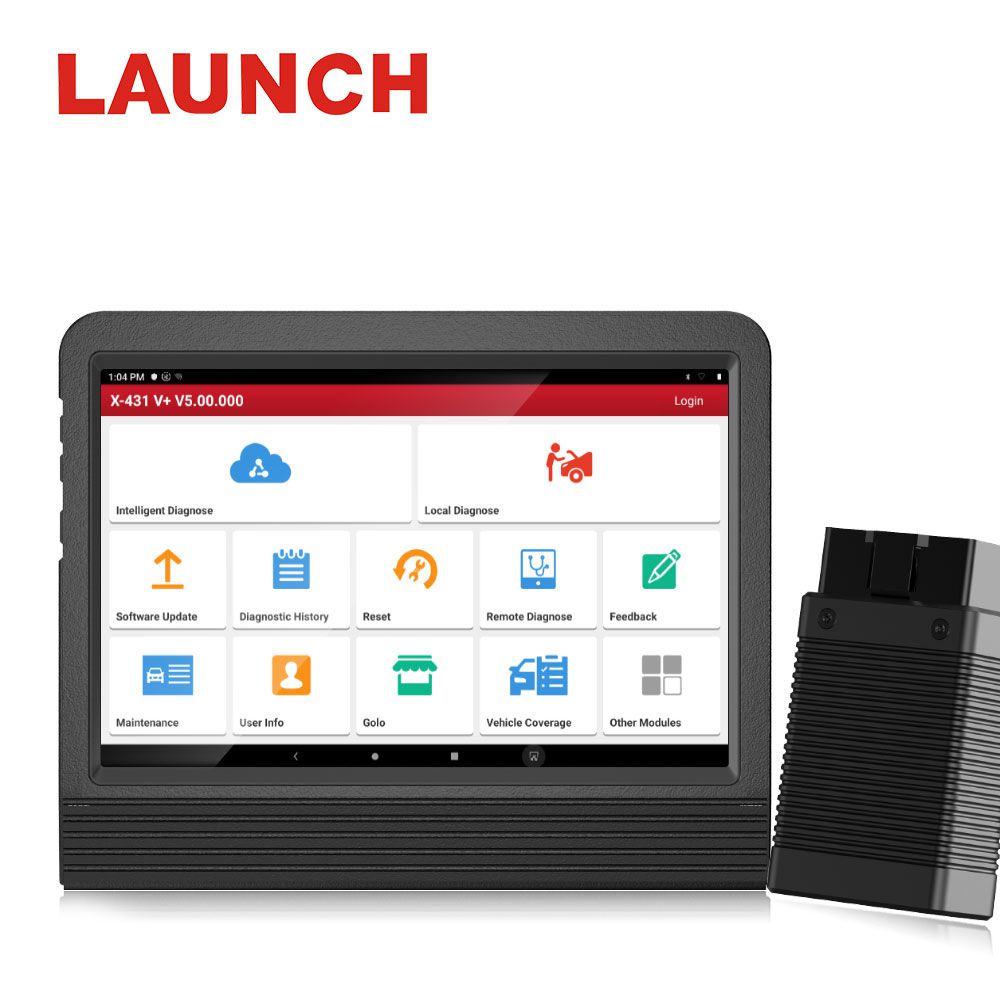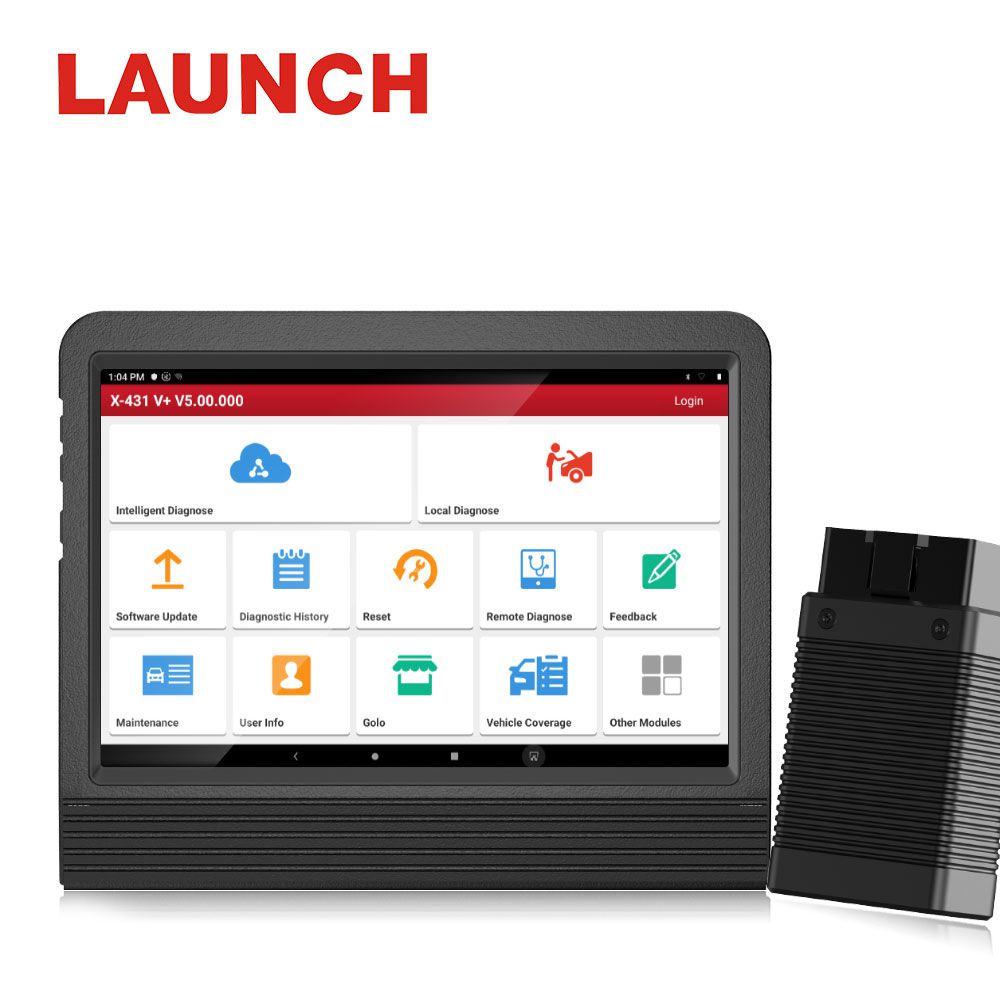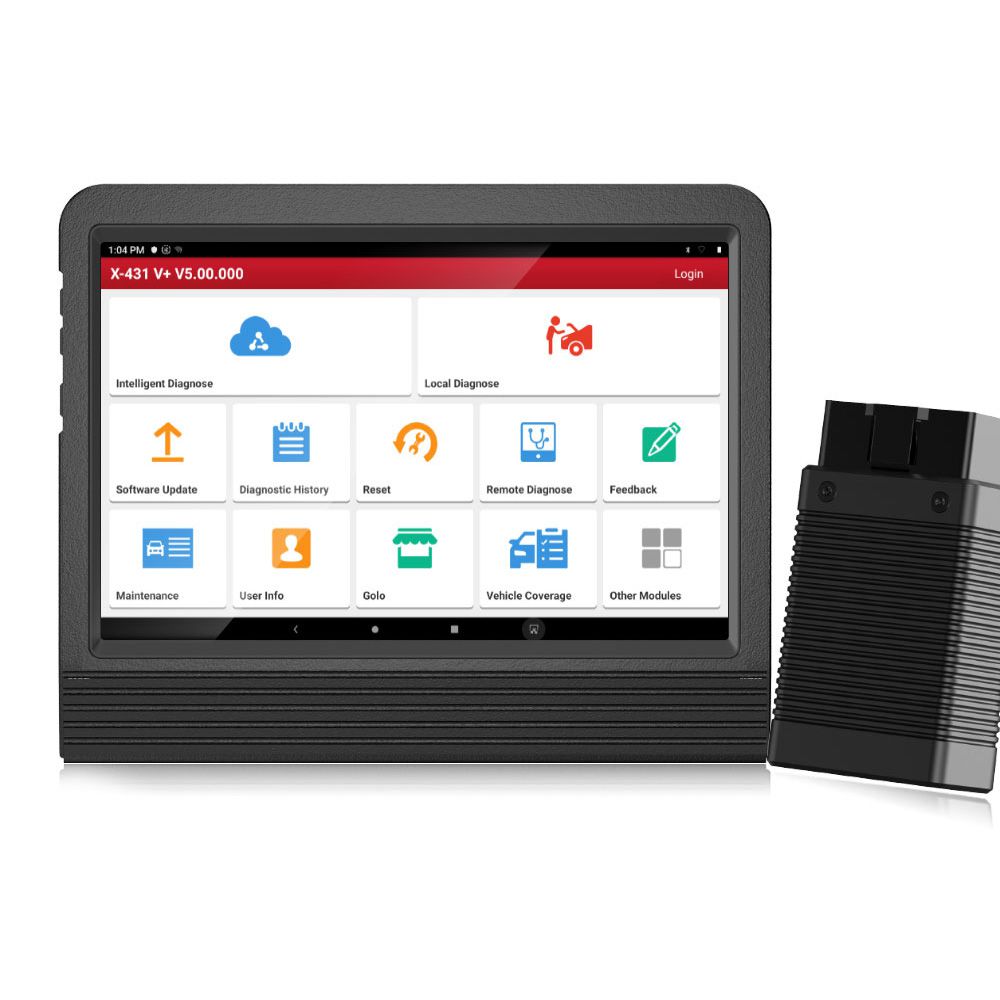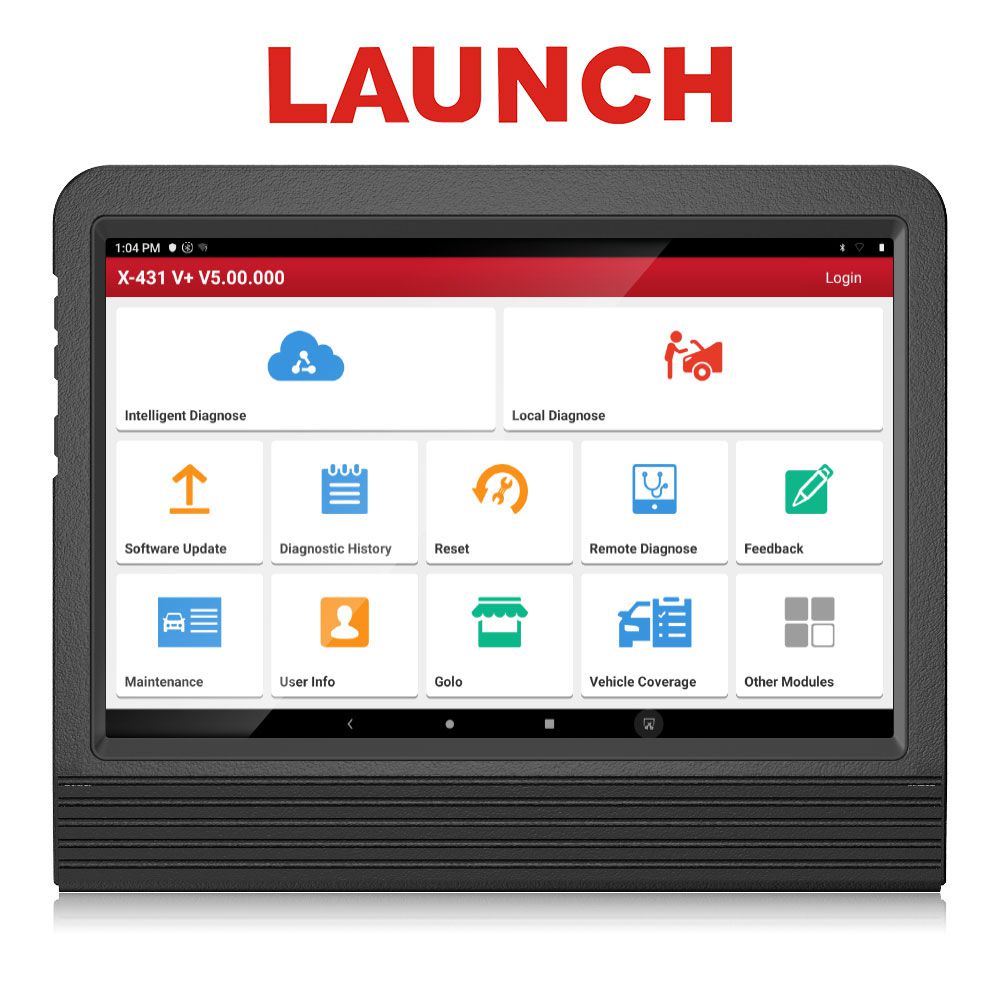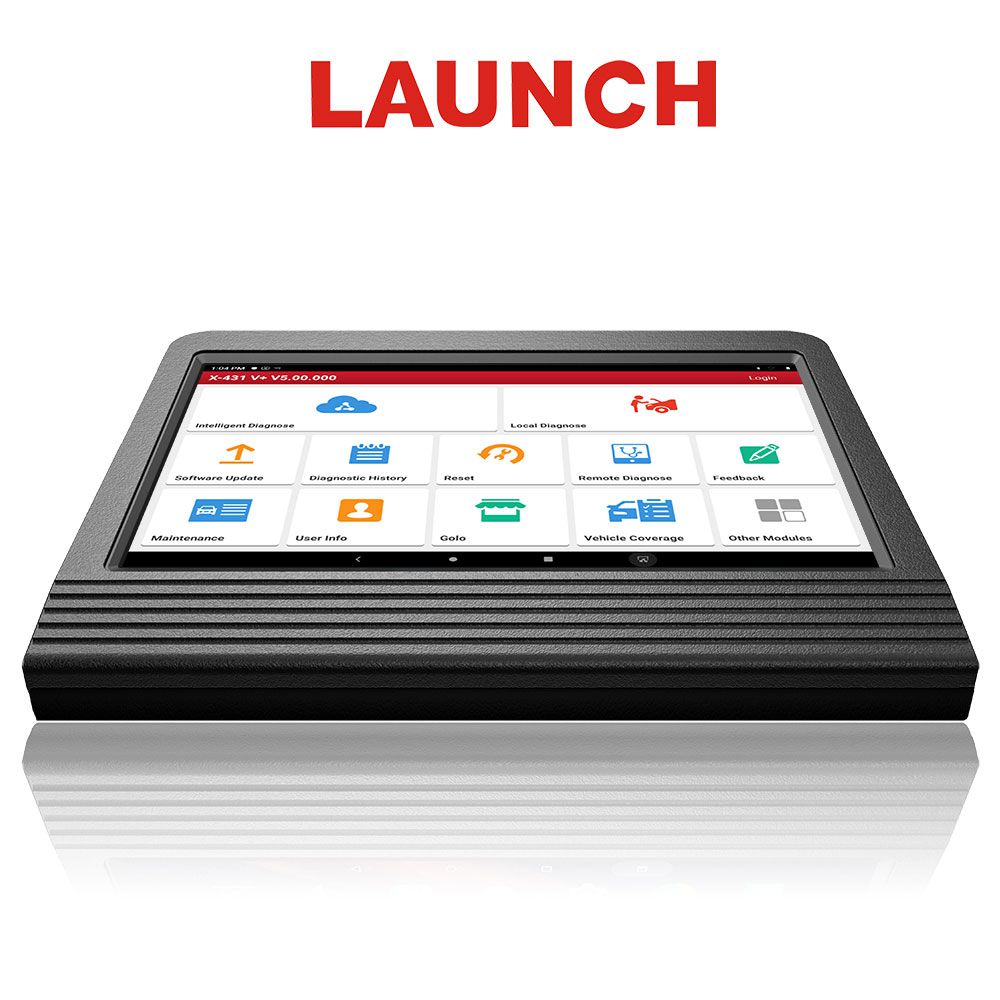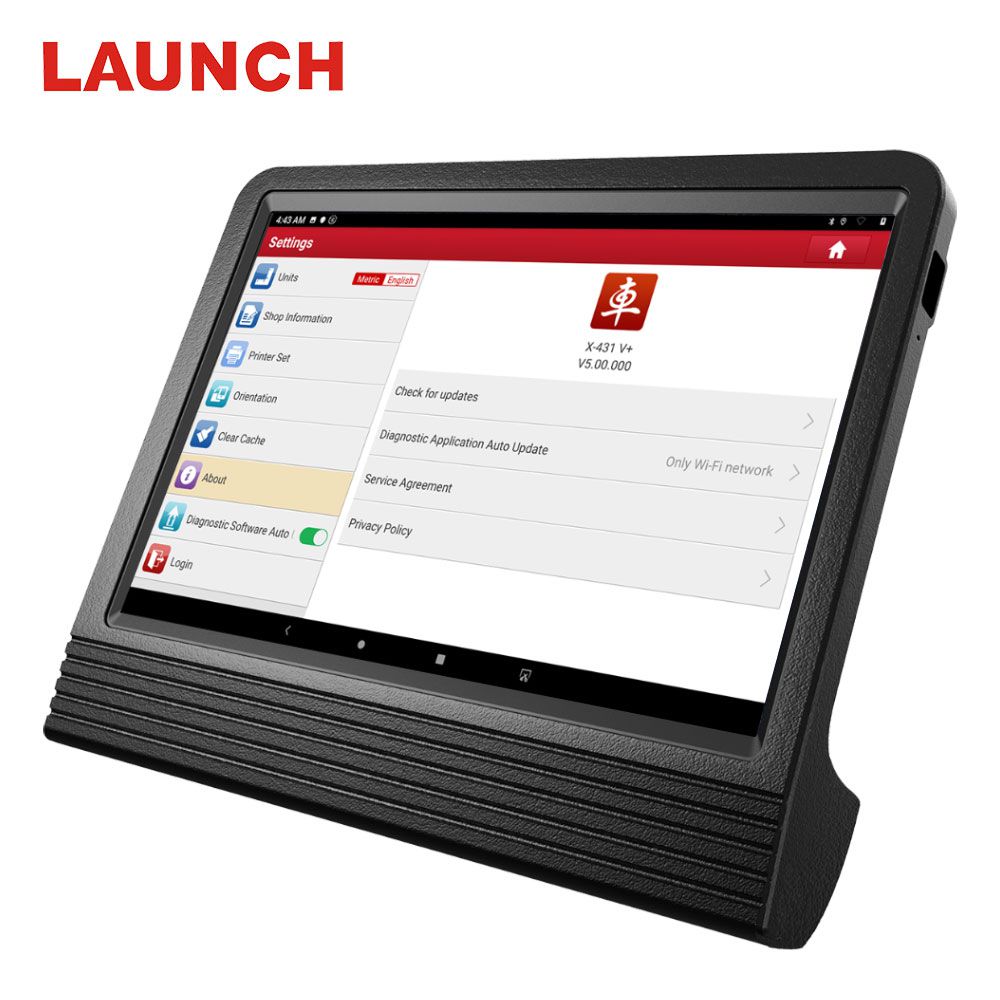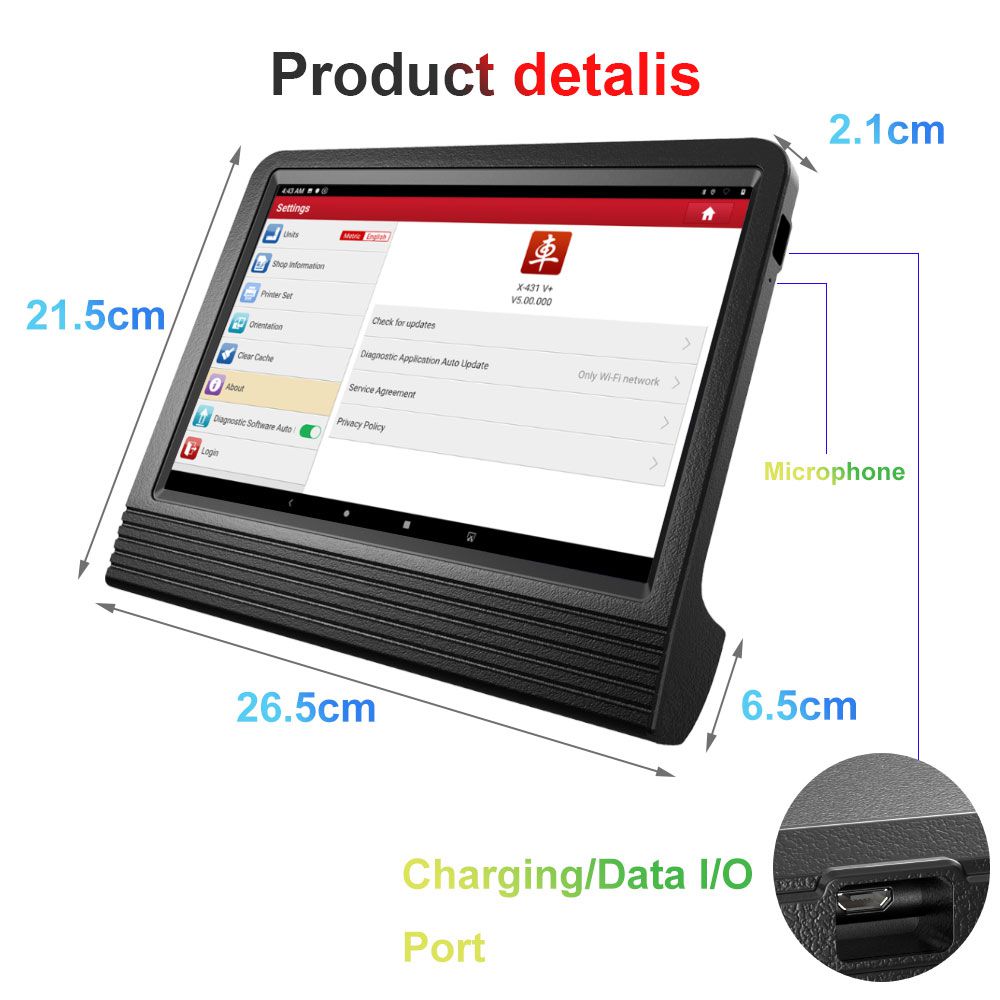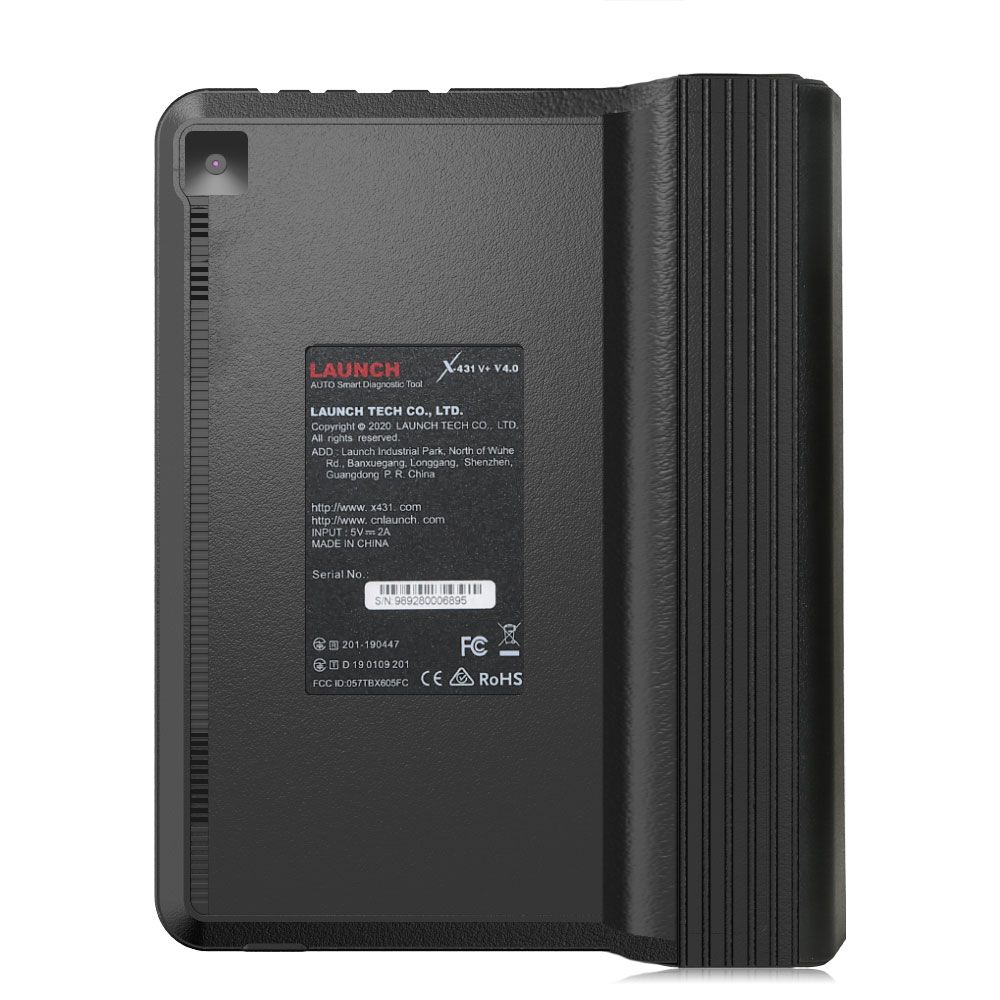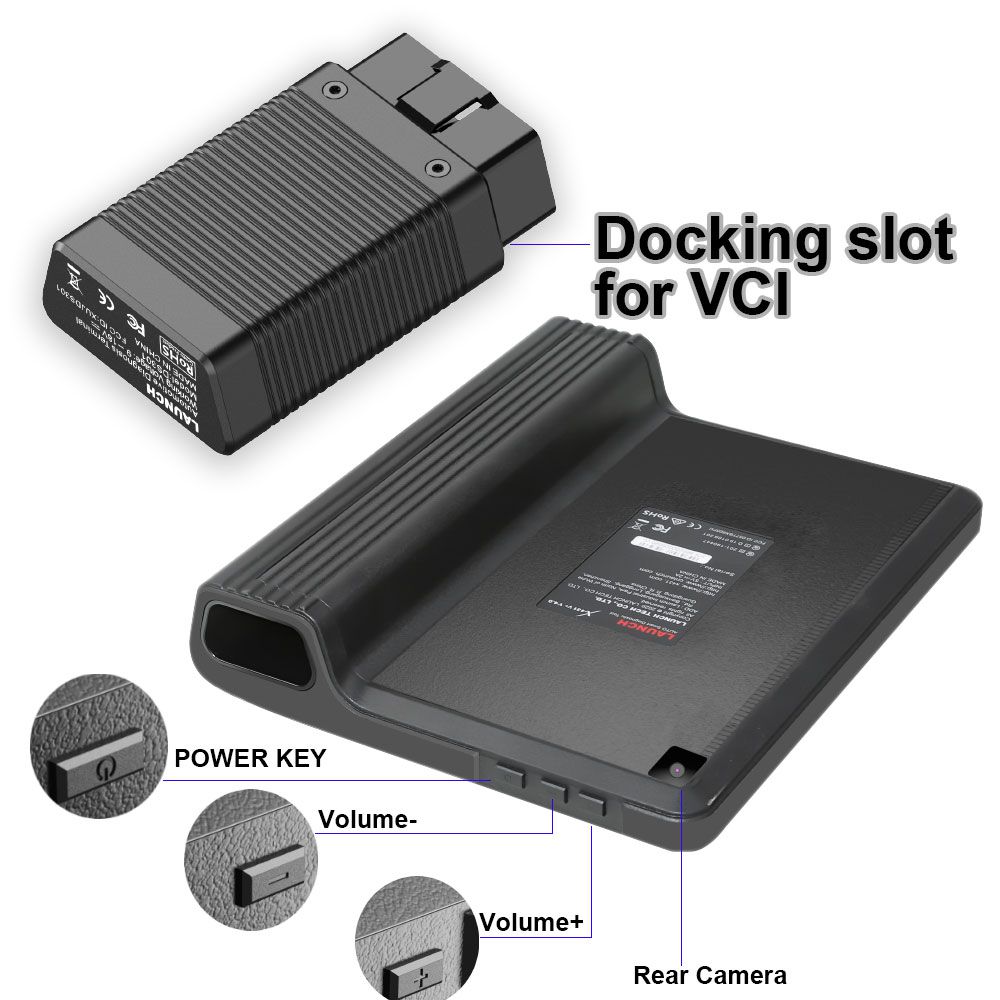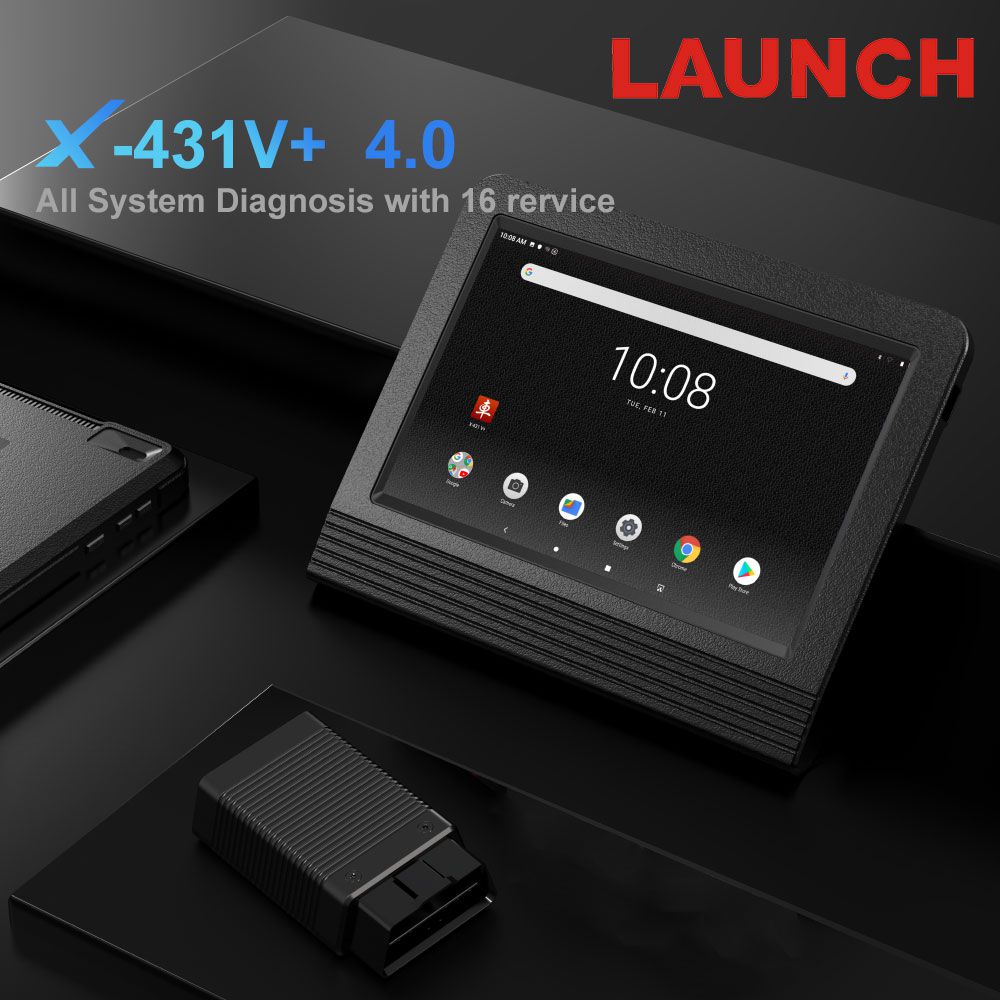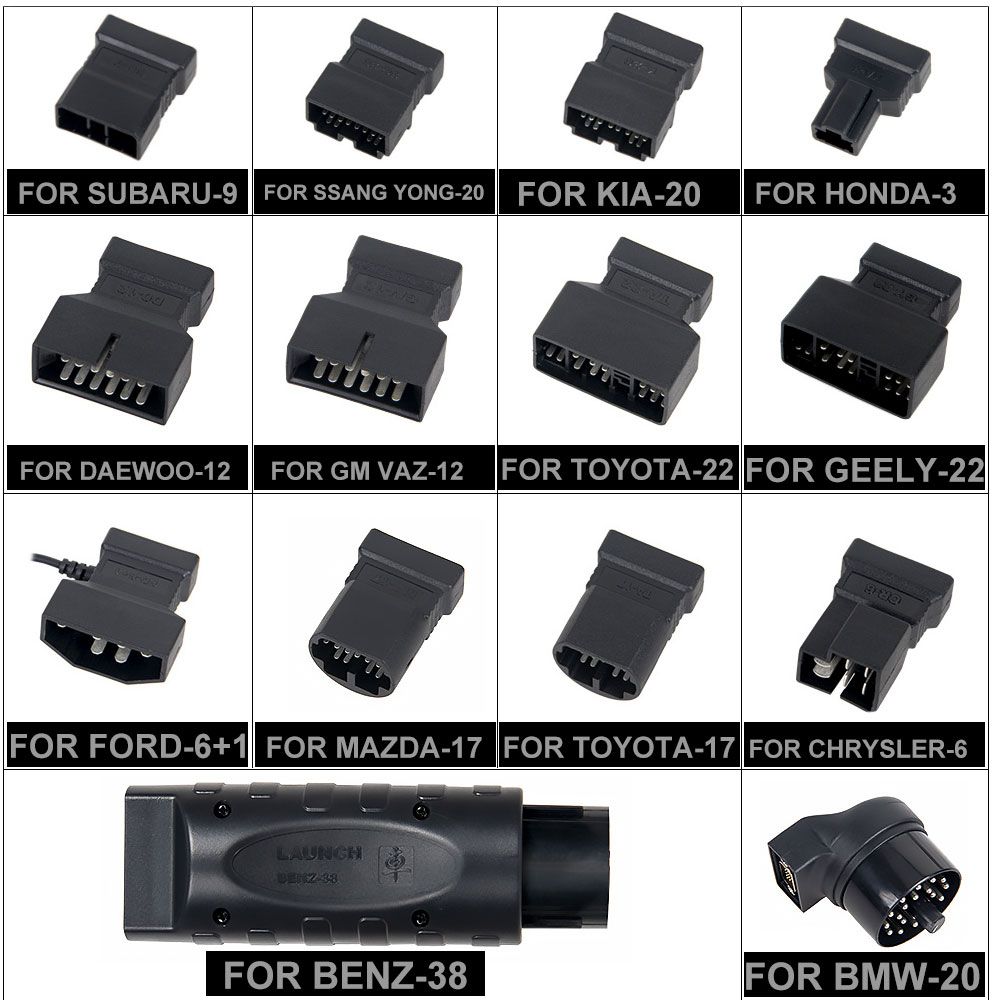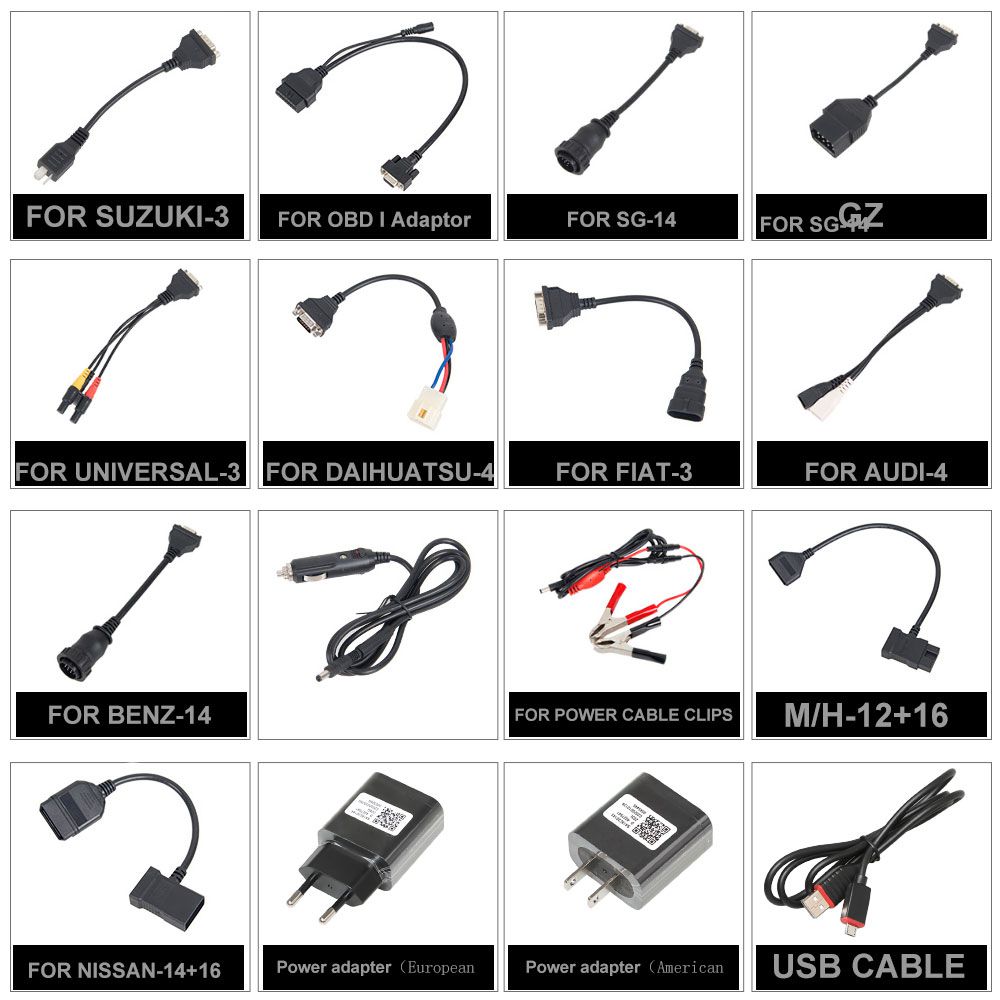 Launch X431 V+ Wifi/Bluetooth 10.1inch Tablet Global Version 1 Years Update Online
1.Launch X431 V+ completely substitutes X431 IV and X431 Diagun III.
2.Support wifi/bluetooth and one click update, make your update job much easier.
3.Contain 72 car brand from USA, European, Asia and so on.
Shipping:

Express Shipping Service


Estimated delivery time:

3-15

working days.

See details »

Returns:

Return for refund within 7 days,buyer pays return shipping.

Read details »

Support:
Related Accessories/Similar Items
Product Details

Product's Reviews
Launch X431 V+ Wifi/Bluetooth Global Version Full System Scanner
Launch
X431 V+ All System Car Diagnostic Scan Tool Automotive Scanner Tablet Wifi Bluetooth with 30 Special Functions ECU Coding + 1 Year Free Update Online + 5 Year Warranty + Multi Languages Supported + Global Version(Can be used in worldwide)+32GB Storage(Can be extended to 128GB)
LAUNCH X431 V+, as the latest high-end handheld vehicle fault diagnostic tool developed by
Launch
, featuring fully updated software's and powerful design of widespread vehicle coverage, abundant professional diagnostic features and exceptional hardware configuration etc., is the ideal scanner for professional mechanics and auto repair stores to perform all-around fixes and comprehensive tests.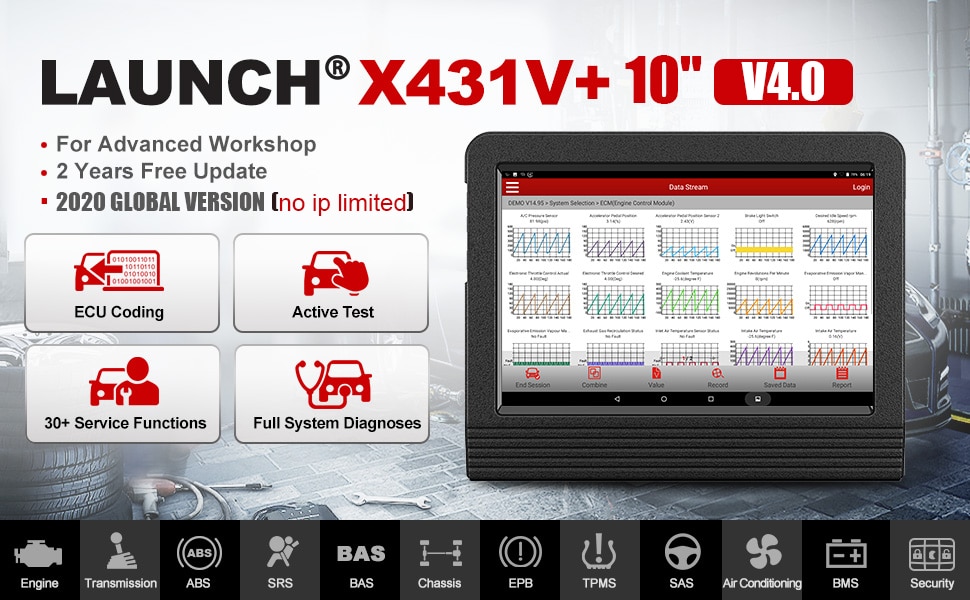 V4.0 2020 Global Version, NO IP Limited . 3GB ROM + 32GB RAM(Can be up to 128GB)
It is Global version, and NO IP limited. You can use it and update it everywhere around the world.
2 Years Free Update + 5 Year Warranty + Lifetime Free Tech Supportted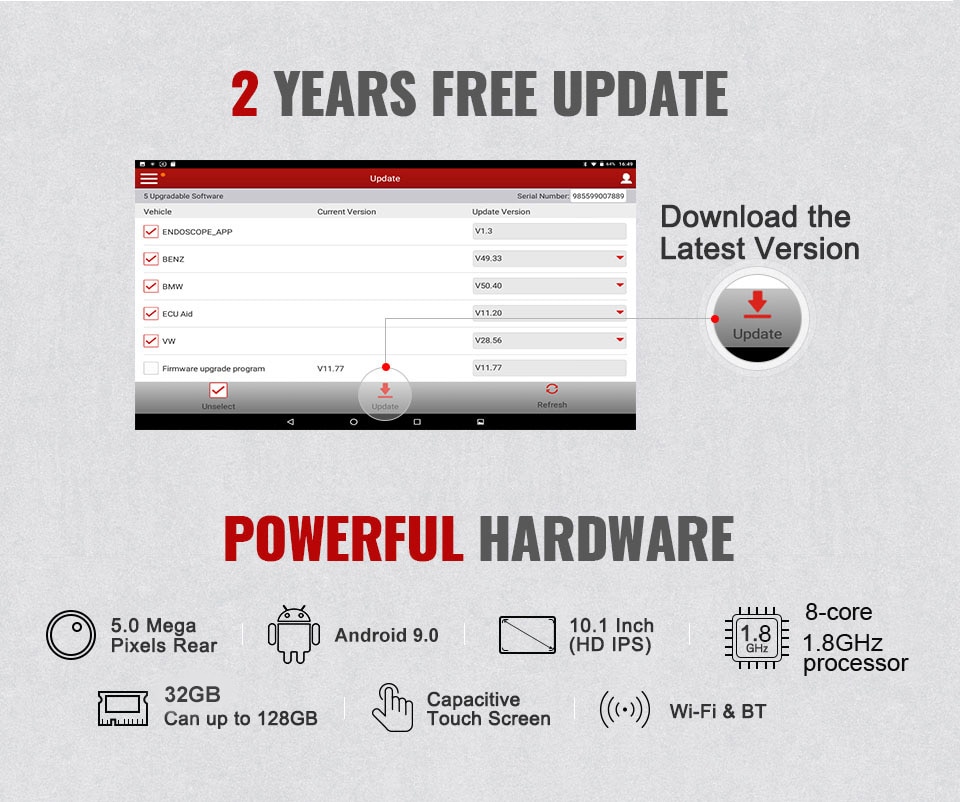 Multilingual Support
Italian, English, Chinese simplified, Chinese traditional, German, Japanese, Russian, French, Spanish, Portuguese, polish, Turkish, Dutch, Greek, Hungarian, Arabic, Danish, Korean, Persian, Romania, Serbia, Finnish, Swedish, Czech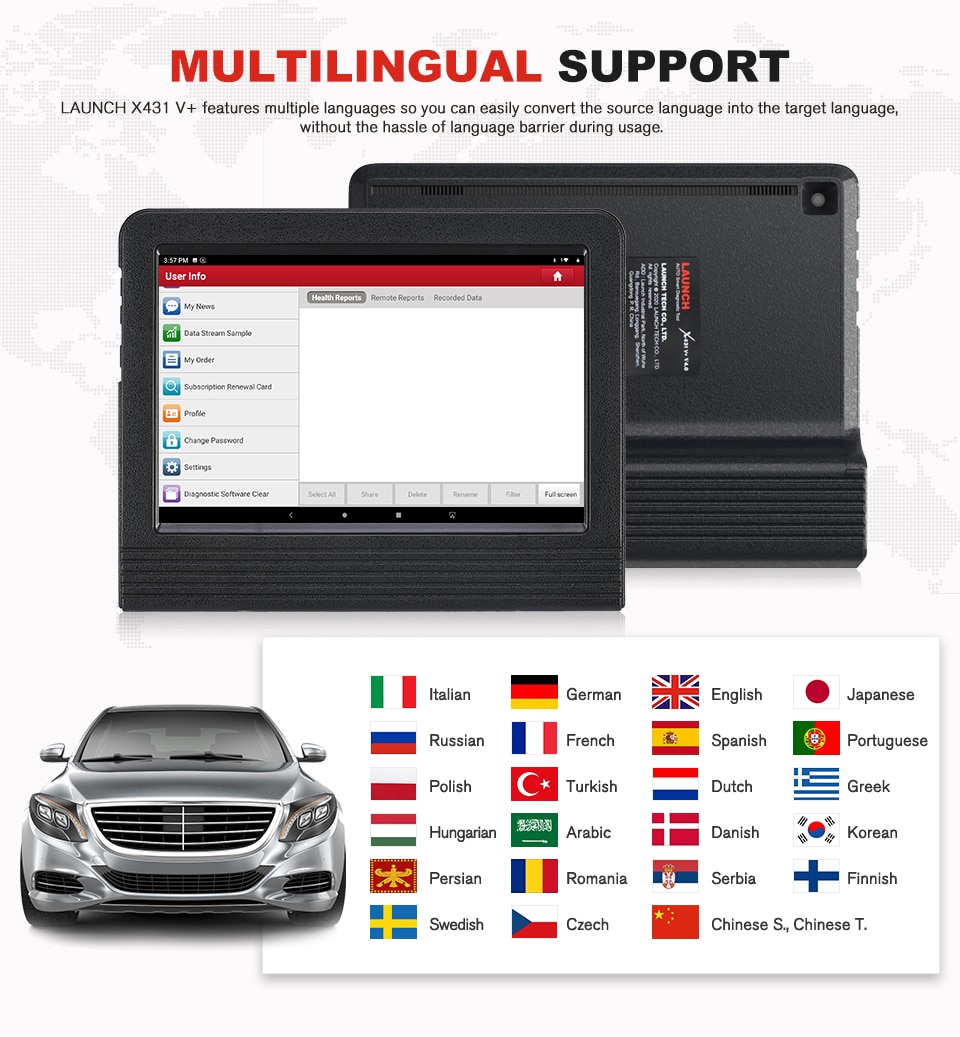 How to become a car repair technician quickly?----Powerful Guided Functions for VW and Audi Brands
Only X431 V+ has guided functions among all online products of LAUNCH. Guided Functions show all specific operating instructions step by step, and automatically run the instructions to do the resetting, matching, coding etc. You just need to follow the instructions and click complete/continue to do it. It is a good assistant helping you to find a way during the car repairing.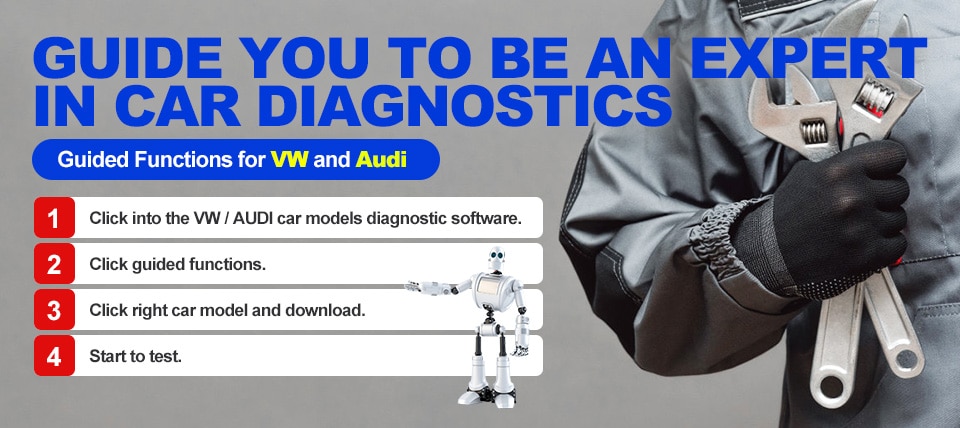 2020 New Added OE-LEVEL Advanced Function of LAUNCH X431 V+ 4.0


√ Guided Functions: Compatible with Volkswagen / Audi / Skoda / Seat etc.
√ Component Matching: Compatible with Volkswagen / Skoda / Seat /
BMW
/
GM
/
FORD
/ Opel / Mazda / Fiat / Honda / Nissan / Hyundai / Kia / Subaru etc.
√ Online Coding: Compatible with Volkswagen / Audi /
BENZ
/
BMW
/ Seat /
Porsche
etc.
√ Online Account Login Service: Compatible with Volkswagen / Audi / Skoda / Seat etc.
√ Online Calibration: Compatible with Volkswagen / Audi / Skoda / Seat etc.
√ Online Parameterization: Compatible with Volkswagen / Audi / Skoda / Seat etc.
√ Anti-theft IMMO Serivce: Compatible with Volkswagen / Audi / Skoda / Seat etc.
√ Power Balance: Compatible with Chrysler /
GM
/
FORD
etc.
Programmable Module Installation: Compatible with
FORD
/ Mazda etc.
√ Flash Hidden Functions: Compatible with
BMW
/
Porsche
/
TOYOTA
/ Subaru etc.
√ Actuator Test : Injector Test ;Turn Off ACC Lane Keeping Assist
System (LKAS) ;Turn ON/OFF Front and Rear side ACM Solenoid , turning the fuel pump on and off, cycling the a/c ,clutch on and off, Left clutch electromagnetic coil test,Acceleration Device Test,Oil Pressure Control Test,DYNAMIC camera aiming,Vehicle level position calibration, Brake Vacuum Pump, Inlet and Outlet Valve tests, Open Brakes tests, Parking Brake Botors, Wheel Speed Sensor Supply, PARKING BRAKE tests (Vary by car, Hundreds of actuation test functions ) …
More functions and vehicle coverage is developing and waiting you to discover ........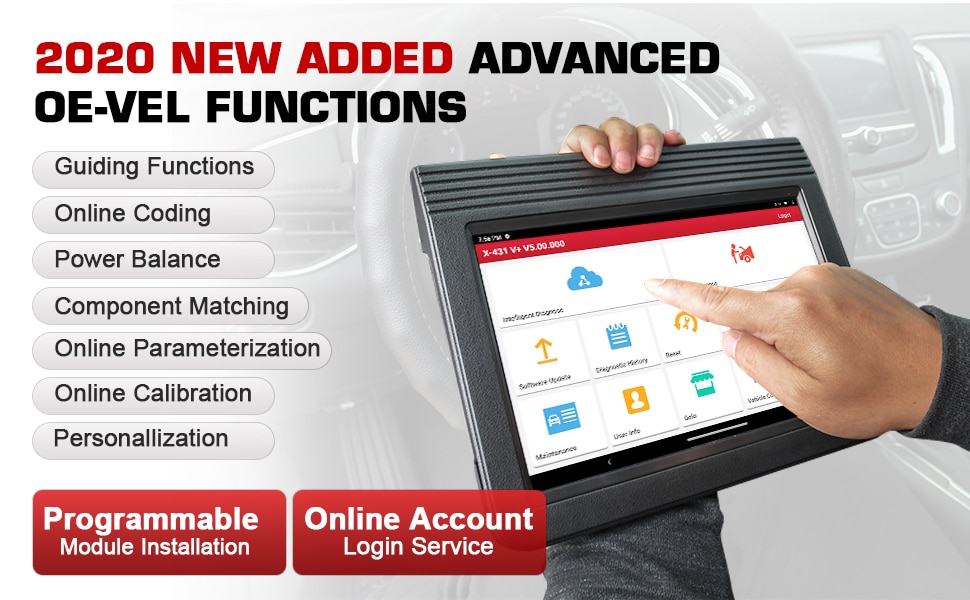 ECU Coding and Active Test
This diagnostic tablet supports ECU coding function on a large amount of makes, including for
BENZ
, for Ford and more. It also supports quick diagnosis via one-button VIN scanning.
Active test is to test output elements. You can figure out whether a specific subsystem or component in your car functions well or not by using this tool to make the tester outputs function instead of checking in ignition status.
ALL Systems` Diagnoses ALL Systems` Diagnoses (Faster and more effective than OE-level coverage diagnostic equipment)
X-431 V+ 10" V4.0 can diagnose the electronic control system of prevailing vehicle models covering Asian,European, American and China. Full range car models and full car system diagnose make itaprofessional automotive diagnostic tool.
Include : ABS System, Engine System, SAS System , TPMS System , IMMO System , Battery System ,Oil Service System , SRS System ,DPF System ,Air Conditioning System,Transmission System, ect...
Diagnosis functions include: Read DTCs, Clear DTCs, Read datastream, Actuation Test , AF Adjustment ,ECU coding and More15 Special Function ect...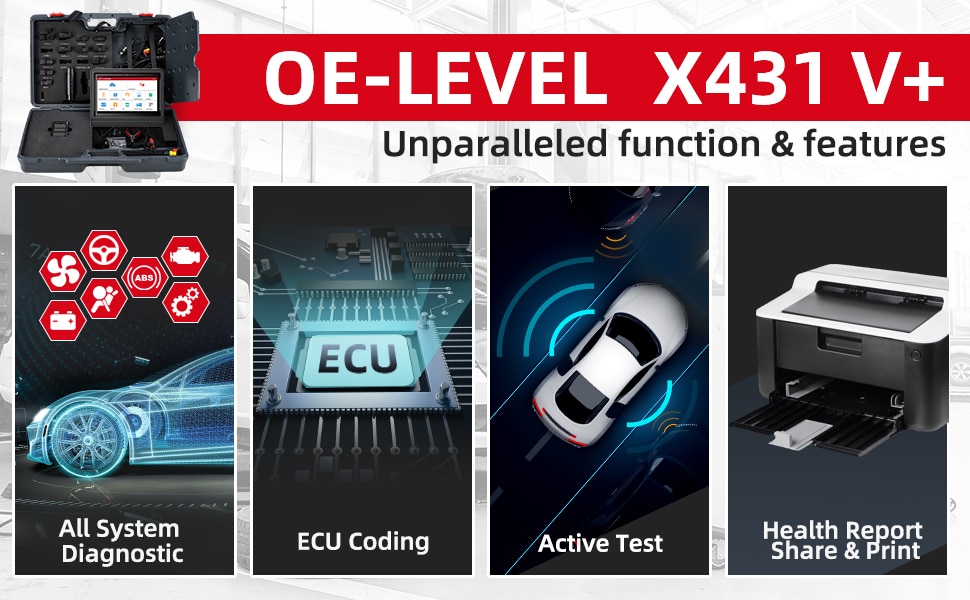 30+ Most-Commonly Used Maintenance Services


LAUNCH X431 V+ provides 30+ powerful special functions for precise test result of vehicle health status. You can find 15 kinds of commonly used reset functions in the reset menu, and other special functions in the car brand diagnostic softwares menu.

1. Oil Reset :

Close the oil service light and reset service mileage & service interval after replacing the engine oil.
2. Steering Angle Calibration


-Clear memories of the previous steering angle sensor and store the replaced one.
3. Electroniac Parking Brake Reset
-Reset the new electronic parking brake for braking wheels safely again.
4. Battery Register & Battery Maintenance


Perform a reset on the vehicle battery for clearing the fault information and re-match the battery.
5. ABS Bleeding


-Get a firm brake pad after air exhaustion.
6. Electronic Throttle Position Reset & Learn


-Initialize the throttle actuators to the default state for regulating throttle (or idle engine) operations accurately.
7. Diesel Particulate Filter (DPF) Regeneration


-Clear particulate matter from the DPF filter to stabilize the filter performances
8. Tire Pressure Monitor System Reset


-Relearn TPMS sensors so that new sensors can be recognized by ECU.
9. Tooth Learning


-Finish tooth learning after changing crankshaft in the car engine, so the new part can be used.
10. Anti-Theft Matching (IMMOBILIZER)


- Add a new programmed key. PIN code is required.
11. Injector matching


Write the new injector numbers into the ECU for accurate communication and injection control.
12. AF Adjustment


13. AFS Reset (Adaptive Front lighting System)


It detects the light of the environment, then decides whether to automatically turn on the headlights or not. It can also adjust the headlights in time by monitoring the driving speed and body posture of the vehicle.
14. Air Suspension Reset


For Audi, Mercedes
BENZ
, BMW, Citroen, Chrysler, Ford, GM(Cadillac, Chevrolet,
GM
C,
Holden
) Peugeot, Seat, Skoda, VW, ChangAnFord, DFCitroen, SGM, YQ
VW
15. Gearbox Reset


For BMW, Mercedes Benz,Chrysler, Ford, GM(Buick, Cadillac, Chevrolet, GMC,
Holden
, Hummer, Pontiac, Saturn), ChangAnFord, SGM(BUICK, CADILLAC, CHEVROLET, BUICK TRUCK), BYD, CHANGAN, Chery, Geat Wall, Geely
16. Sunroof RESET


For Mercedes Benz, BMW, CHRYSLER, Cadillac
17. SUS Reset


When the body height sensor and control module in the air suspension system are replaced or the level of the car is wrong, this function needs to be performed to level the body height sensor. -And Windows Calibration, Seats Calibration, Tire Reset, Language Change, A/F Reset, Coolant Bleed, Transport Mode, NOx Sensor Reset, Dblue Reset, Stop/Start Reset.
18. EGR Adaption


Reduce nitrogen oxides (NOx) in the exhaust gas and improve fuel economy at partial load.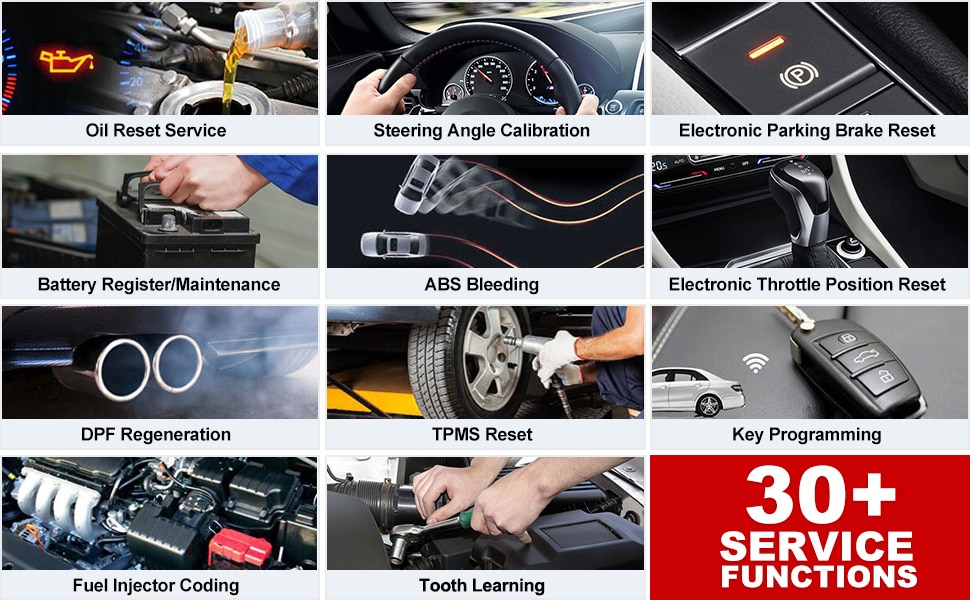 Auto VIN Tech


It supports quick diagnosis via one-button VIN scanning.
Remote Technical Support
By using this function, users can receive ad-hoc remote support from LAUNCH's technical engineers, colleagues, or friends, by allowing them to control this tablet device on their PC via the TeamViewer software.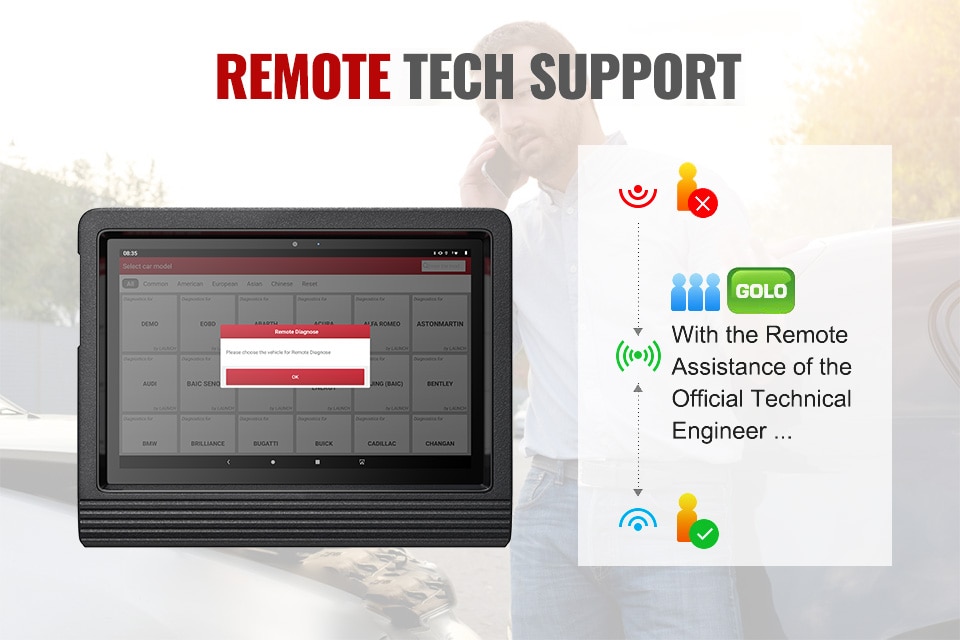 Printer diagnostic result


You can share car diagnostic data via email ,then print it via PC , or optional wifi , and you can order Launch x431 mini wifi printer , then one-key priner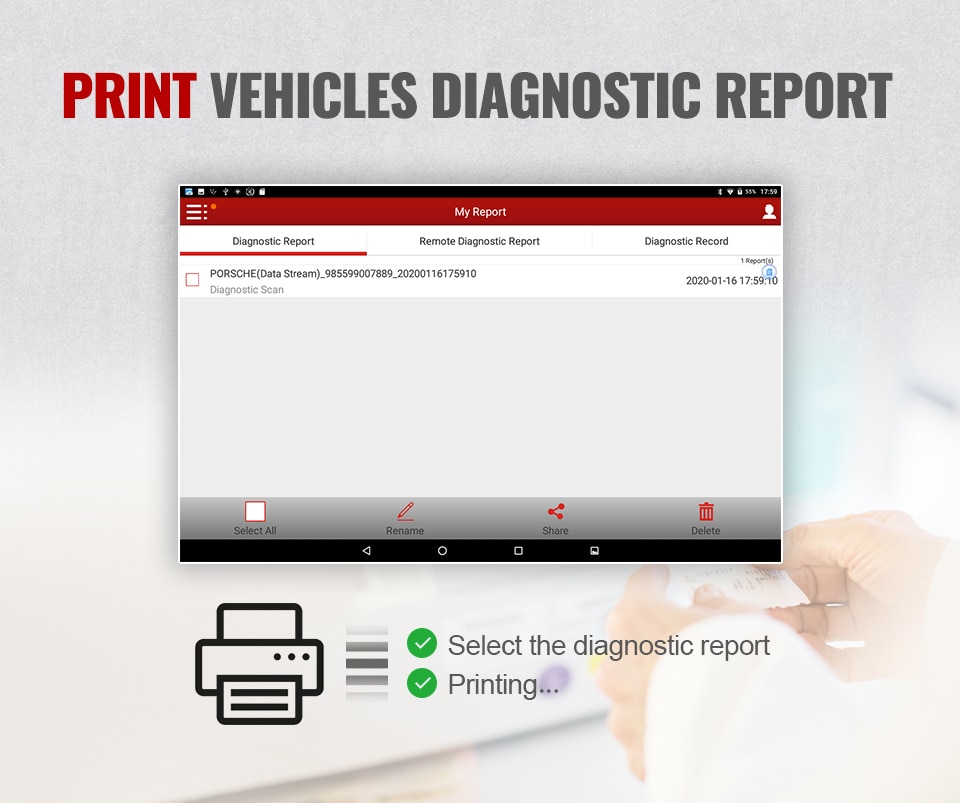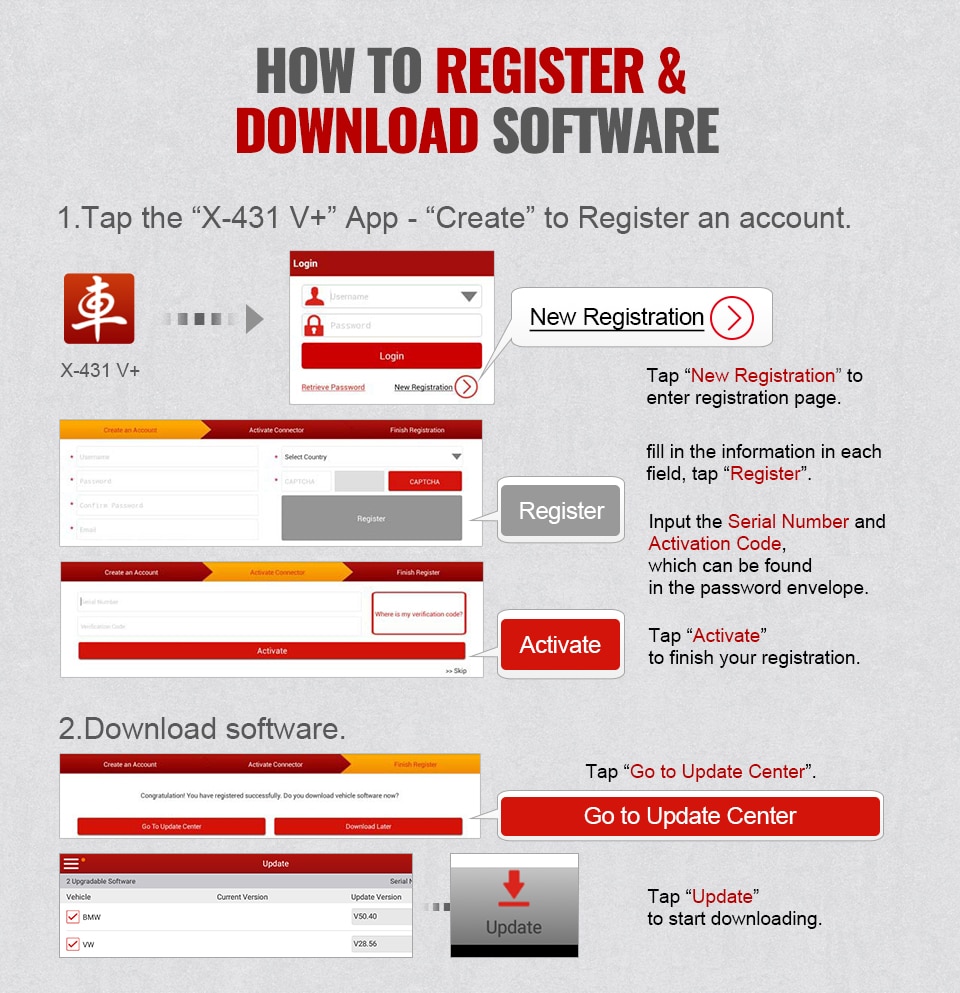 Supports 10000+ car models from America, Europe, Asia (Including Russian car models, Chinese car models, Indian car models, Malaysian car models, Australian car models, Brazilian models, Latin American models and other national car models)
-American Cars
Buick; Cadillac; Chevrolet; Chrysler; Dodge; Ford; GM; Hummer; Jeep; Lincoln; (BRAZIL) BX-Fiat; BX-GM
-European Cars:
Abarth; Alfa Romeo; Audi; Bentley; Benz; BMW; Bugatti; Citroen; Dacia; EU-Ford; Ferrari; Fiat;
Jaguar
; Lamborghini; Lancia; LandRover; Maserati; Maybach; Mini; Opel; Peugeot;
Porsche
;
Renault
; Rolls-Royce; Rover; Saab; Seat; Skoda; Smart; Sprinter; Vauxhall;
Volvo
;
VW
; (UKRAINE) ZAZ; (RUSSIA) GAZ; IZH; PAZ; SEAZ; UAZ; VAZ
-Asian Cars
(JAPAN) Acura; Daihatsu; Honda; Infiniti; Isuzu; Jpisuzu; Lexus; Mazda; Mitsubishi; Nissan; Nissan GTR; Scion; Subaru; Subaru; Suzuki; Tlisuzu;
TOYOTA
; (KOREA) Daewoo; Hyundai; KIA; Samsung; Ssangyong; (CHINA) Baic; Beijing; Changan; Changan-Ford; Changcheng; Changhe; Ch
SUZUKI
; DF Peugeot; DF Honda; DF Nissan; DF XK; Flyer,BYD; Fukang; Futian,Foton; Geely; Gonow; GZ Honda; Hafei; Haoqing; HC BMW; Hmada; Huachen; Isuzu,JMC; Jacty; Jianghuai; Jiao; Jinlong; Joylong; Lifan; Liuwel-TY; Luxgen; NJ Fiat; Qirul-TY,chery; Qoros; Saicmg; Spark-TY; TJ
TOYOTA
; Trumpchi GAC; Weili; Xiaokang Dongfeng; Xili,Faw Tianjin; Xinkai; YQ Mazda; Zhongshun; Zhongtai,Zotye; Zhongxing; (INDIA) Mahindra; Maruti; Tata; (MALAYSIA) Perodua; Proton; (IRAN) MVM

-Australian Cars
Au-Ford;
Holden
Bluetooth and Wi-Fi Enabled
You are able to do remote control as this tool can be used through Bluetooth or Wi-Fi. And via Bluetooth, it is simple for DBScar diagnostic connector to communicate with X431 V+.

Anti-theft Matching
This function can protect your car from being stolen by clearing the
lost
car key information and programming new key into the ECU database. Also known as keys programming.
Practical Remote Diagnosis
Not only users can launch the remote diagnosis with other diagnostic tools of LAUNCH family, which are equipped with this module as well, also they can ask for the remote control through phones, tablets, and computers etc. It has realized the reality that a mechanic can diagnose an abnormal vehicle which is even thousands of miles away.
Social Network
This vehicle code reader helps quickly retrieve vehicle history maintenance record so you can get a series of useful diagnostic references and recourses when you meet any problems in the process of repairing. In addition, you are able to connect with other users, sharing experiences of your automobile maintenance.
Product Specifications:
Operating System: Android 9.0
CPU: Qualcomm Snapdragon 450, 8-core 1.8GHz
Battery: 7000mAh rechargeable polymer lithium battery
Memory: 3GB
Storage Capacity:32GB (UP TO 128GB)
LCD: 10.1 inch
LCD Resolution: 1920*1200 IPS
Touch Screen: Capacitive Touch Screen
Cameras: 5.0 mega pixels front and 8.0 mega pixels rear.
Wi-Fi: 802.11a/b/g/n/ac (2.4GHz / 5GHz)
Bluetooth: Supported
Working Temperature: 0 ~ ℃ 45℃
Storage Temperature: -20 ~ ℃ 70℃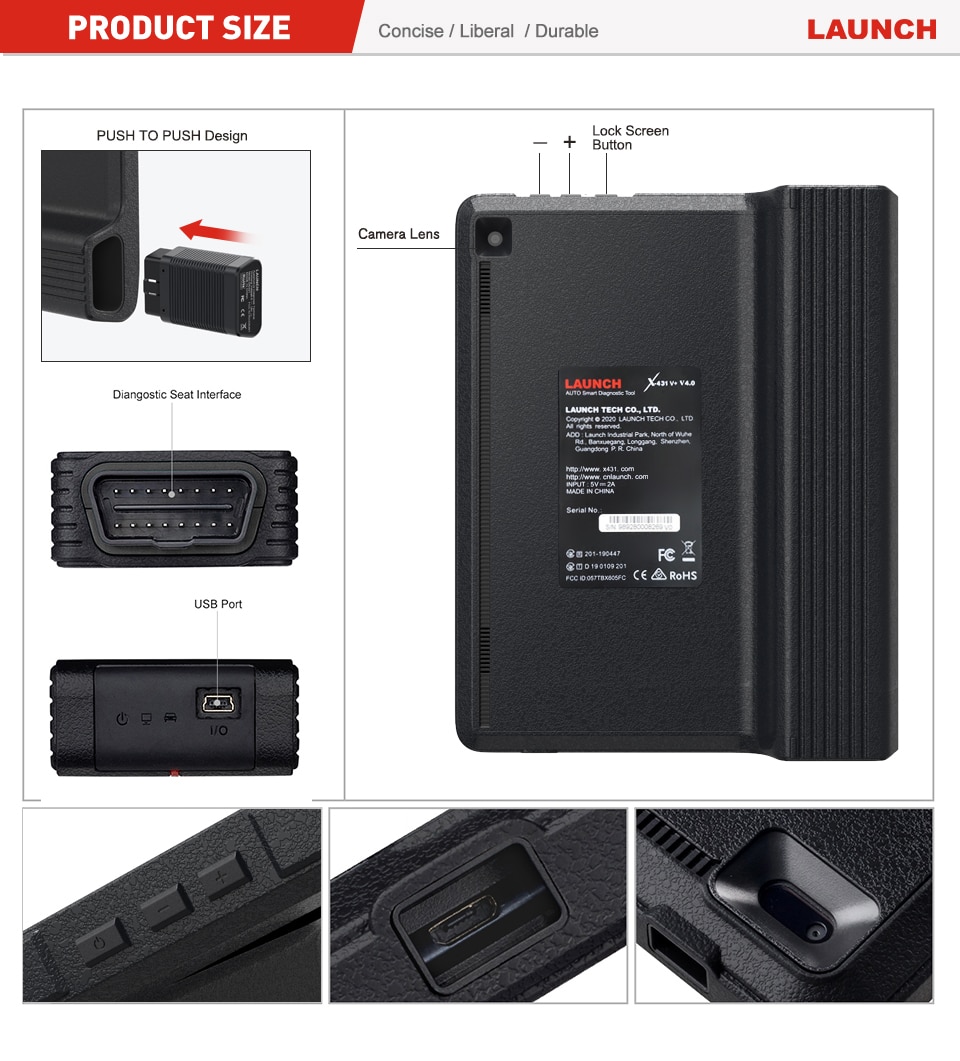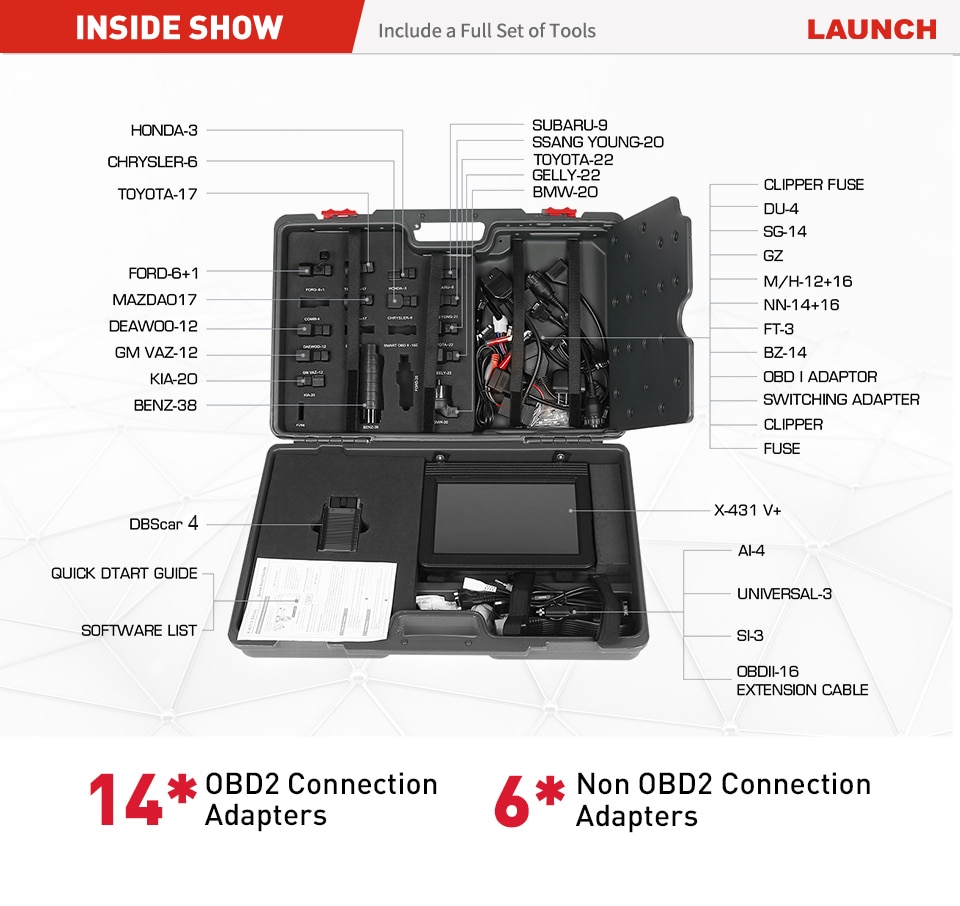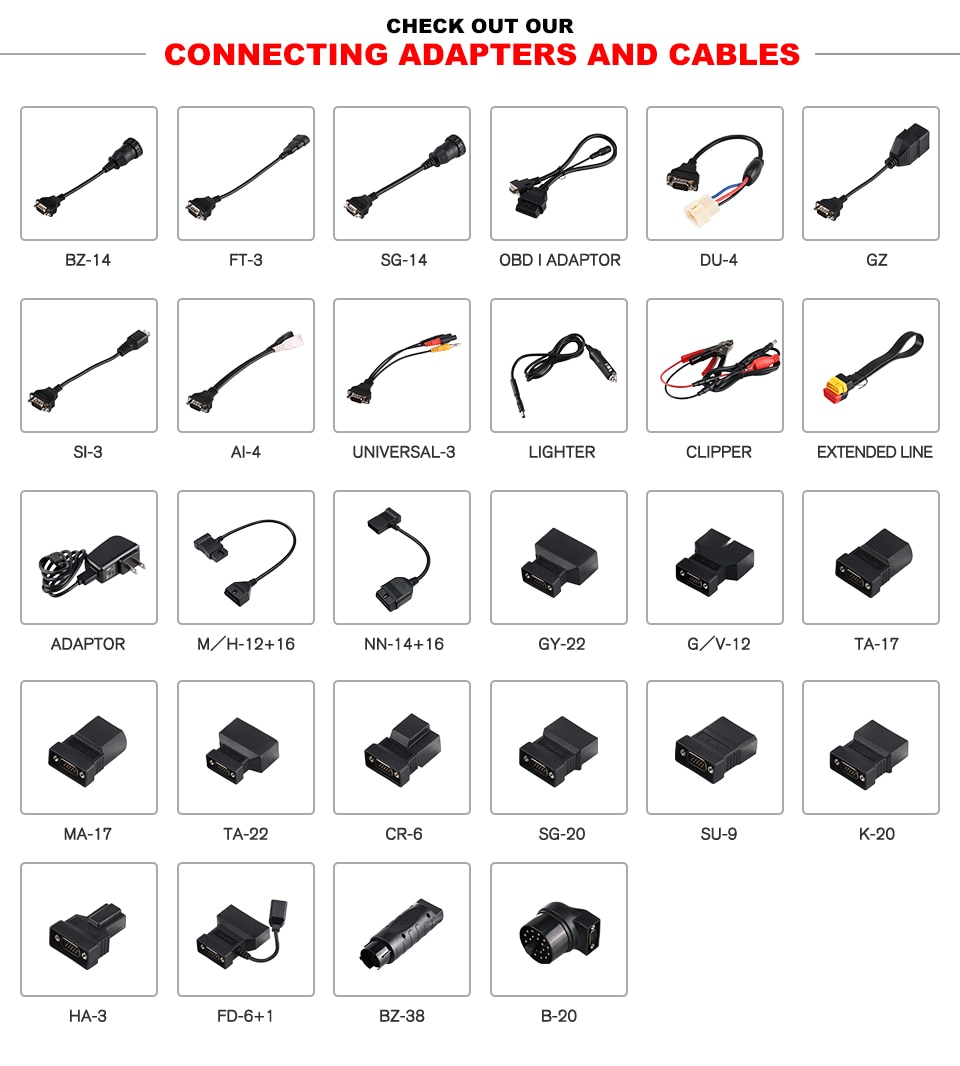 X431 V+ Package List
1*Storage Case
1*LAUNCH X431 V+ 4.0
1*DBScarII Bluetooth OBD2 Connector
1*AUDI-4 Adapter
1*BENZ-14 Adapter
1*BENZ-38 Adapter
1*BMW-20 Adapter
1*CHRYSLER-6 Adapter
1*DAEWOO-12 Adapter
1*DAIHATSU-4 Adapter
1*FIAT-3 Adapter
1*FORD-6+1 Adapter
1*GAZ Adapter
1*GEELY-22 Adapter
1*HONDA-3 Adapter
1*KIA-20 Adapter
1*MAZDA-17 Adapter
1*MITSUBISHI/HYUNDAI-12+16 Adapter
1*NISSAN-14+16 Adapter
1*SSANGYONG-14 Adapter
1*SSANGYONG-20 Adapter
1*SUBARU-9 Adapter
1*
SUZUKI
-3 Adapter
1*TOYOTA-17 Adapter
1*TOYOTA-22 Adapter
1*UNIVERSAL-3 Adapter
1*OBD 1 Adapter BOX
1*AIT I OBD16 Extension Cable.
1*X-431 PRO5 USB A to Micro cable, RoHS
1*Cigarette Lighter Line (English, without LAUNCH Logo), RoHS
1*Power Cable with Double Clamp (English, without LAUNCH Logo), RoHS
1*Quick Start (English), RoHS
1*Manual (English), RoHS
1*Password Envelope
1*Power Adapter 5V, 2A (US Standard), TB-X605FC, LX, RoHS
1*Power Adapter 5V, 2A (EU Standard), TB-X605FC, LX, RoHS
4*Fuse 5*20 mm
2*Fuse 6*30 mm