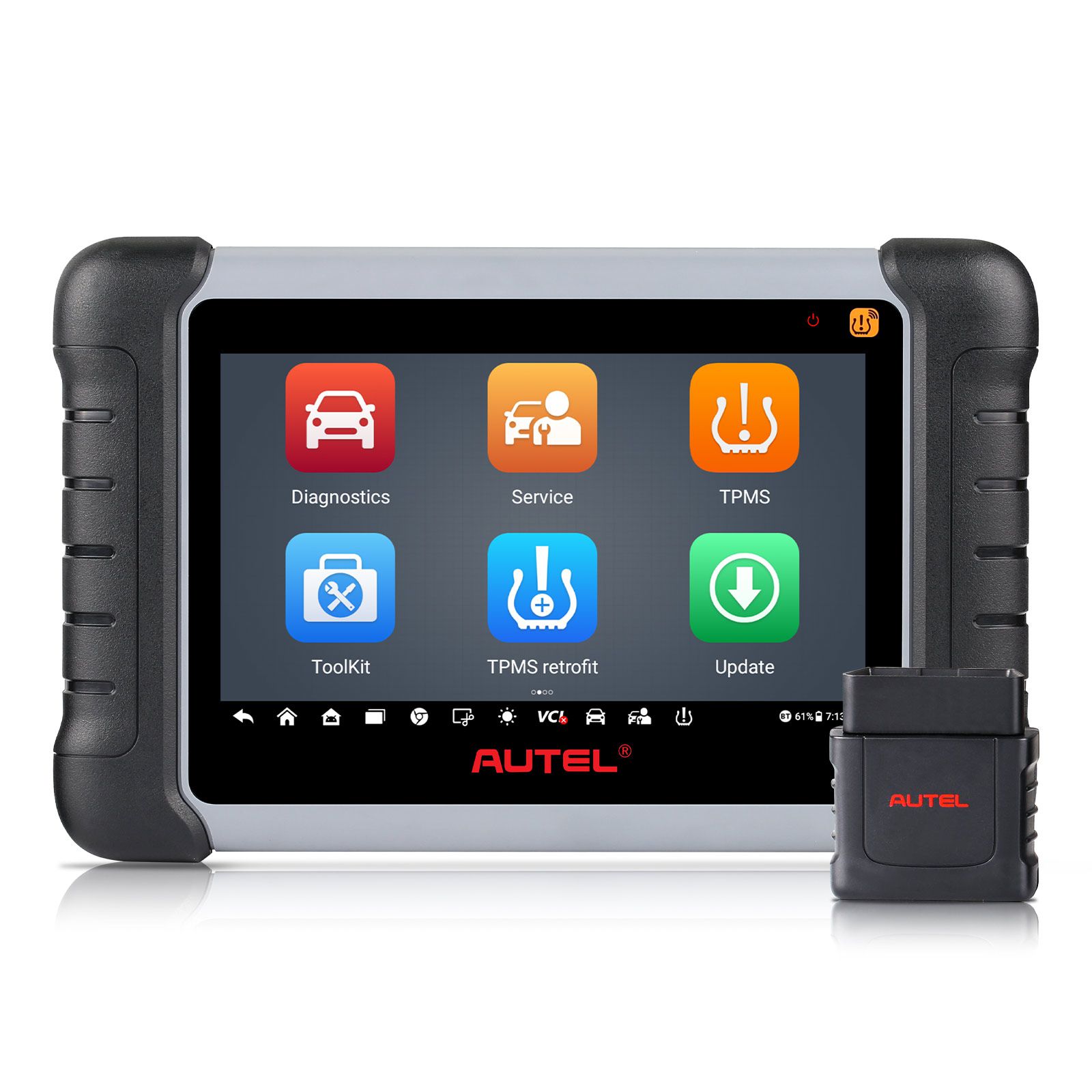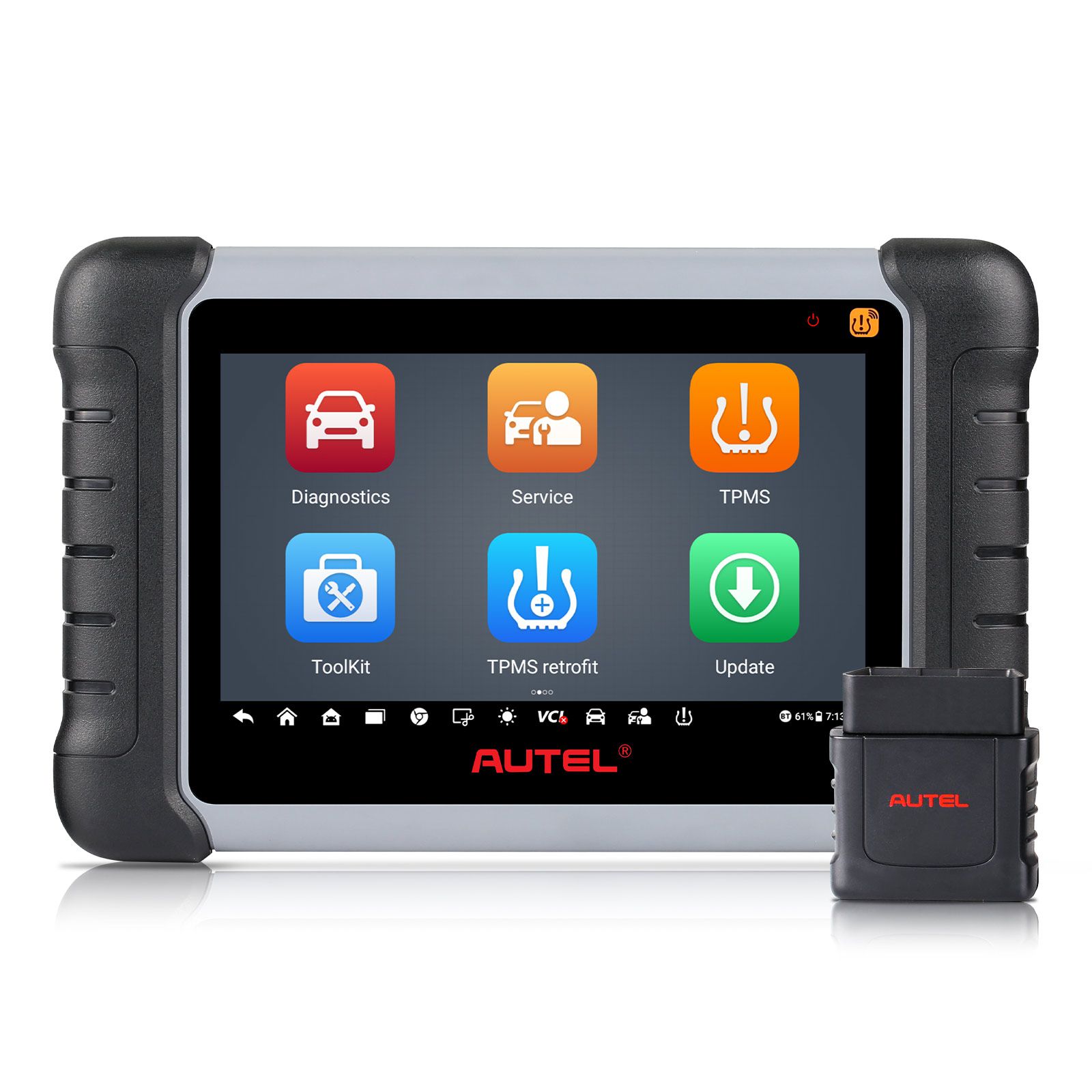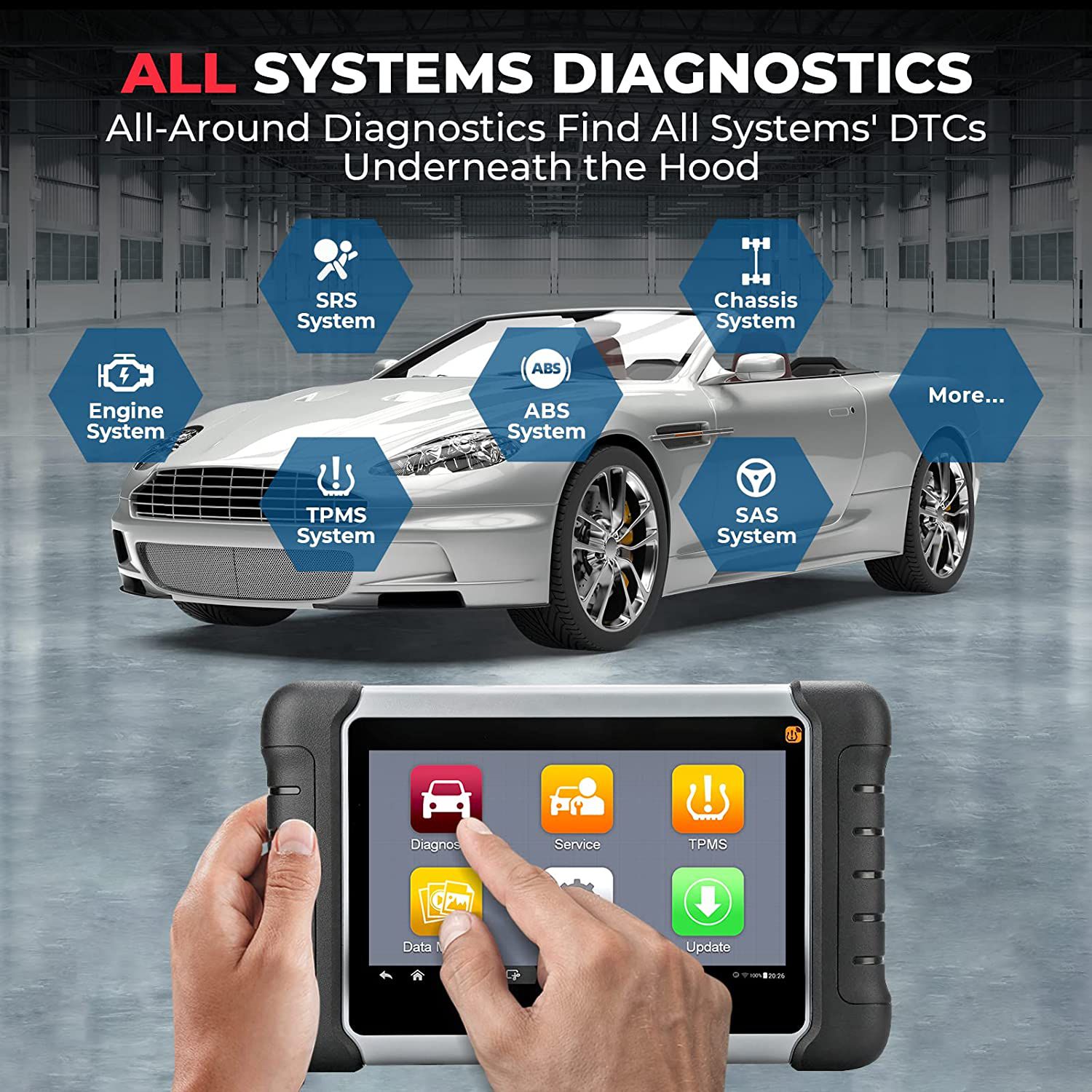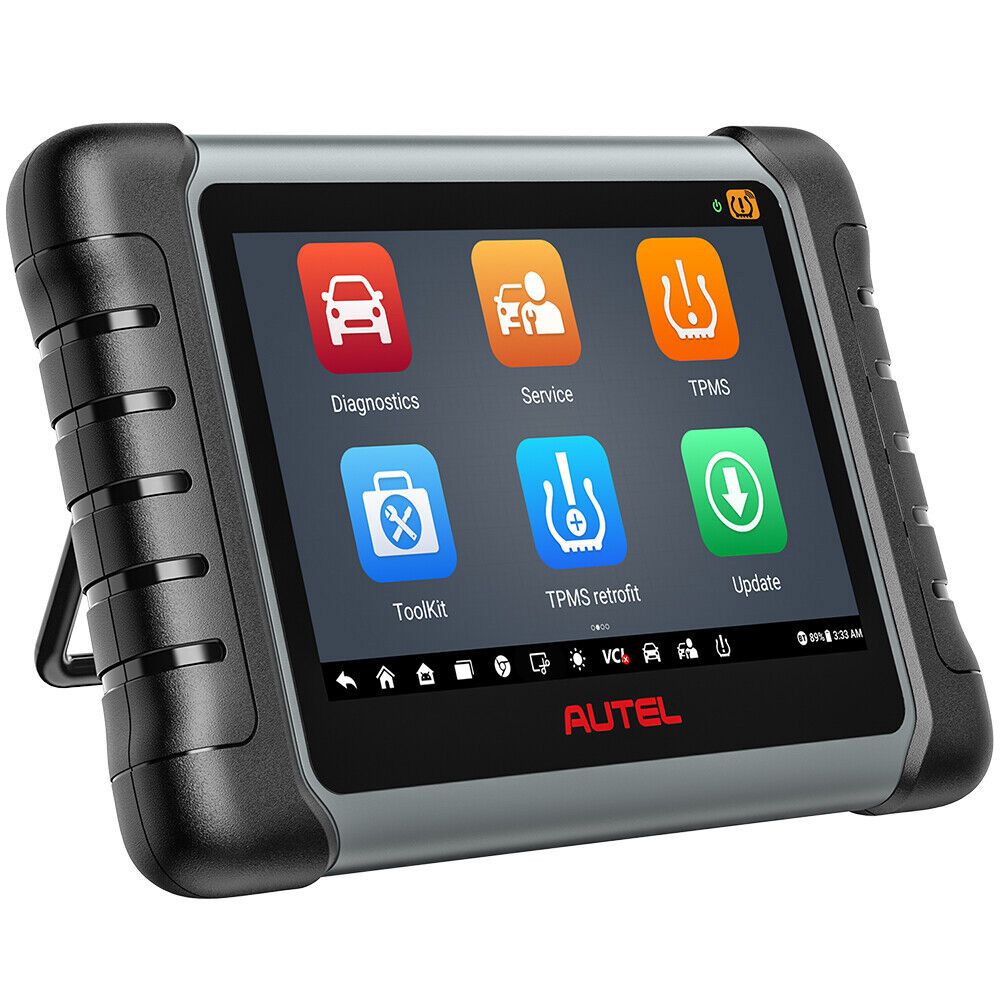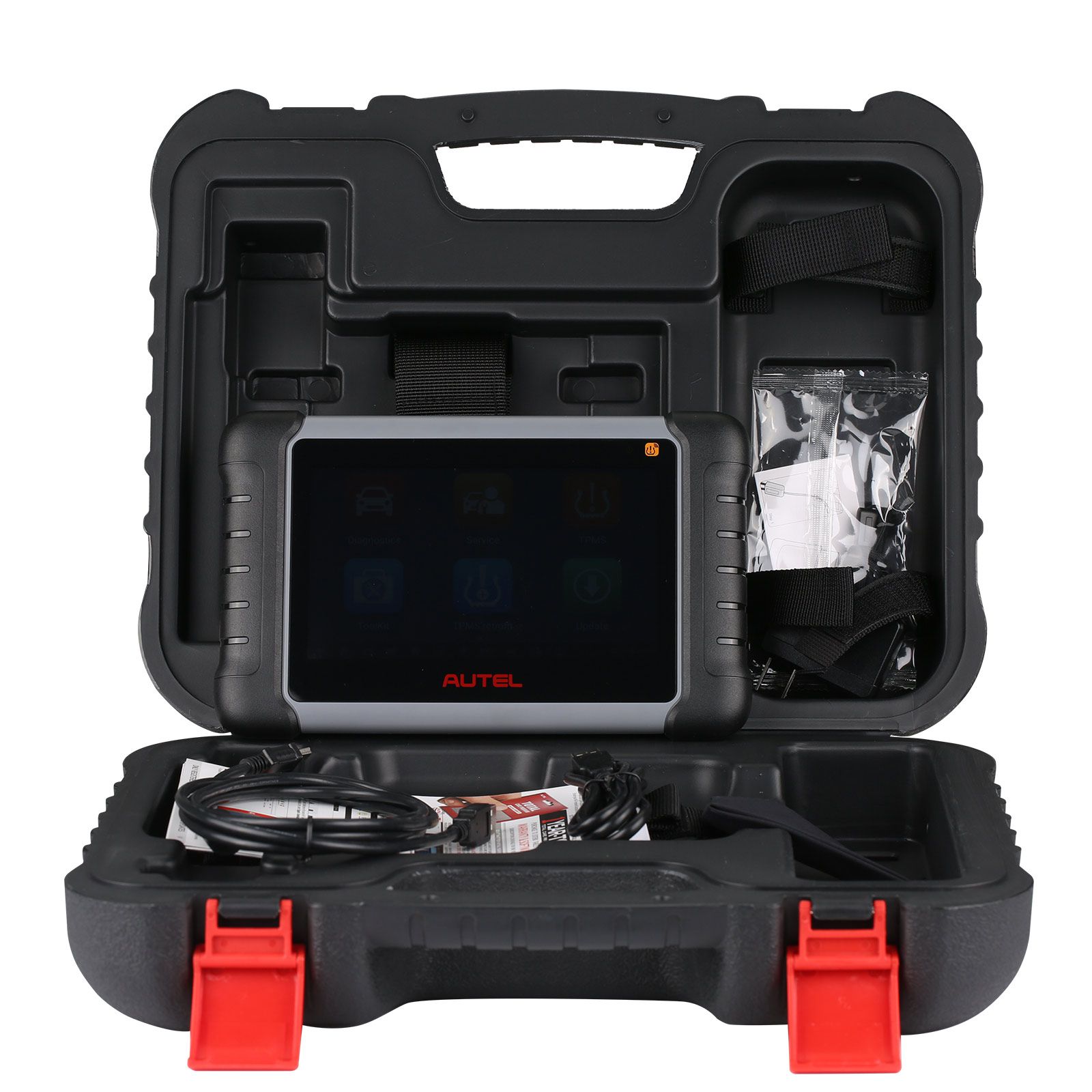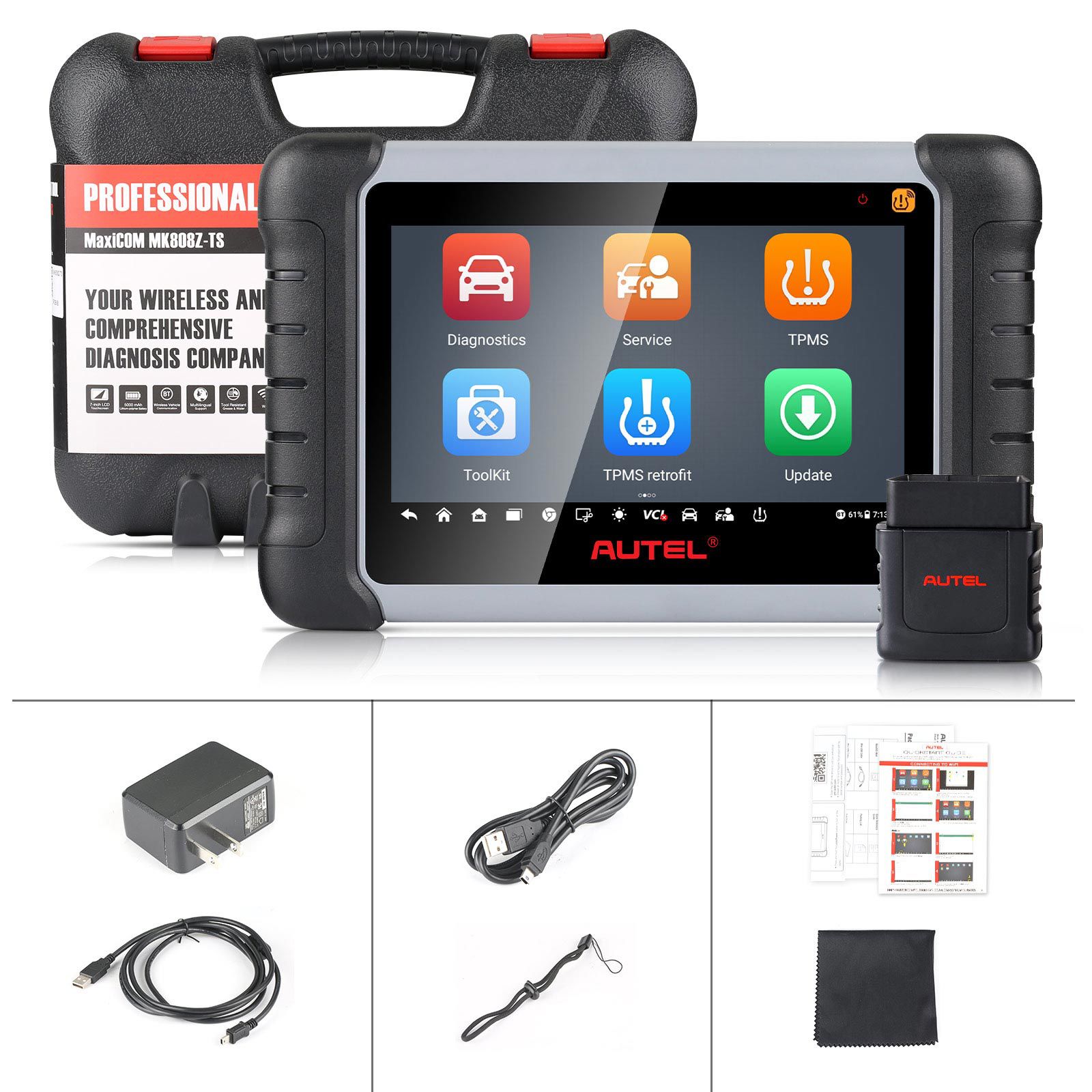 2023 Autel MaxiCOM MK808S-TS Bidirectional & TPMS Programming Relearn Tool with 28+ Special Functions AutoAuth for FCA SGW Upgrade of MK808TS/ MK808BT
2023 Autel scanner MK808S-TS is a tablet capable of performing a variety of advanced services functions such as active test, complete TPMS functions, TPMS retrofitting, 28+ reset services, and whole-system diagnostics, etc. It perfectly combines the functions of comprehensive scanners (MK808S) and professional TPMS tool (TS601) into one.
Shipping:

Express Shipping Service


Estimated delivery time:

3-15

working days.

See details »

Returns:

Return for refund within 7 days,buyer pays return shipping.

Read details »

Support:
Product Details

Product's Reviews
Autel MaxiCOM MK808S-TS Bidirectional & TPMS Programming Relearn Tool with 28+ Special Functions AutoAuth for FCA SGW Upgrade of MK808TS/MK808BT
Autel
MK808S-TS is a 7-inch OBD2 scanner tablet capable of performing a variety of OBD2 functions and advanced services functions. As an upgraded model of MK808/MX808/MK808BTMK808S/MK808TS, it contains all the diagnostic functionalities and masterly integrates the functions of professional TPMS tool TS601 to perform complete TPMS functions. What might surprise you is that MK808S-TS contains all the functions of an advanced diagnostic scanner and a master TPMS tool but at a far more affordable cost than purchasing two devices.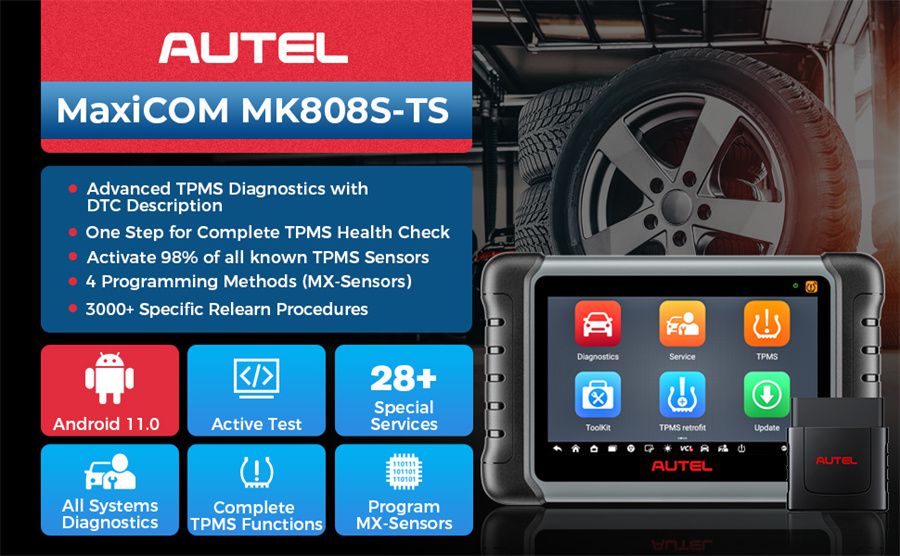 Highlights:1. Advanced Hardware:
Upgraded from MK808TS, yet featuring 5X faster processor, the latest Android 11.0, 4GB of RAM, and much better diagnostic response; designed to economize diagnostic effort while delivering accuracy of identifying faults. It perfectly combines the functions of comprehensive scanners (MK808S) and professional TPMS tool (TS601) into one.
2. Bidirectional Control/Active Test:
Testing vehicle-specific components (relays, injectors, coils, solenoids valves, actuators, etc.) without manual control; deliver fast results in 5 minutes.
3. Extensive Compatibility:
Extensive vehicle coverage for more than 80 US, Asian and European vehicle makes and models.
4. Whole-Systems Diagnostics:
Exceptional OE-level diagnostics cover for all electronic systems.
5. Full TPMS Features:
Advanced TPMS diagnostics with DTC description
One step for complete TPMS health check
Activate 98% of all known TPMS sensors
Program
Autel
MX-Sensor
On-screen 3000+ relearn procedures
6. 28+ Special Functions:
In-depth and OE (Original Equipment)-level reset functions meet all your maintenance requirements.
7. 1-Stop Multitasking:
Designed for ideal management of workshop operations to keep all data files, customer info, and vehicle records well organized.
8. Online Wi-Fi Update:
Automatic system and software updates with real-time push message notifications via Wi-Fi
9. Auto VIN Technology:
Automatically identify the vehicle's make, model, and year information in no time.
10.Support Multi-Language:
English, French, German, Spanish, Portuguese, Dutch, Polish, Swedish, Korean, Japanese, Russian, Italian. You can select the appropriate language for your own diagnostic tool Autle MK808S-TS in the language setting.
11. Support Australia Holden and FordBi-Directional Tool. Work Smarter, Create Superfast
Autel MaxiCOM MK808S-TS is a full bidirectional scan tool. It means you can send the command to the ECU and receive a response; simply put, you can control car functions directly from the tablet without using the vehicle's own control.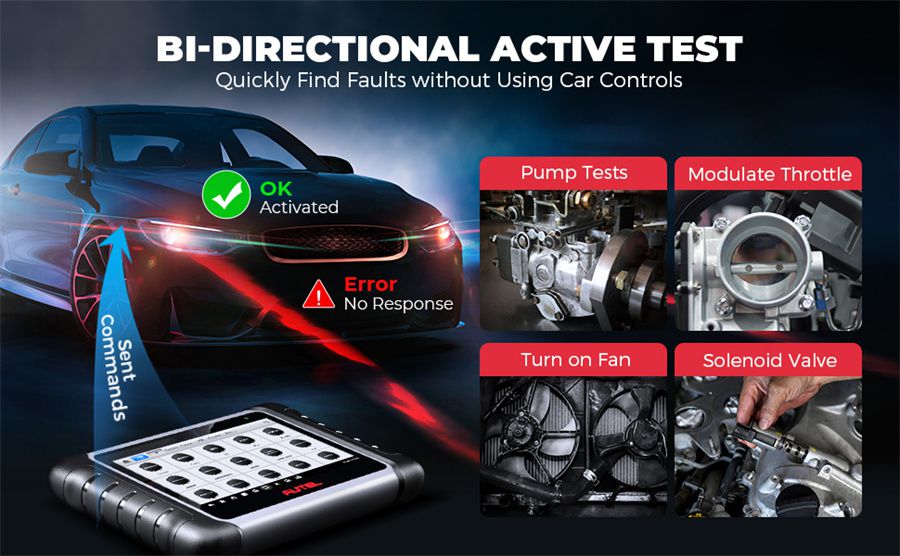 Who is it for?
A must for any auto professional, whether you own a repair service shop, or are a DIY car enthusiast.
Why is bidirectional active test a must?
The answer is simple: to greatly smooth your workflow.
This function can significantly reduce the diagnostic effort and easily see if the issue is happening in the controls or within the vehicle system; making it much easier to do time-consuming troubleshooting.
For example, consider a no-start situation. You connected a fuel pressure gauge and cranked the engine, but no fuel pressure was measured. You don't know if the problem is a component or a circuit but don't want to tear the car apart. This bi-directional car diagnostic scanner can command the fuel pump on. If the fuel pressure gauge shows proper fuel pressure, you'd know the fuel pump circuit and pump are functioning properly.
More applications?
Can active many vehicle-specific systems, subsystems, and components such as relays, injectors, coils, solenoids valves, and actuators like:
Turn on/off the radiator fan, lights, sound horn, fuel pump, etc. • Modulate the throttle • Open/close windows • Operate mirrors • Test the device acceleration, oil pressure control, vehicle level position, inlet & outlet valve, open brakes, wheel speed sensor supply, parking brake, and many others.
NOTICE:
Function menu varies by vehicle make, model and year. Only the available tests display in the menu.
All Available Modules OE-Level Diagnosis
Autel MK808S-TS is a full system diagnostic scanner that can access the electronic control unit (ECU) for all vehicle control systems, including engine, transmission, antilock brake system (ABS), airbag system (SRS), etc. This Auto Scanner can help you to retrieve ECU information, read & erase
DTCs, view live data and do so on functions, thus offer you comprehensive perspectives on the issues that existed in the vehicles. You can either perform auto scanning for all the available systems on the vehicle or access a specific control unit for diagnostics.
Engine: Autel MK808S-TS helps you to identify the engine-related issues by reading parameters such as engine RPM, engine coolant temperature, air intake humidity, airflow, the voltage of O2 sensor, misfire data, intake manifold pressure, oil pressure, etc.
Anti-Lock Braking System (ABS): This OBD2 scanner can assist you to check the ABS, tell you whether the parameters such as front-wheel speed, rear-wheel speed, lateral acceleration, brake pressure, steering angle sensors, etc. are normal, and thus provide a basis for your analysis of the problematic parts of the ABS.
Supplemental Restraint System (SRS): You can use
Launch
C5 RE320 to address the SRS problems that existed on the components such as the seat occupancy sensor, airbags, seat belt or airbag sensor, etc., and examine the health status of the SRS system and ensure safe driving.
Transmission: This diagnostic tablet MK808S-TS can show the parameters on transmission such as transmission input speed sensor, the transmission kick-down, gearshift lever position, brake pressure, tachometer drive shaft, and clear the faulty codes, which keep your vehicles driving smoothly.
And many more ...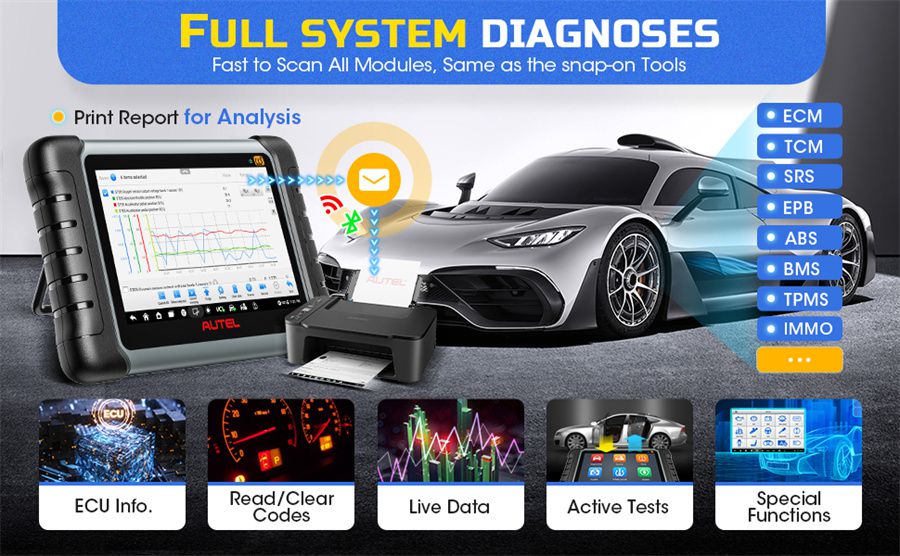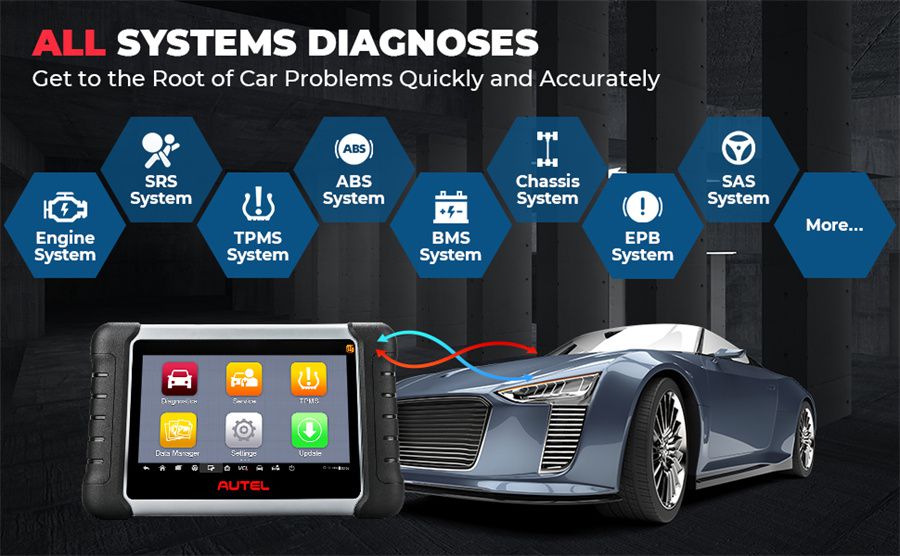 COMPLETE TPMS SERVICES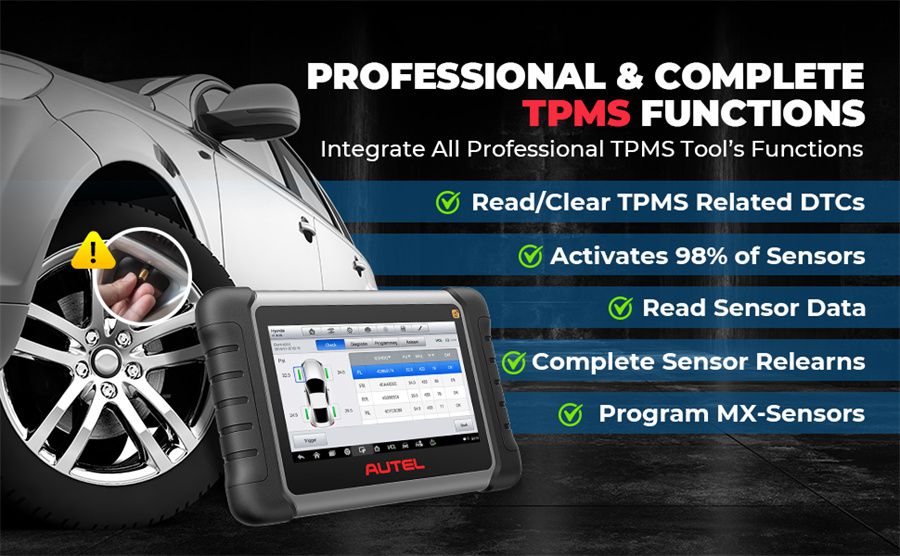 Professional & Complete TPMS Services
Autel diagnostic tool MK808S-TS provides the most comprehensive TPMS services for technicians to quickly solve TPMS related problems in the shortest time and with the highest efficiency, which contains TPMS Check & Sensors Activation, TPMS Diagnostics, Autel MX-Sensors Programming, and TPMS Relearn.
TPMS Check & Sensors Activation:
Autel MK808S-TS is capable of activating all known sensors, once the sensor is successfully triggered, the information of the sensor will be display. The Check function allows users to activate TPMS sensors to view sensor data – sensor ID, tire pressure, tire temperature, battery condition, and sensor location.
TPMS Diagnostics:
If there is a DTC presented in TPMS ECU, you can tap it for detailed definition, view the live data, and directly use the scanner to search on the Internet for more information. The active test is available for more accurate and comprehensive faulty issue analysis.
TPMS Relearn:
This function can guide you to write the newly programmed sensor IDs into the vehicle ECU for sensor recognition. Autel scanner MK808S-TS provides more than 3000 relearn procedures for various vehicles. Relearn only needs to be performed when the newly programmed sensor IDs are different from the original sensor IDs that were stored within TPMS ECU.
Advanced MX-SENSORS Programming & TPMS Retrofitting
The programming function of the car diagnostic tool MK808S-TS allows users to program the sensor data to the MX-Sensor and replace the faulty sensor with low battery life or the one that is not functioning. For mechanics in repair shops or professional car repairers, Autel MK808S-TS and MX-Sensor mean that you don't need to buy original sensors of a variety of car brands and models. MX-Sensors being programmed by scanner MK808S-TS can replace 98% of OE sensors.
There are 4 ways available for programming:
Copy by Activation:
Once the sensors mounted on the vehicle has been triggered and the sensor information displayed on the tool, the Copy by Activation can use to program a new MX-Sensor. The sensor IDs retrieved from sensor activation and TPMS ECU will automatically appear on the screen.
Copy by OBD:
By using this function, the tablet will program the sensor IDs retrieved from the ECU of the test vehicle to the new MX-Sensors.
Copy by Input:
The Copy by Input allows users to program a new MX-Sensor with the ID of an original TPMS sensor.
Auto Create:
Automatically create a random sensor ID to program a new MX-Sensor. There is no need to activate the original sensor or retrieve the original sensor IDs. The new ID of the sensor will have to be relearned to the TPMS ECU.
TPMS RETROFITTING
This Autel auto diagnostic tool MK808S-TS possesses TPMS retrofitting function. This function helps you to retrofit the TPMS module into the vehicles that did not have this module before with just a few clicks, and guides you to program, install tire pressure receiver and sensor, and finish the matching process. This function helps car owners to monitor tire pressure better and ensure their driving safety.
Complete Maintainence and Reset Service Functions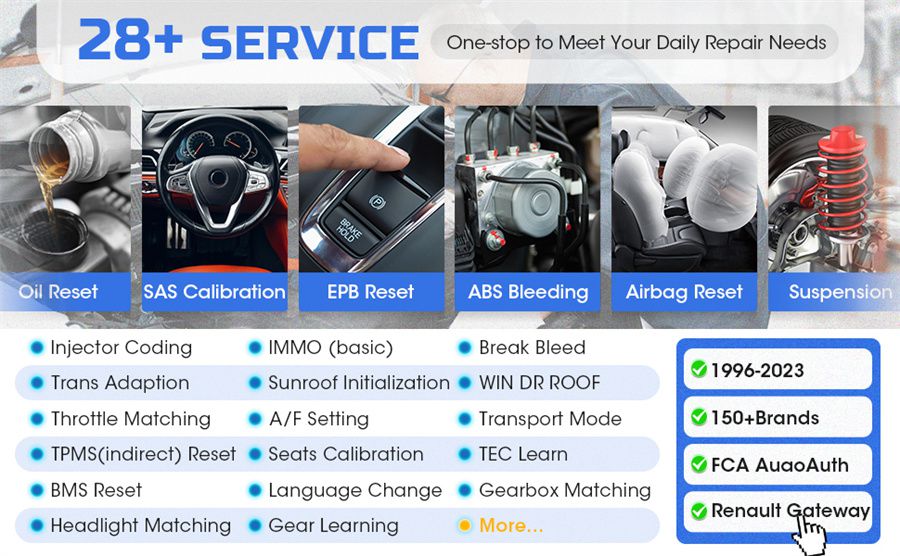 To meet the maintenance needs of the auto repair shop masters/technicians/mechanics to the greatest extent, Autel endows the scanner MK808S-TS with 28+ OE-level special services, which cover 90% of the cars on the market. This function solves the pain points that other diagnostic scanners have such as few reset functions, shallow service depth, and weak compatible ability from the root cause. One single universal diagnostic device MK808S-TS allows you to complete the same services as multiple OE diagnostic scanners combined. Below are some of the special services for your reference:
Oil Reset: It will let you turn off the oil light reset and service mileage after the oil change.
EPB: This feature will help reset the brake pad after replacing the brake pad. It diagnoses other electronic parking brake-related problems in your car.
SAS: It helps read and erase the record of the old steering angle sensor and overwrite it with a new one.
BMS: It helps reset a battery after you have replaced it.
IMMO (Anti-Theft Matching): This feature helps protect your car from being stolen. It resets the data if the key is
lost
and programs the replacement key fob.
Injector Service: Reads injector-related problems and adjusts them.
Seat Calibration: It enables you to restore the original seat function of your electric seat once the function fails after you repair or replace the seat or the accumulator on it.
Autel scanner MK808S-TS also supports other special services such as Adjust A/F, Windows Calibration, Cylinder Service, Trans Adaption, CHG Tire Size, Language Change,
Odometer
, Headlamp Calibration, and so on. Please notice that functions vary by car.
Autel MaxiCOM MK808S-TS : High-end Add-on Features
Extensive Makes Coverage: Autel diagnostic scanner MK808S-TS is compatible with most after-1996 US-based vehicles, and after-2000 EU-based and Asia-based vehicles. Autel MK808S-TS covers more than 80 US, Asian and European vehicle makes and models.
Asia: For Acura, For Daewoo, For
Holden
, For Honda, For Hyundai, For Infiniti, For Isuzu, For Kia, For Lexus, For Mazda, For Mitsubishi, For Nissan, For Scion, For SsangYong, For Subaru, For Suzuki, For Toyota, For BYD, For Chery, For DFM, For FAW, For Foton, For Geely, For GreatWall, For Haval, For JAC, For Lifan, For Luxgen, For MG, For Zotye
Europe: For Abarth, For Alfa-Romeo, For Alpina, For AstonMartin, For Audi, For Bentley, For Benz, For
BMW
, For Citroen, For Dacia, For Ferrari, For Fiat, For
Jaguar
, For Lamborghini, For Lancia, For LandRover, For Lotus, For Maserati, For Maybach, For Mini, For Opel, For Peugeot, For
Porsche
, For
Renault
, For Rolls-Royce, For
SAAB
, For Skoda, F or Smart, For
Volvo
, For Volkswagen
USA: For Buick, For Cadillac, For Chevrolet, For Chrysler, For Dodge, For Ford, For
GM
C, For Hummer, For Jeep, For Lincoln, For Mercury, For Oldsmobile, For Pontiac, For Saturn, For Tesla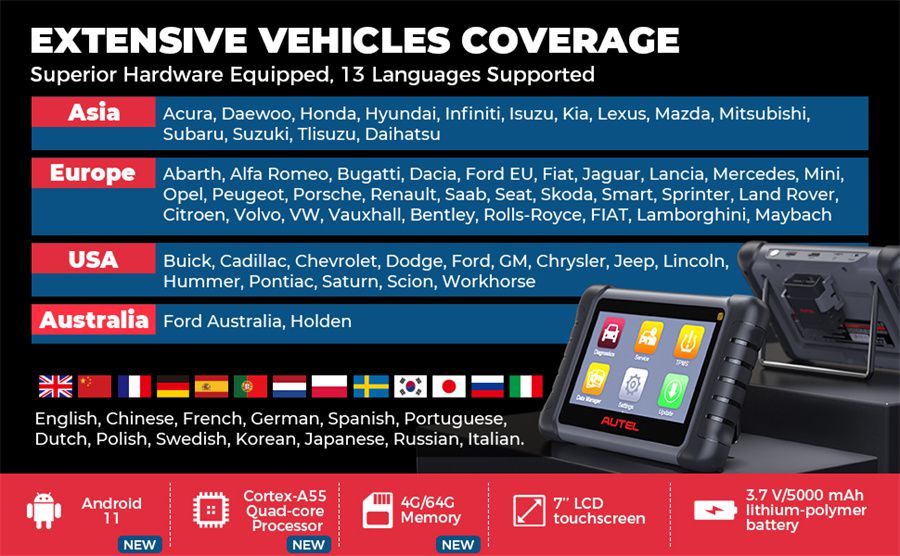 Advanced Hardware:
Autel diagnostic scanner MaxiCOM MK808S-TS scanner is one Vehicles Diagnostic tablet that runs on Android 11.0 with a 1.8GHZ Cortex-A55 quad-core processor to make sure the smooth diagnostic operation.
7-Inch 1024×600 Resolution Touchscreen of Autel scanner MK808S-TS offers crystal display to offer users great visual experiences.
MK808S-TS diagnostic tablet loads with 5000mAh Lithium-Polymer Battery for 7 hours of continuous use.
4GB of RAM & 64GB on-board ROM extended memory makes the diagnostics on high performance.
MaxiVCI Mini is equipped for wirelessly vehicle data transmission via the fast and reliable Bluetooth 2.1 EDR.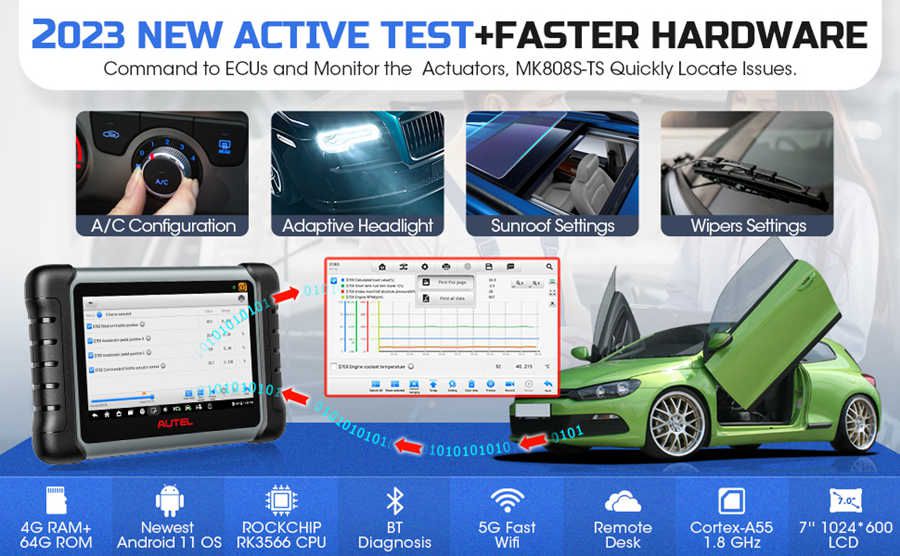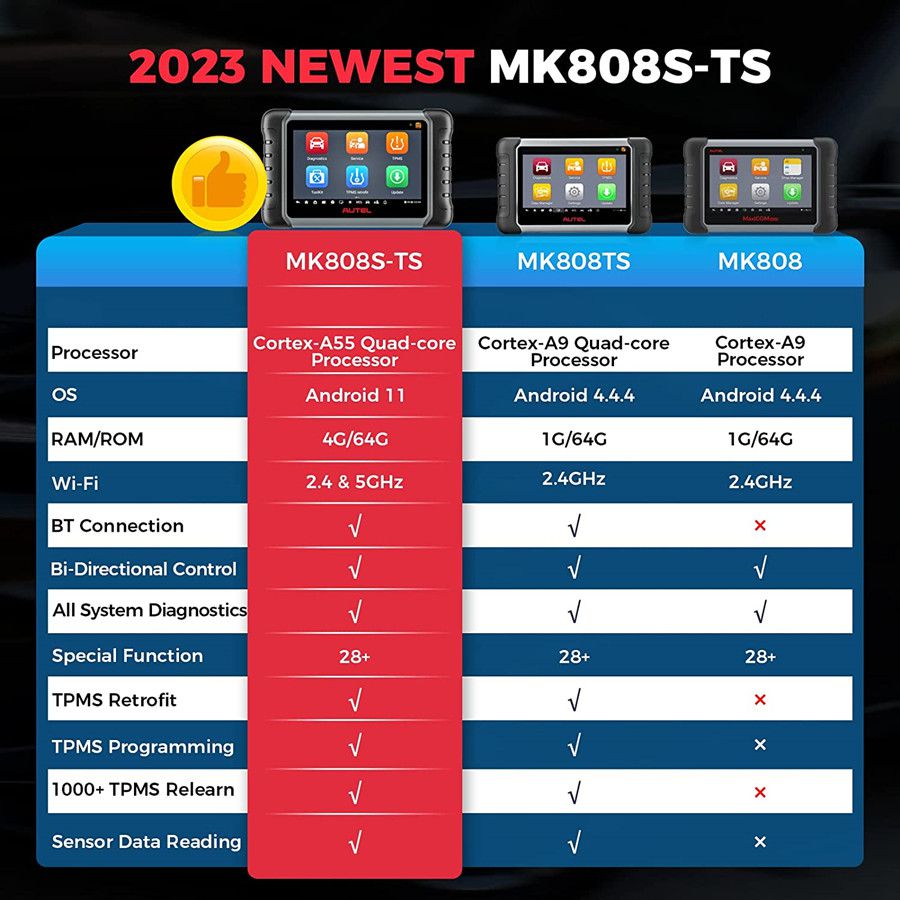 Package List:
1pc x MaxiPRO MK808Z-TS Tablet
1pc x USB External Power Adapter
1pc x USB Cable (for charging)
1pc x USB Cable (for test)
1pc x MaxiVCI Mini
1pc x USB External Power Adapter
1pc x Quick reference guide
1pc x Carry case