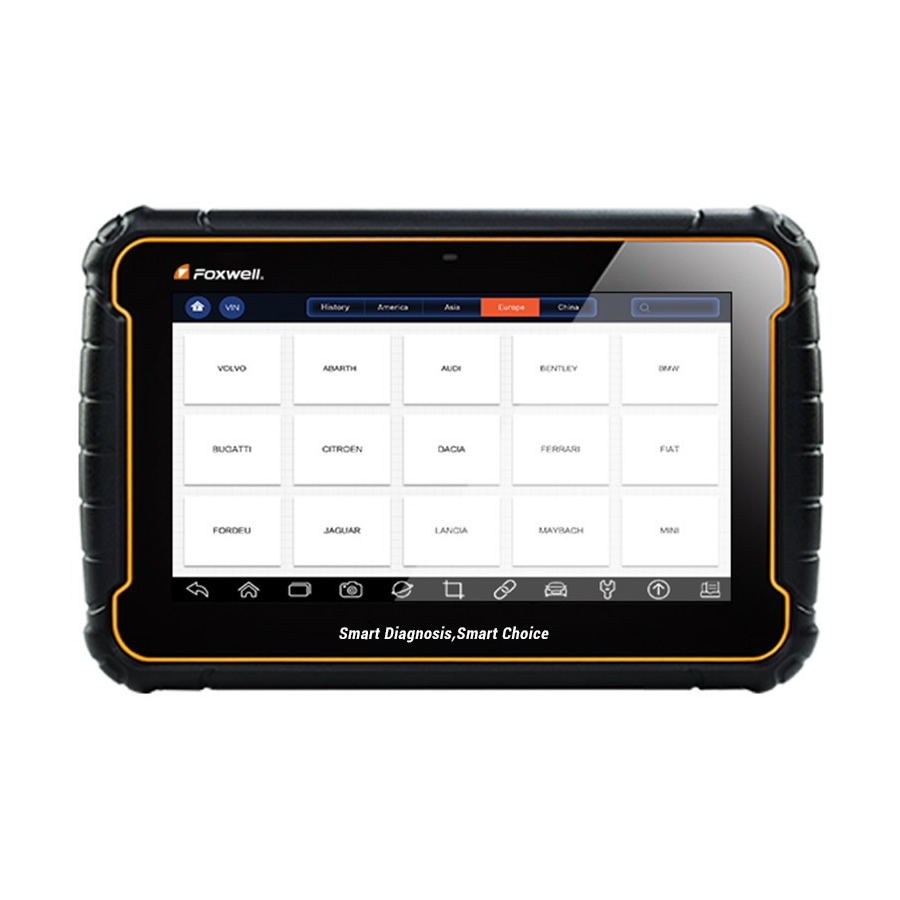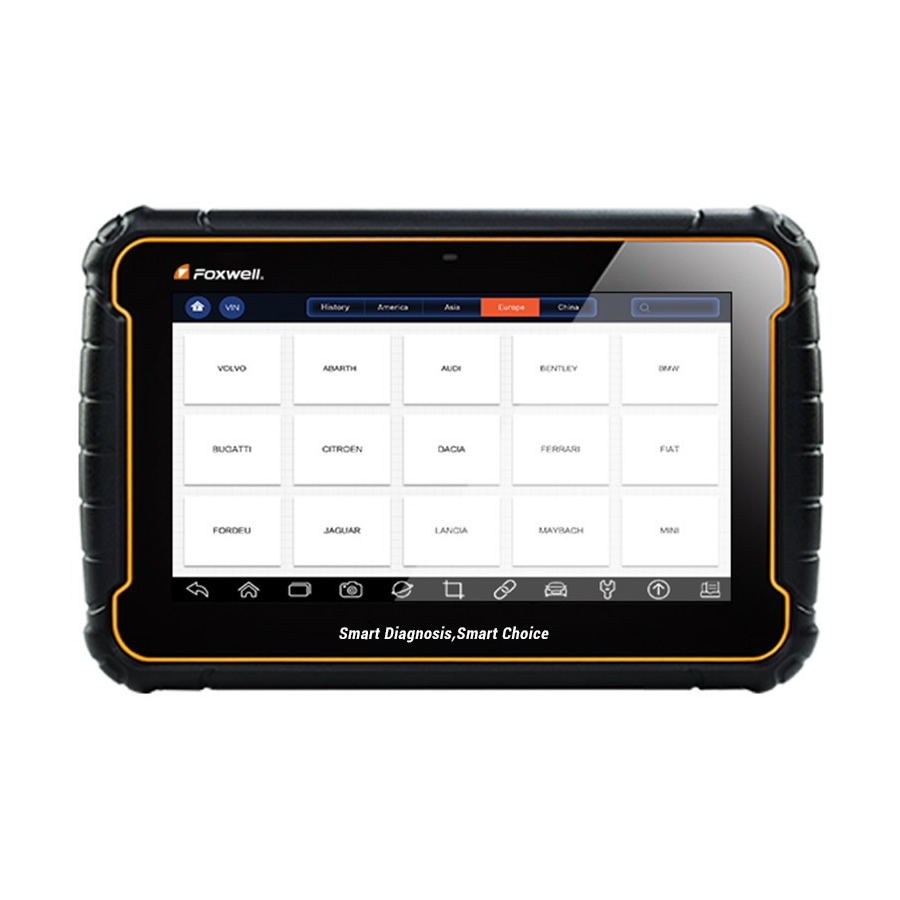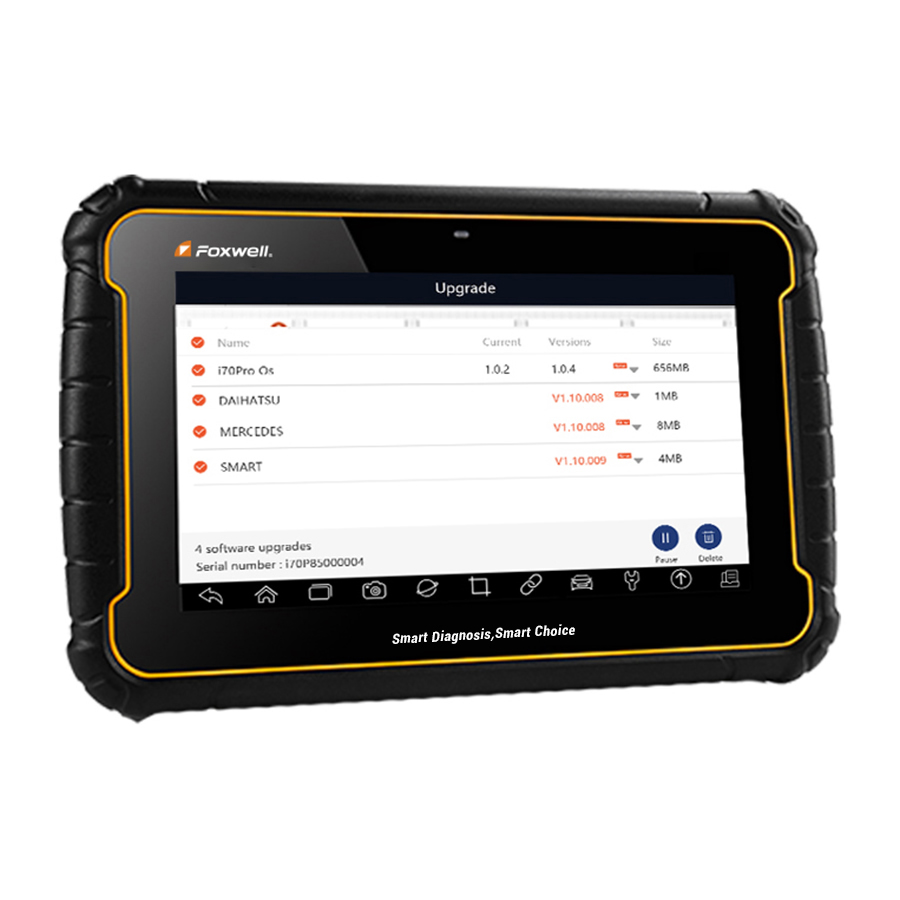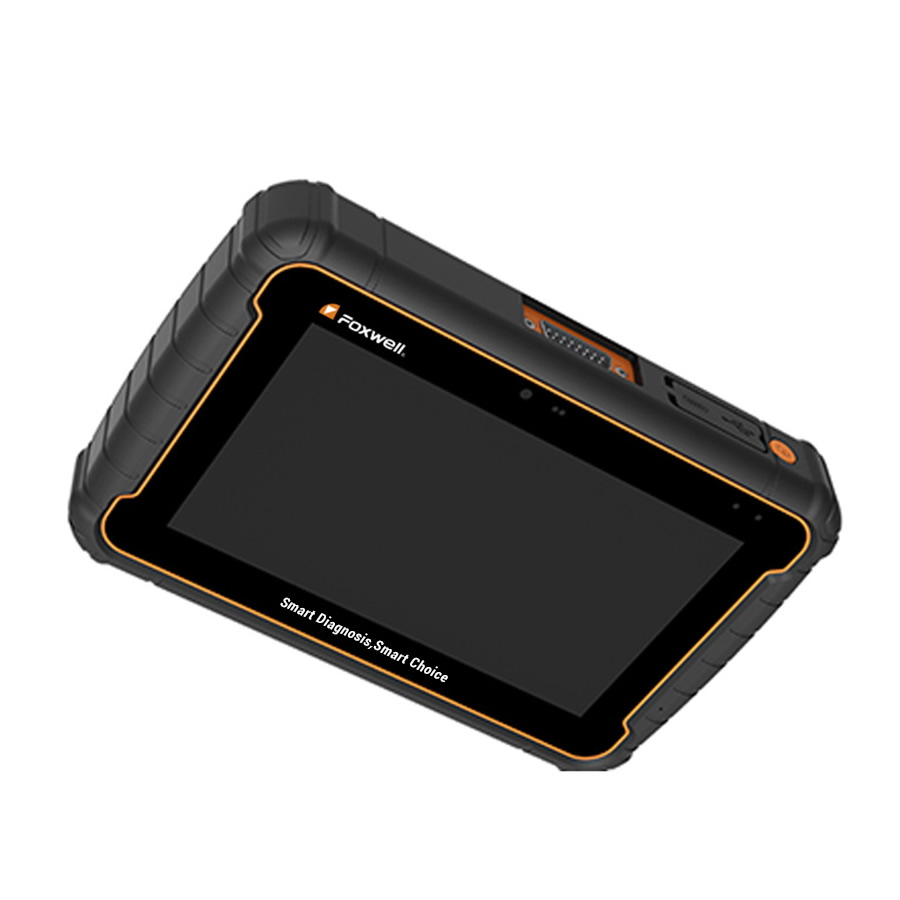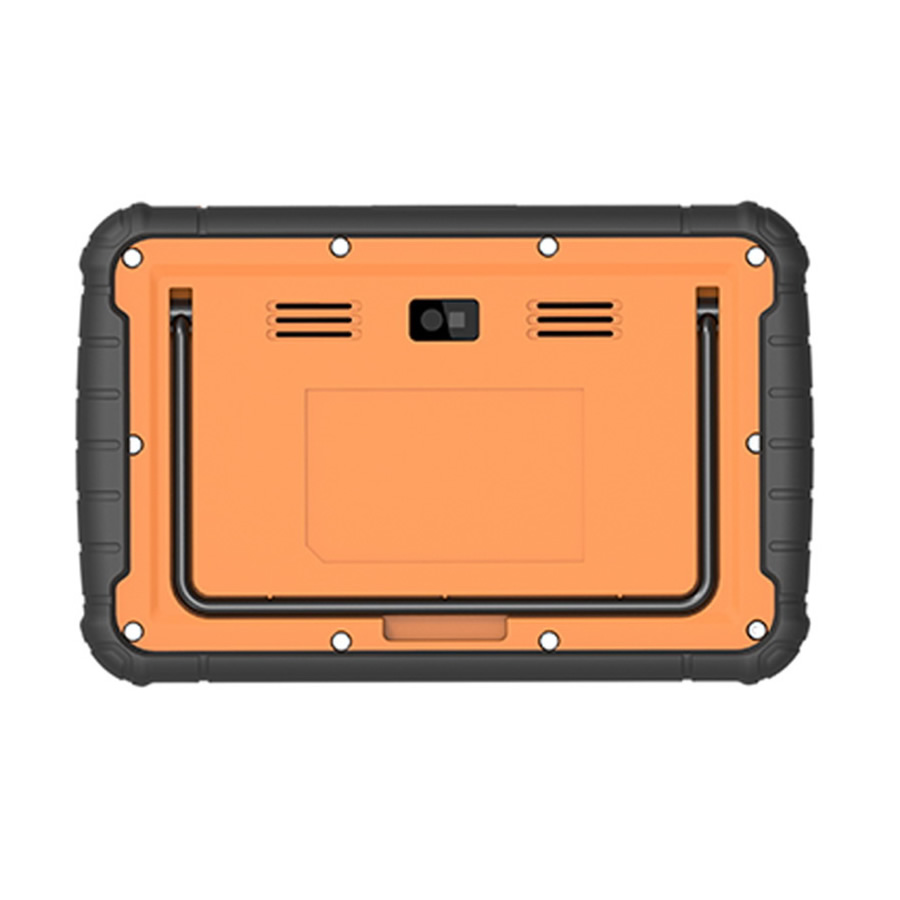 Original Foxwell i70 Pro Premier Android Diagnostic Platform Supports Key Soding,Diagnosis,Wif and Bluetooth
Foxwell i70 Pro inherits the same Foxwell advantages in car fault diagnostic tech, such as multi manufacturer coverage, service functions and accurate test data, making it the perfect tool for busy garages or workshops, who need the latest technology at unbeatable value.
Shipping:

Express Shipping Service


Estimated delivery time:

3-15

working days.

See details »

Returns:

Return for refund within 7 days,buyer pays return shipping.

Read details »

Support:
Related Accessories/Similar Items
Product Details

Product's Reviews
Foxwell i70 Pro Premier Diagnostic Platform Supports Key Soding,Diagnosis,Wif and Bluetooth

The latest tablet scanner i70Pro delivers faster and smarter diagnosis for workshops and technicians. With IP67 rated waterproof, dustproof and shockproof design, i70Pro can resist the impact and the damage of even the toughest workshop environment and road tests. Through hardware and software upgrades, technical staff can now approach problems with greater speed and accuracy, and produce comprehensive, professional reports.

One-Touch-Updates
If a problem is encountered with the tool, upload the debug file and the problem via the i70Pro's debug log collection, and the Foxwell technical team will update the most appropriate solution in the shortest possible time for vehicles or systems.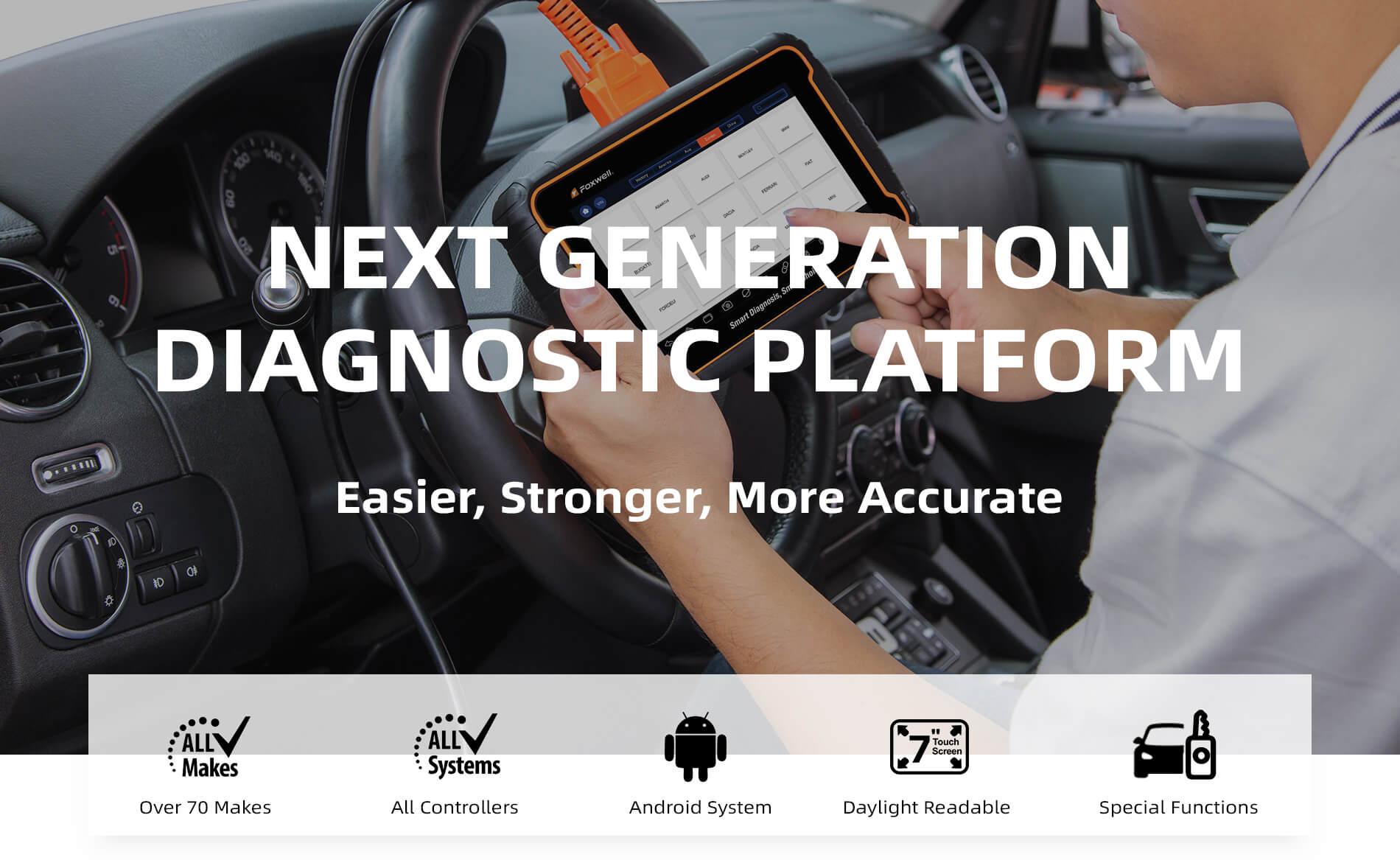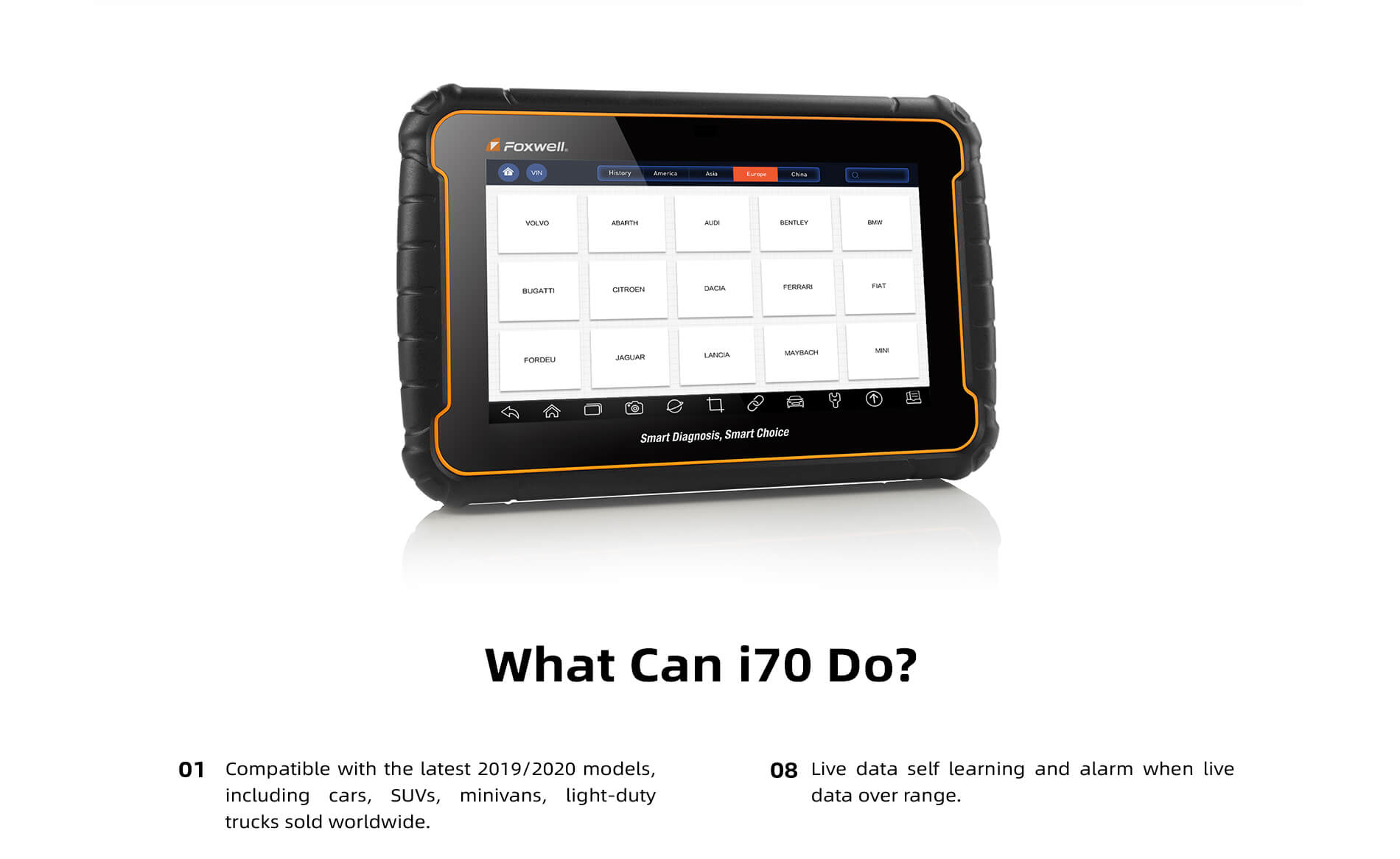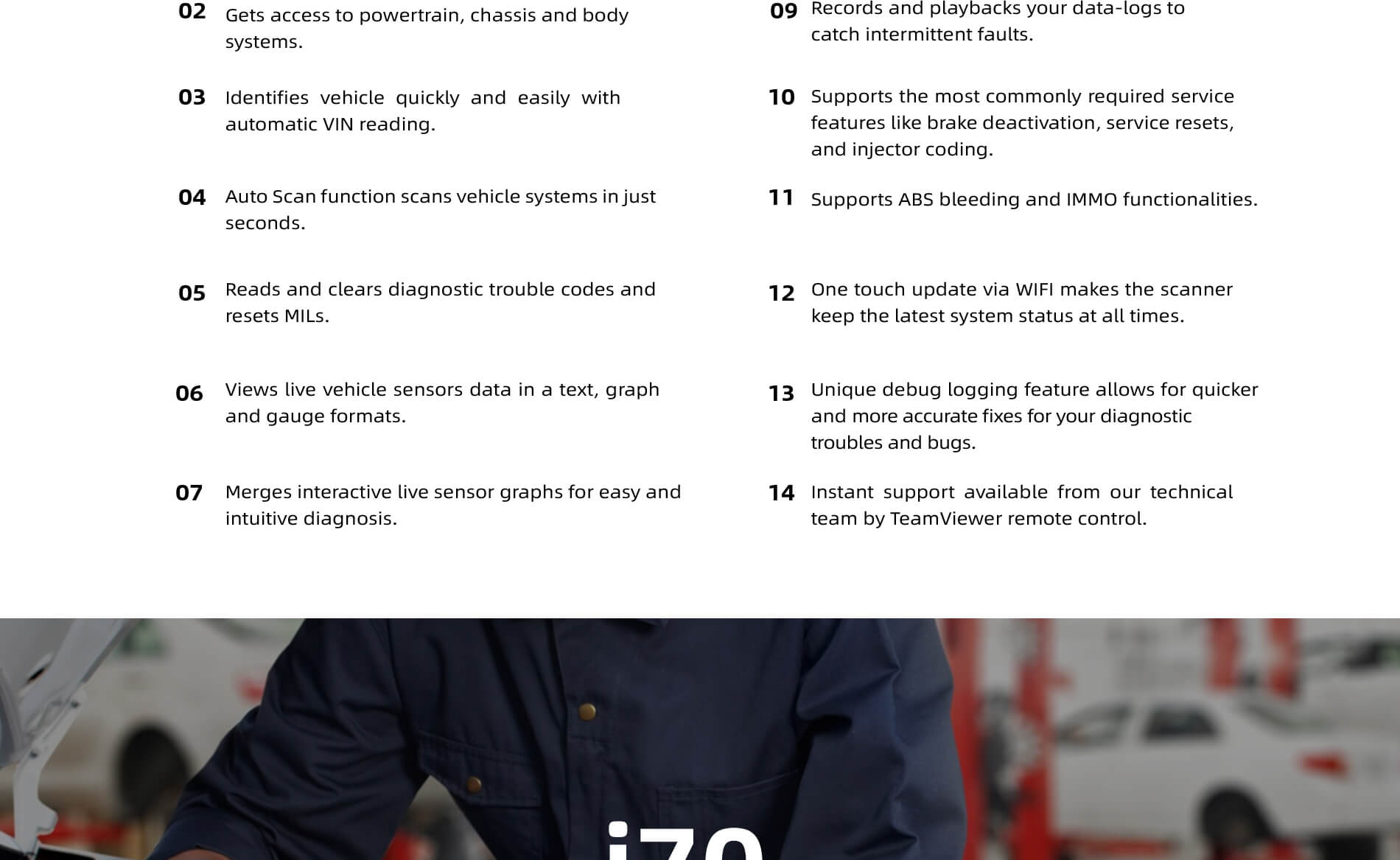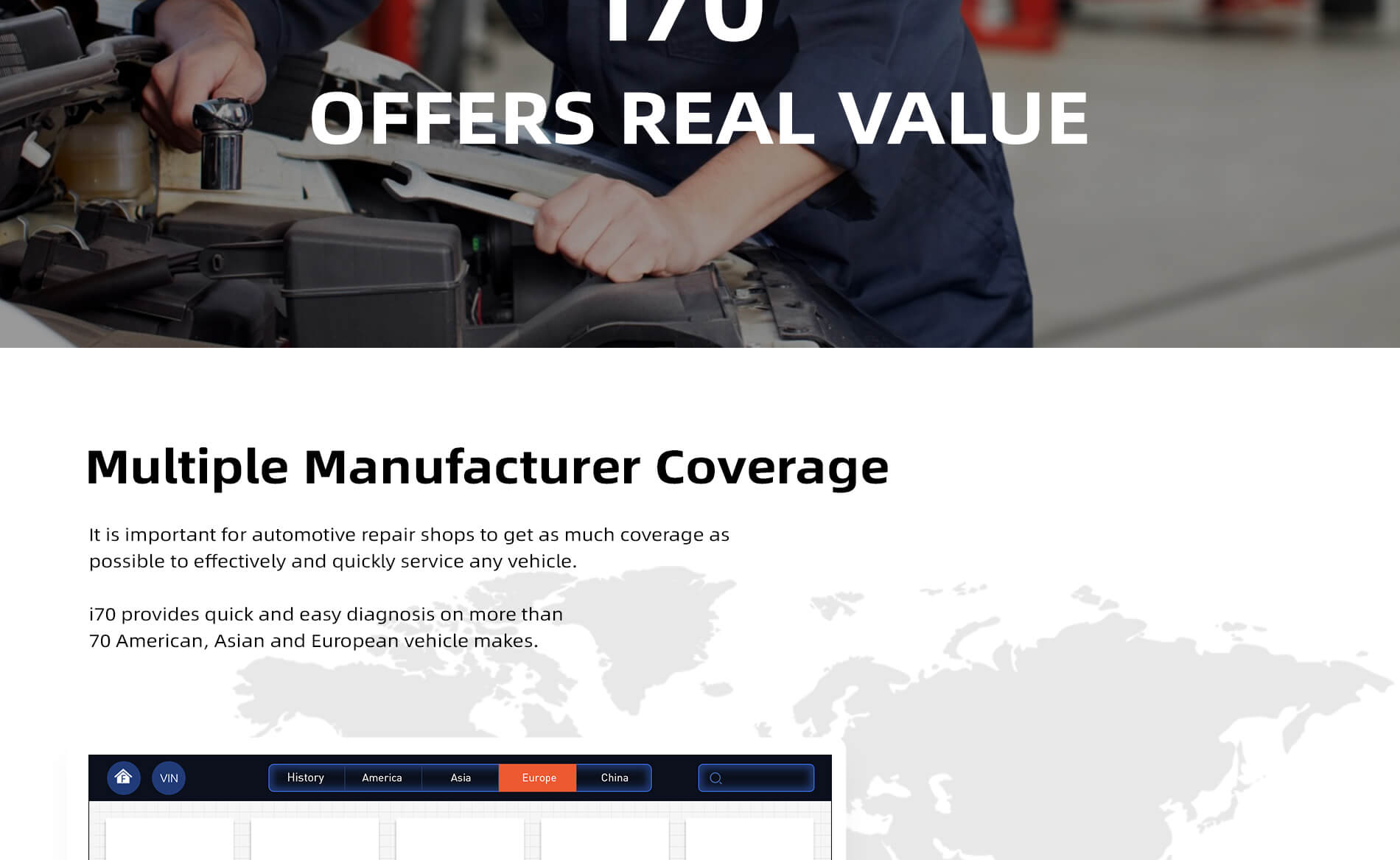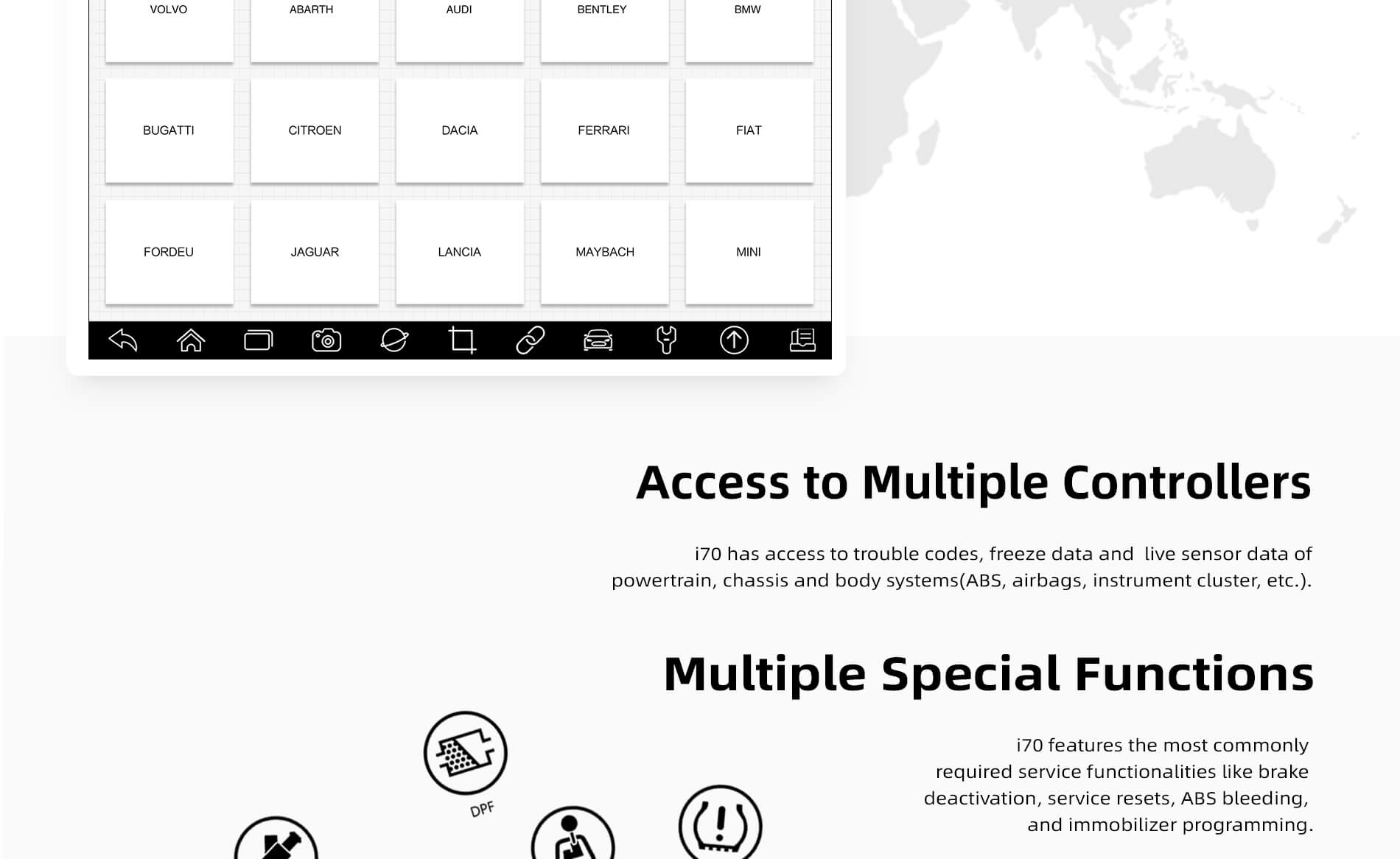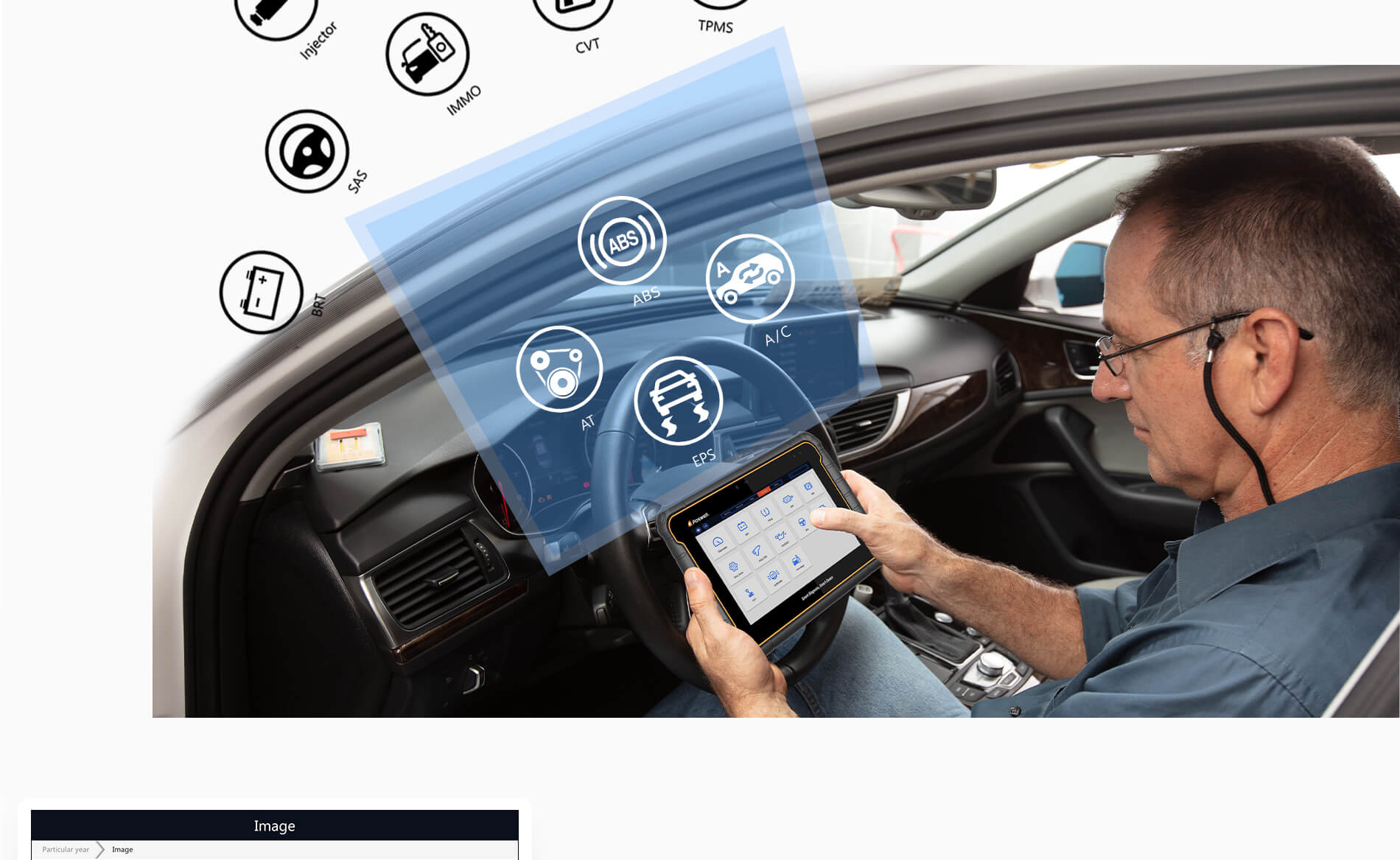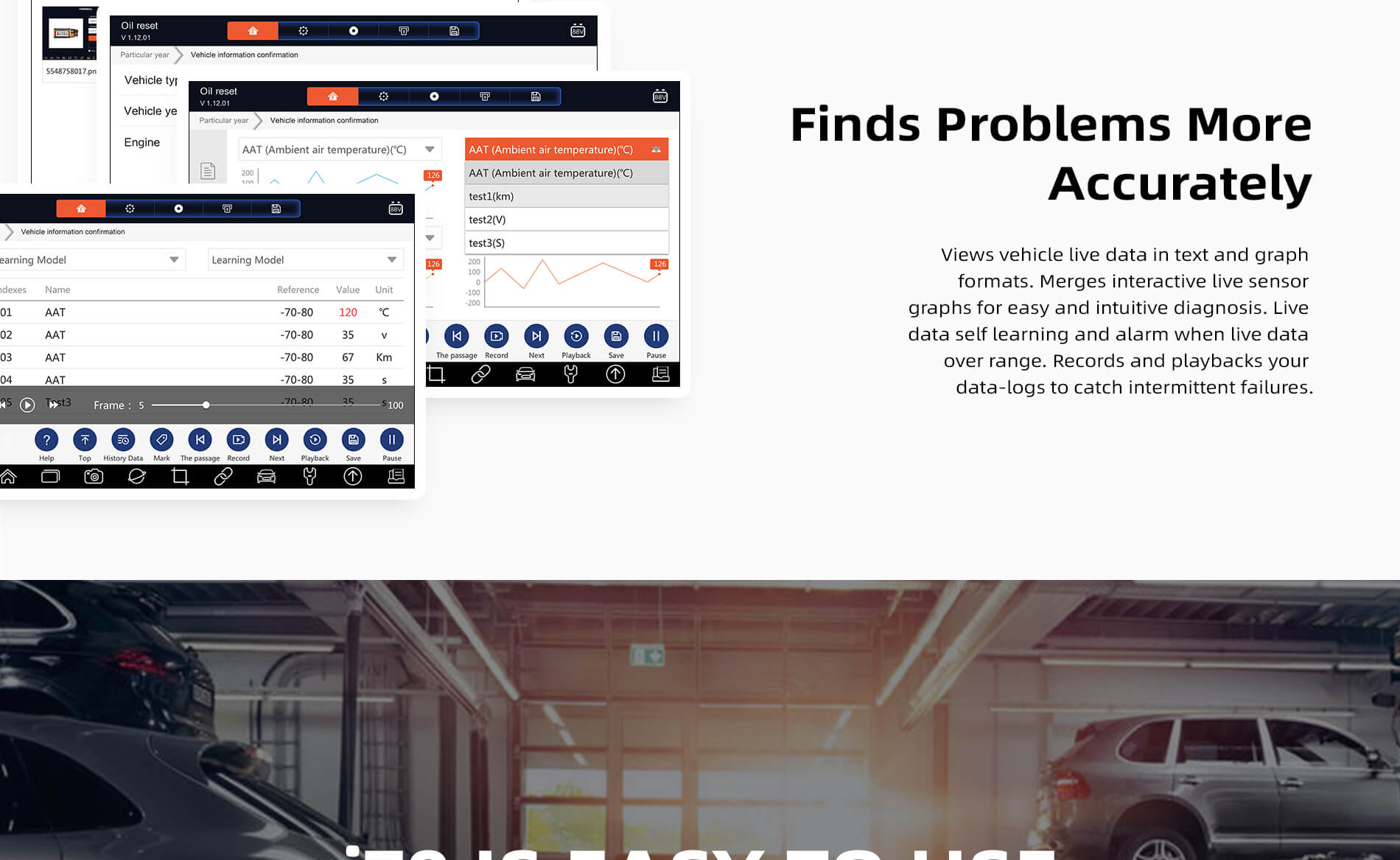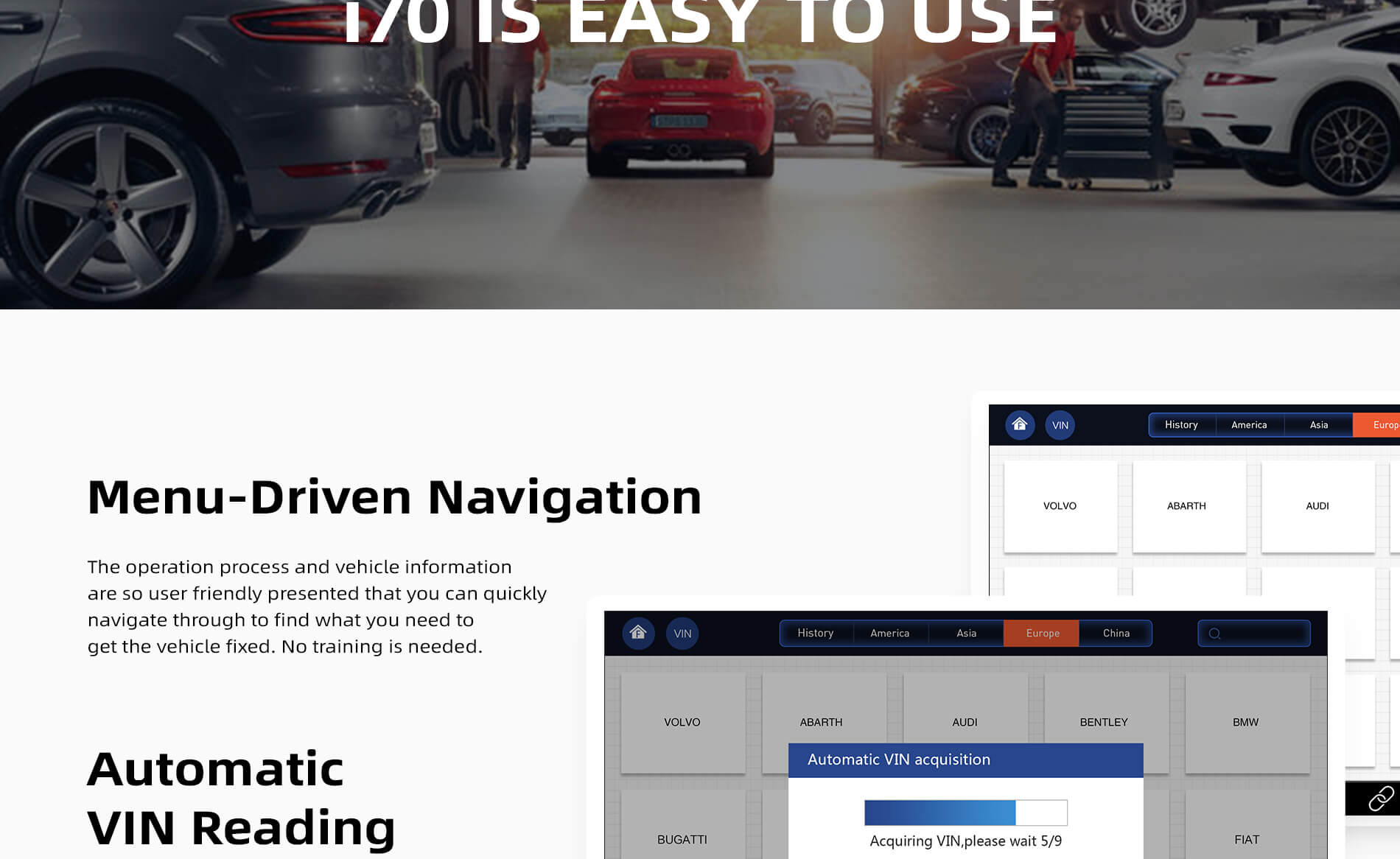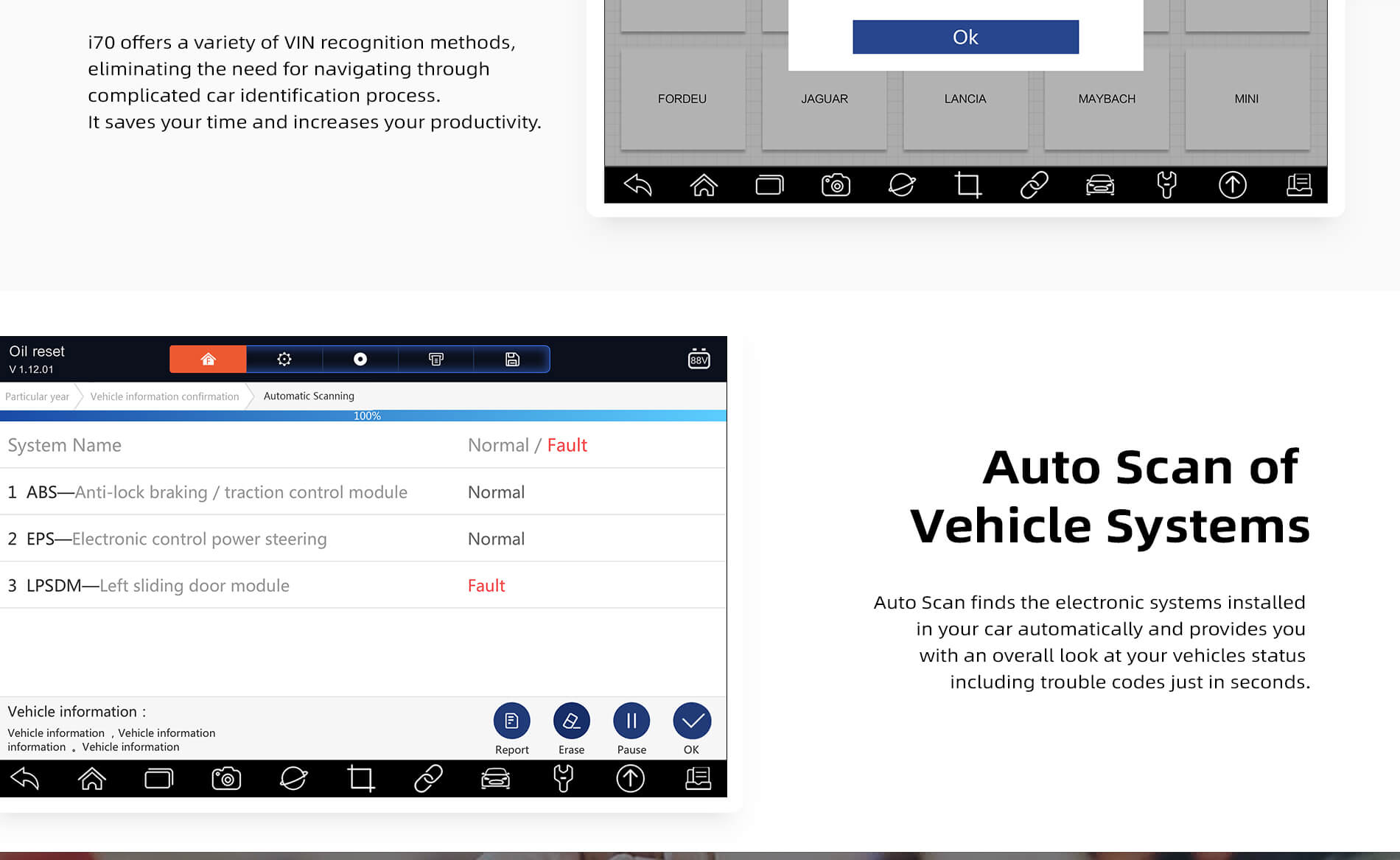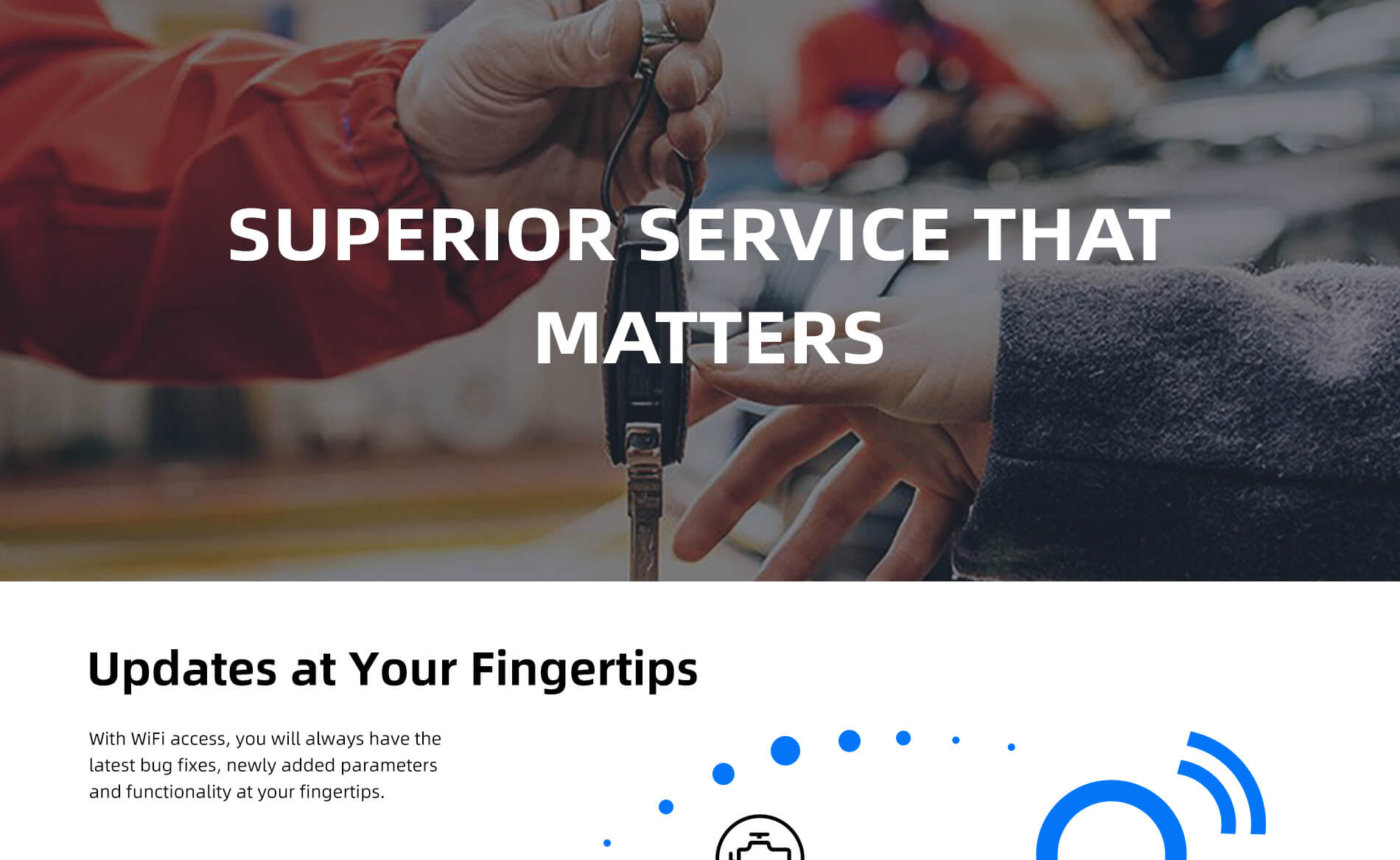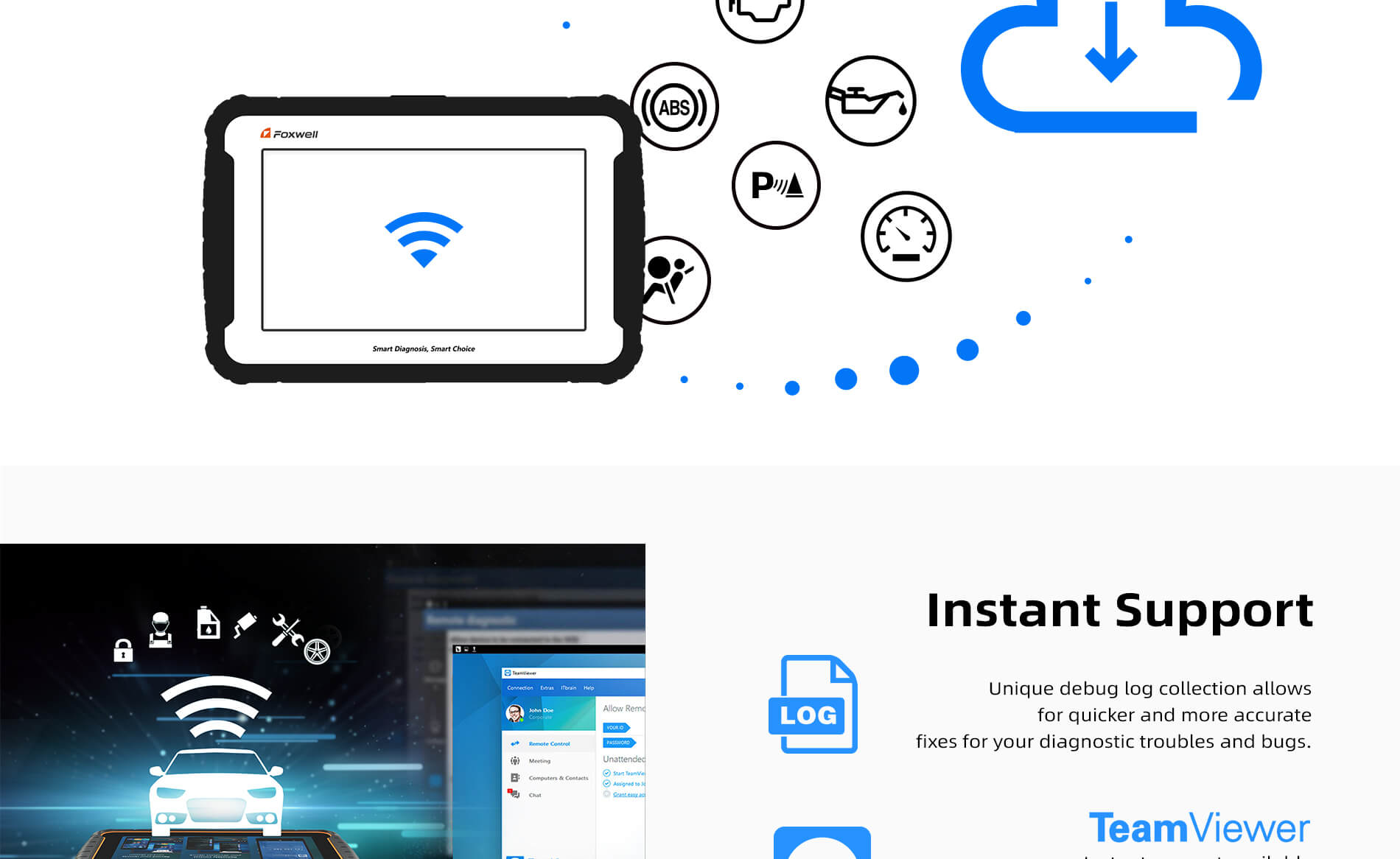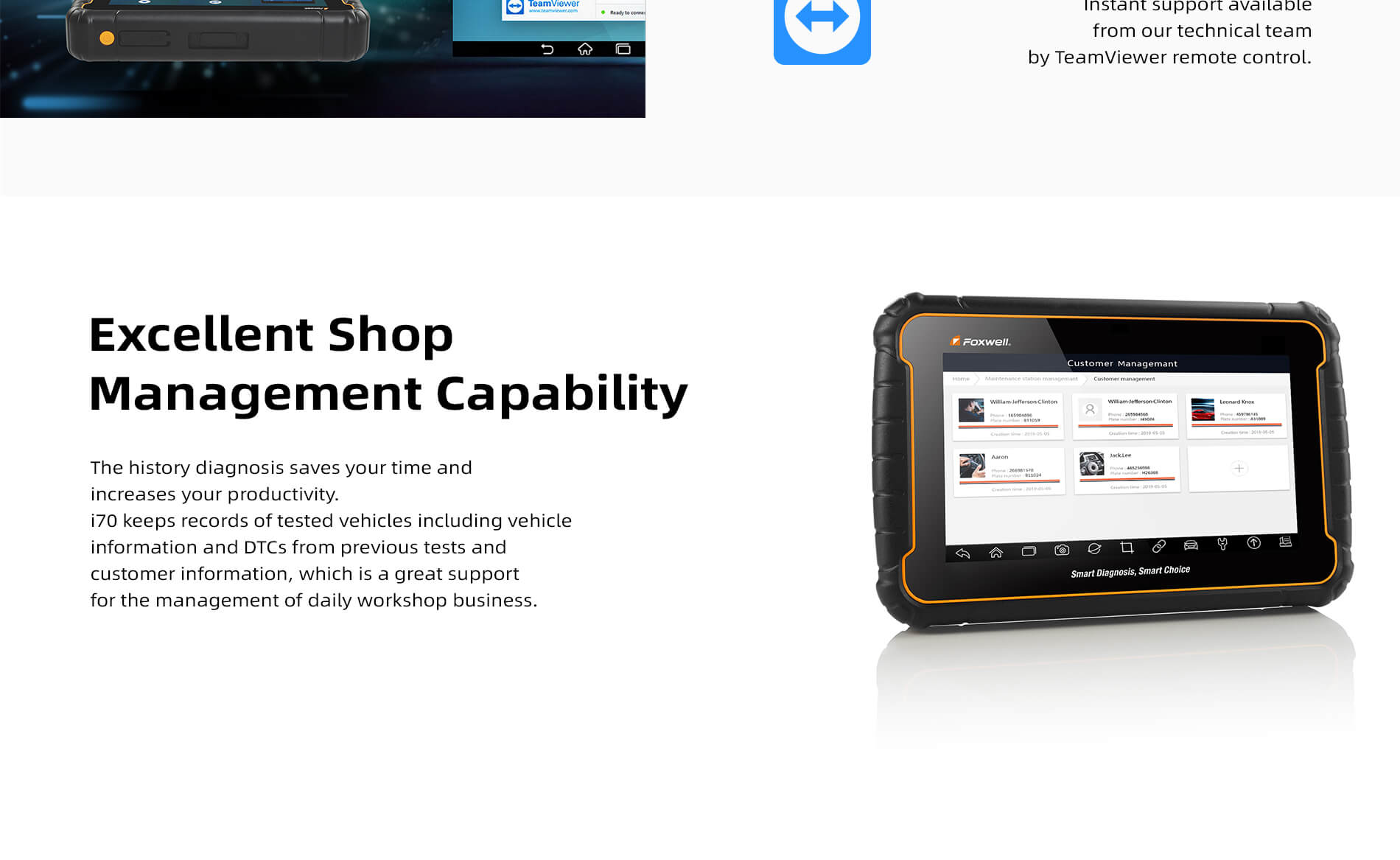 Important !!
TWO Years Warranty. Three Years Free Update. Foxwell Direct Support.
The latest tablet scanner i70Pro delivers faster and smarter diagnosis for workshops and technicians. Through hardware and software upgrades, technical staff can now approach problems with greater speed and accuracy, and produce comprehensive, professional reports.
Specifications: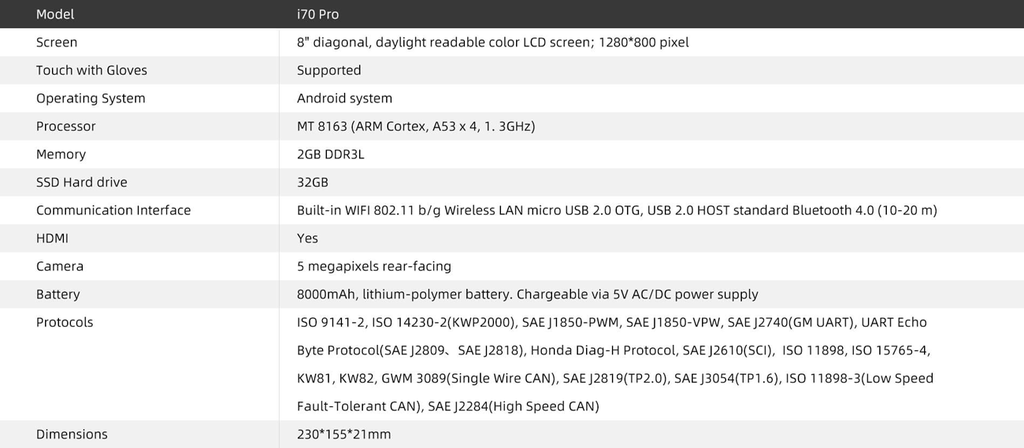 Foxwell i70Pro wireless available range up to 10m. The wireless diagnostic supports 2 communication methods with the tablet, wireless BT and USB.
Benefits and Features:
Vehicle coverage: i70Pro has full OBD2 coverage, the best possible coverage of OE-Level diagnosis on over 80 American, European and Asian vehicles.
Generic OBD II operations for retrieving OBD2 vehicle diagnostic information;
Read Codes: displays detailed information of DTC records retrieved from the vehicle control module.
Erase Codes: erases DTC records and other data from the ECM.
Live Data: retrieves and displays live data and parameters from the vehicle's ECU.
USB or Bluetooth Connection: With the VCI dongle, data transmission between the vehicle and the i70Pro could be either through the USB cable or the Bluetooth VCI.
Fast Wireless Connection: Available Range Up to 230m. i70Pro comes with both Wi-Fi technology and long range Blue-tooth connectivity that provides its users with an ultra-fast Vehicle Communication Interface. You don't have to wait. Just plug it into the OBD-II dashboard and it will diagnose within seconds.
Muti-Language: English, Spanish, French, German, Polish, Italian, Japanese, Dutch, Portuguese, Russian.
Warranty & Update: 1 Year warranty for any quality problems and 3 year FREE updates online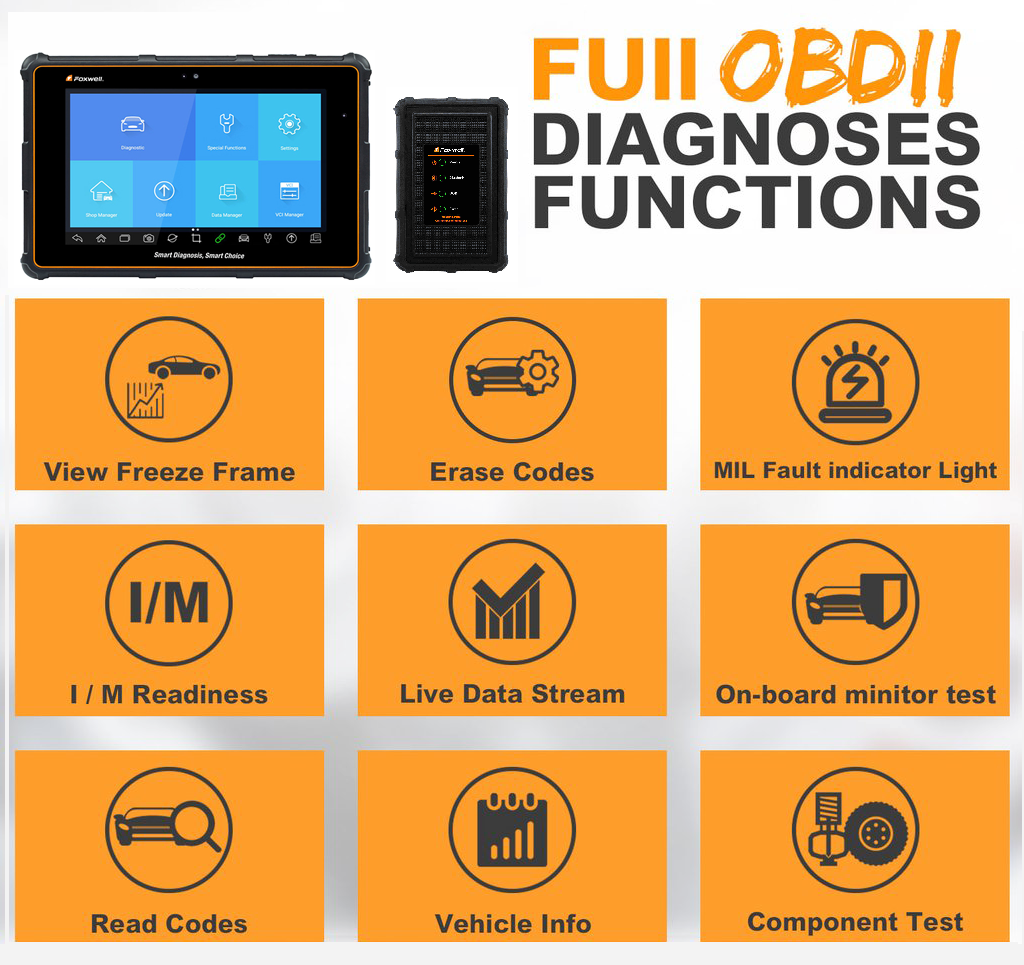 Full System Diagnosis Quick and Easily locate Any Problems
Foxwell i70Pro diagnose all controlled modules, including:
Engine System; Powertrain System; Airbags System; ABS System; Transmission System; Brake System; Alarm System; Air Conditioning System; Door&Window System; Keyless Entry System; TPMS System; Steering System; Wheel System; Fuel System; and any other systems that controlled the car computer.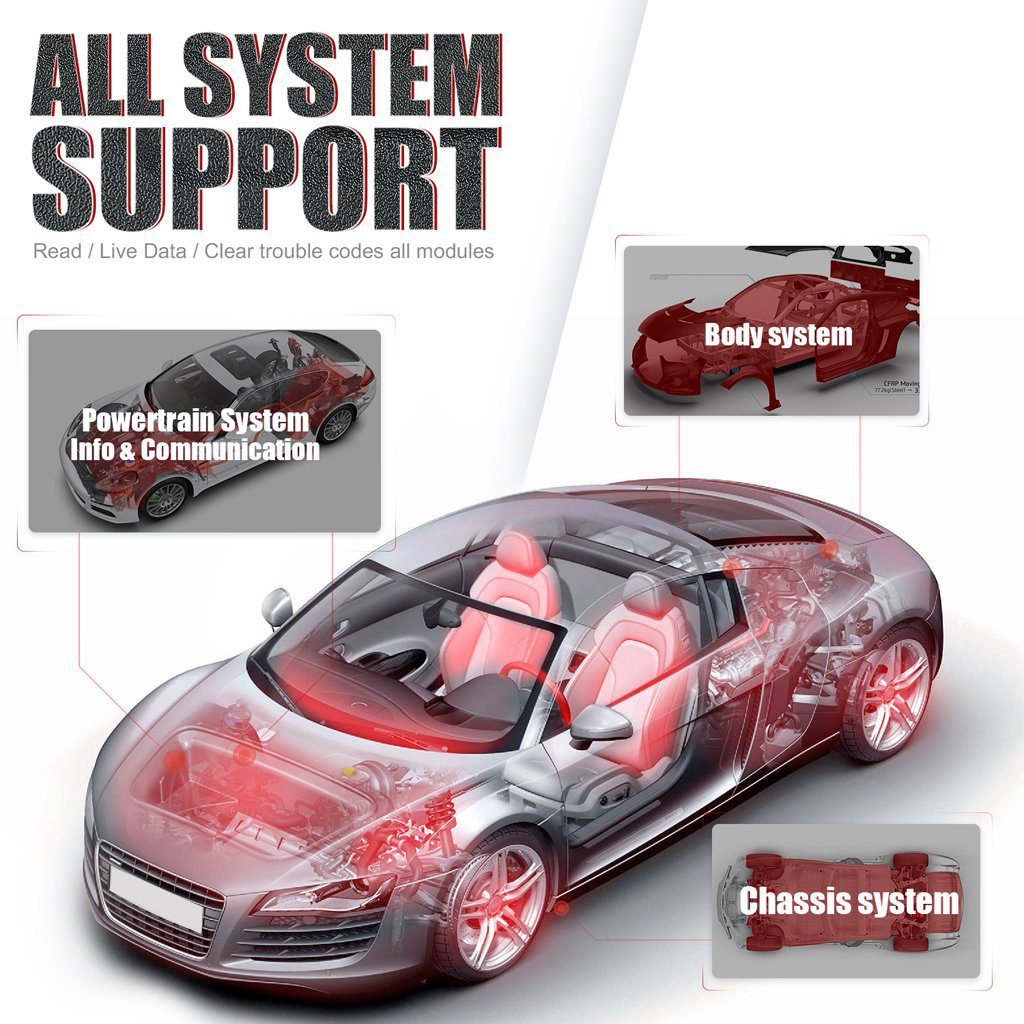 By reading codes, freeze frame and real-time live data of these systems, you can locate your vehicle problems in a few minutes.
AUTO VIN SCAN: Help you identify cars quickly and easily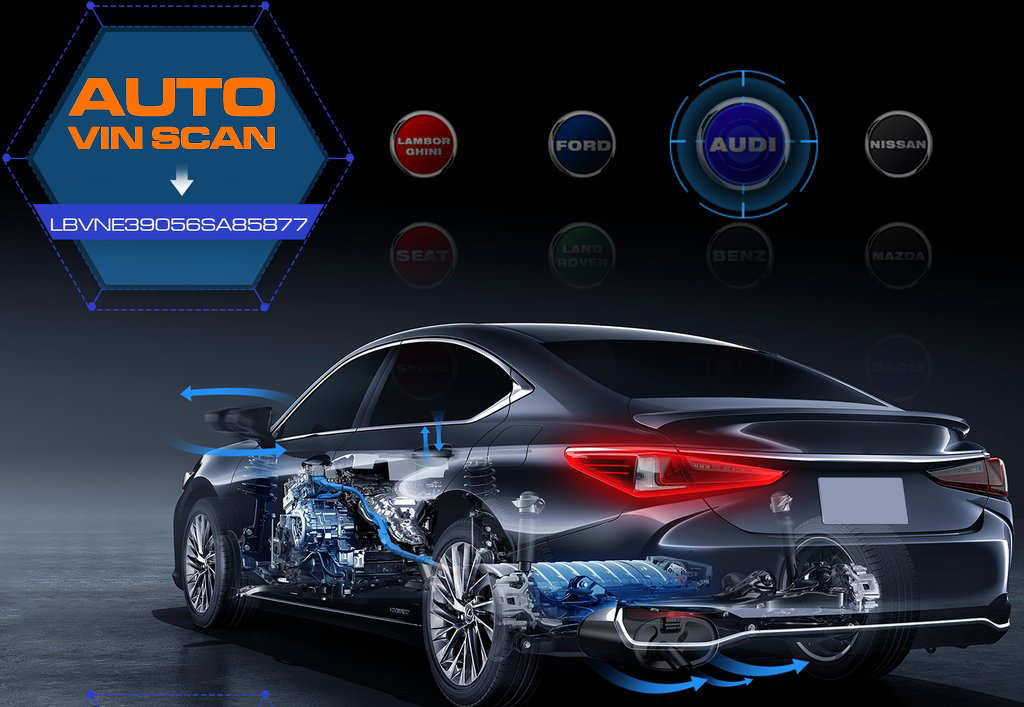 22+ Common Service&Maintenance Functions
i70Pro is not only full system diagnostic scanner but also with most common service&maintenance functions, including Key Fob Programming, Oil Reset, EPB, TPS, TPMS, BRT, DPF, SAS, CVT,
Odometer
, Gear Learning and Injector Coding.
To list some: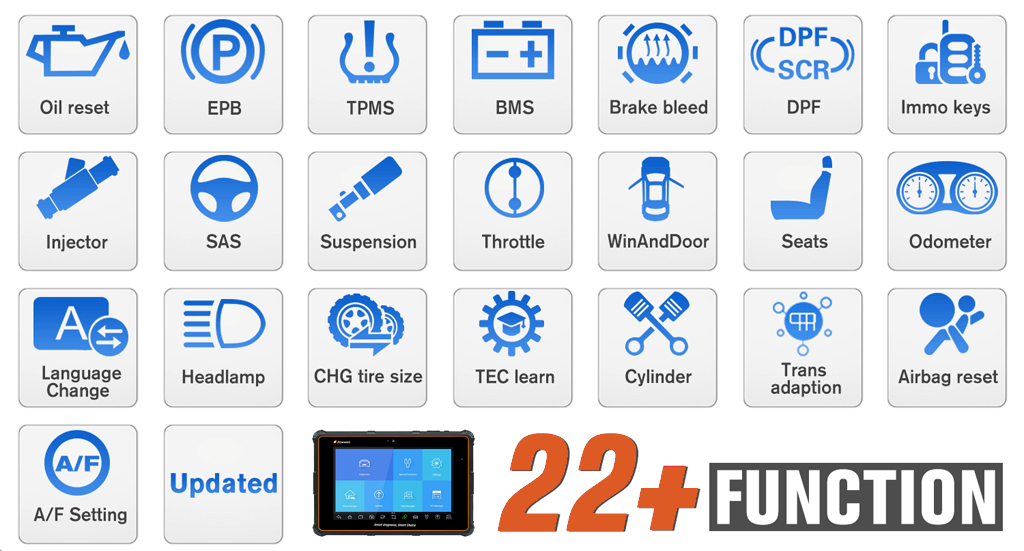 1. Oil Service Reset
Allows you to reset the service lamps on the instrument cluster. The Service Indicator System is designed to alert the driver when the vehicle is due for a service.
2. EPB, Electronic Parking Brake
Allows you to perform the service and maintenance of brake systems,including deactivation and activation of the brake control system, bleeding brake fluid, opening and closing brake pads, and setting brakes after disc or pad replacement, on multiple brands of vehicles where electronic brake systems are fitted.
3. BRT, Battery Replacement
Lets you to new battery validated, how to clear faults from the dashboard and display.
4. TBA/TPS, Throttle Body Alignment
Using the throttle position sensors in the throttle body, the ECU learns the full open and full closed positions through various states (idle, part throttle, WOT) known as a Throttle Body Alignment (TBA)
5. SAS, Steering Angle Sensor Calibration
Let you perform calibration of the Steering Angle Sensor.
6. DPF, Diesel Particulate Filter Regeneration
Let you perform the DPF cleaning to clear the blockage through continuous burning of the particulates captured in the DPF filter. When a DPF regeneration cycle is completed, the DPF light automatically goes off.
7. TPMS, Tire Pressure Monitoring System Programming
Allows you to check the tire sensor IDs from the vehicle ECU and to perform TPMS programming and reset after tires and/or TPM sensors are replaced and/or tires are rotated.
8.
Odometer
This function allows you to revise the date of odometer and write the original date into new
Odometer
.
9. A/F Adjust
Correspondingly change the fuel supply to change the steam production of boiler and maintain the energy balance in the co
MB
ustion process.
10. CVT
This function is used to reset the compensation code and initialize the ECT after a solenoid valve or valve body asse
MB
ly has been replaced
11. Injector Coding
This function is to reset and match the date after injector is replaced.
12. Gear Learning
Crankshaft position sensor adaptive learning.
13. ABS & SRS Diagnostic
ABS Test – tests ABS motors, solenoids, solenoid enable relays, E
MB
s, and more.
ABS Version Test – displays the name of the brake system and the ABS controller version number, software ID, and sequence value.
Actuator Test – tests AYC valves, inlet valves, outlet valves, pump motors, and TRACS valves.
Auto Bleed Test– removes air from the internal brake fluid chambers after servicing the brakes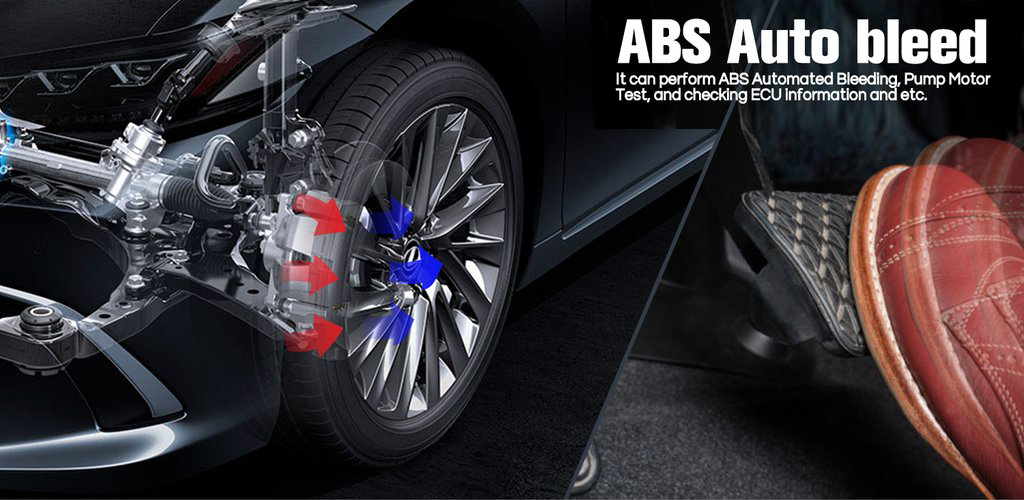 More functions waiting for you to explore...
i70Pro Support Actuation, Adaptations and Control Module Coding.
i70Pro cannot only support common service and maintenance functions, but it can also actuate components, run component tests. Allows you to temporarily activate or control a vehicle system or component.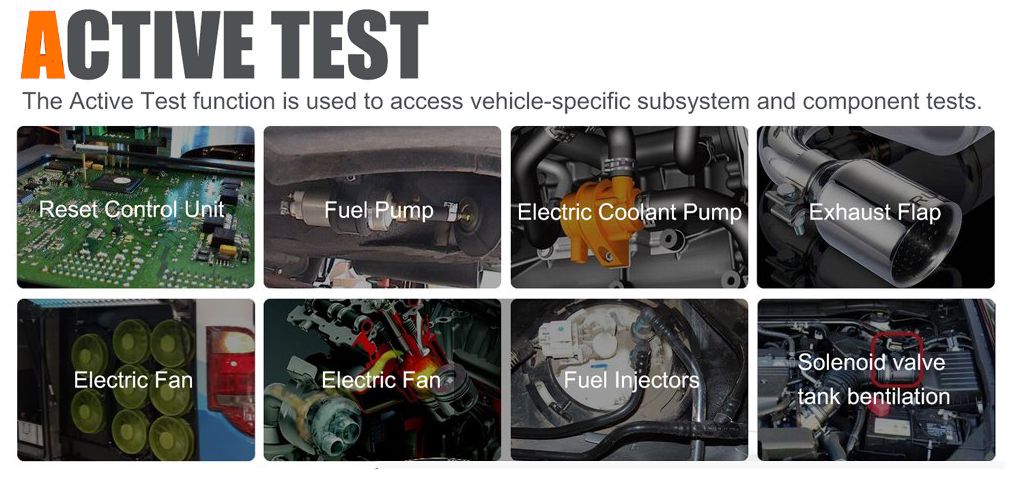 i70Pro Can Find Problems More Accurately.
- Views live vehicle sensors data in a text, graph and gauge formats, allows you to focus on any suspicious or symptom-specific data parameters.
- Merges interactive live sensor graphs for easy and intuitive diagnosis, so you can easily see how they affect each other, providing you with the most comprehensive and functional look at live data possible.
- Live data self learning and alarm when live data over range

Records and playbacks your data-logs to catch intermittent failures:

i70 Pro Offers Excellent Shop Management Capability.
i70Pro keeps records of tested vehicles including vehicle information and DTCs from previous tests and customer information, which is a great support for the management of daily workshop business.

Remote Control Support Available for Our Technical Team by TeamViewer

One touch update via WIFI makes the scanner keep the latest system status at all times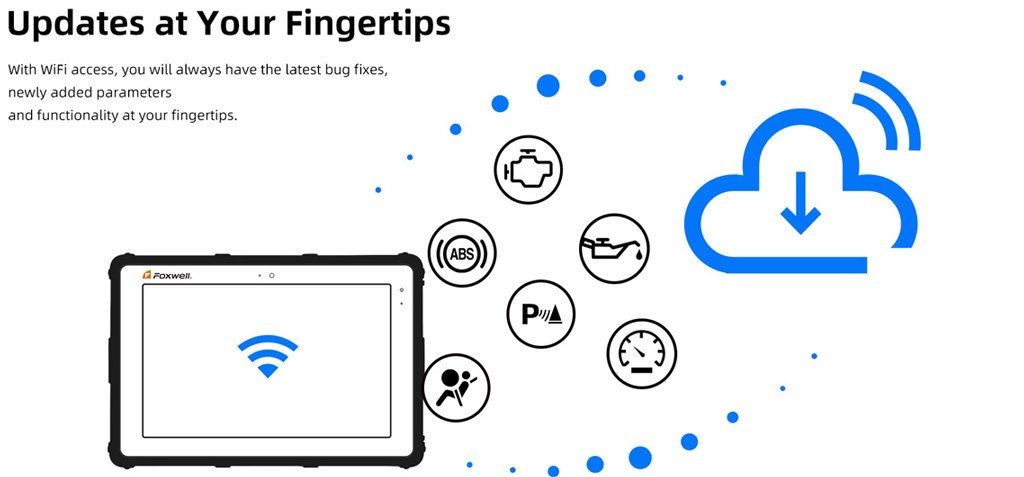 What's in the Box?