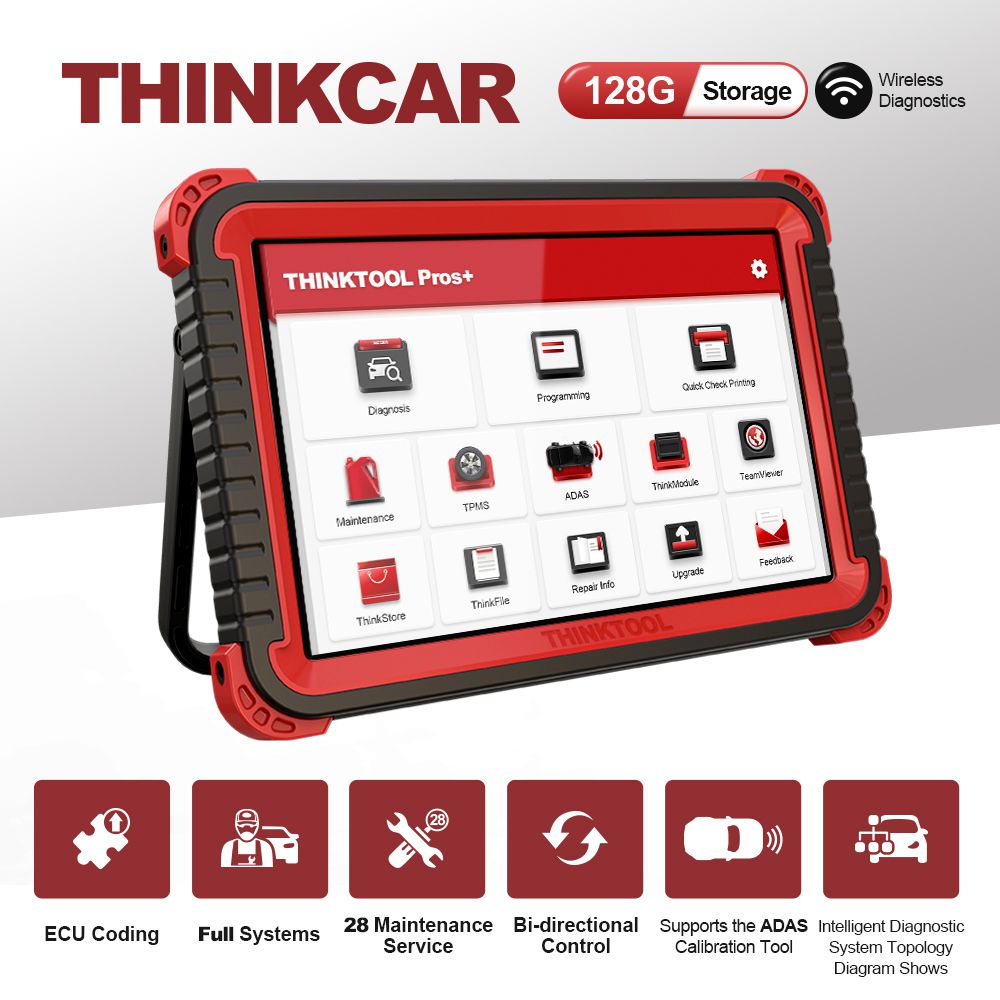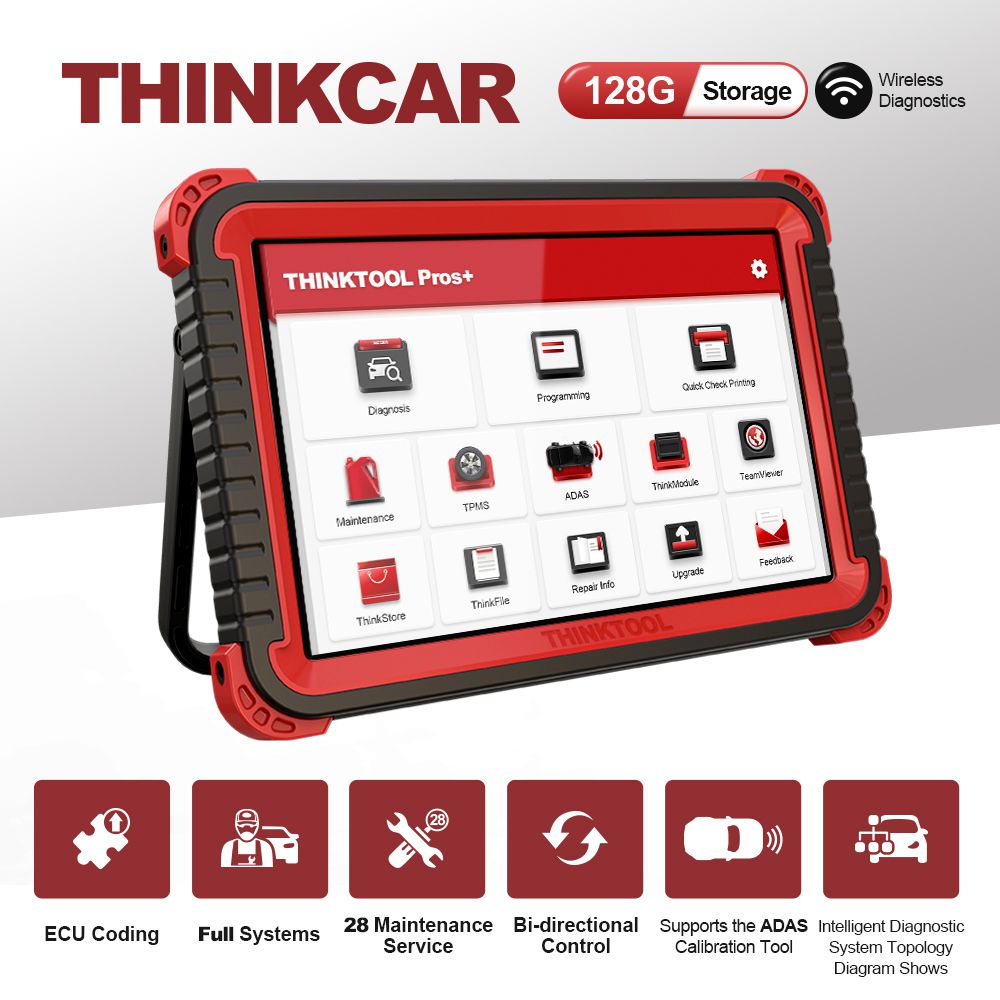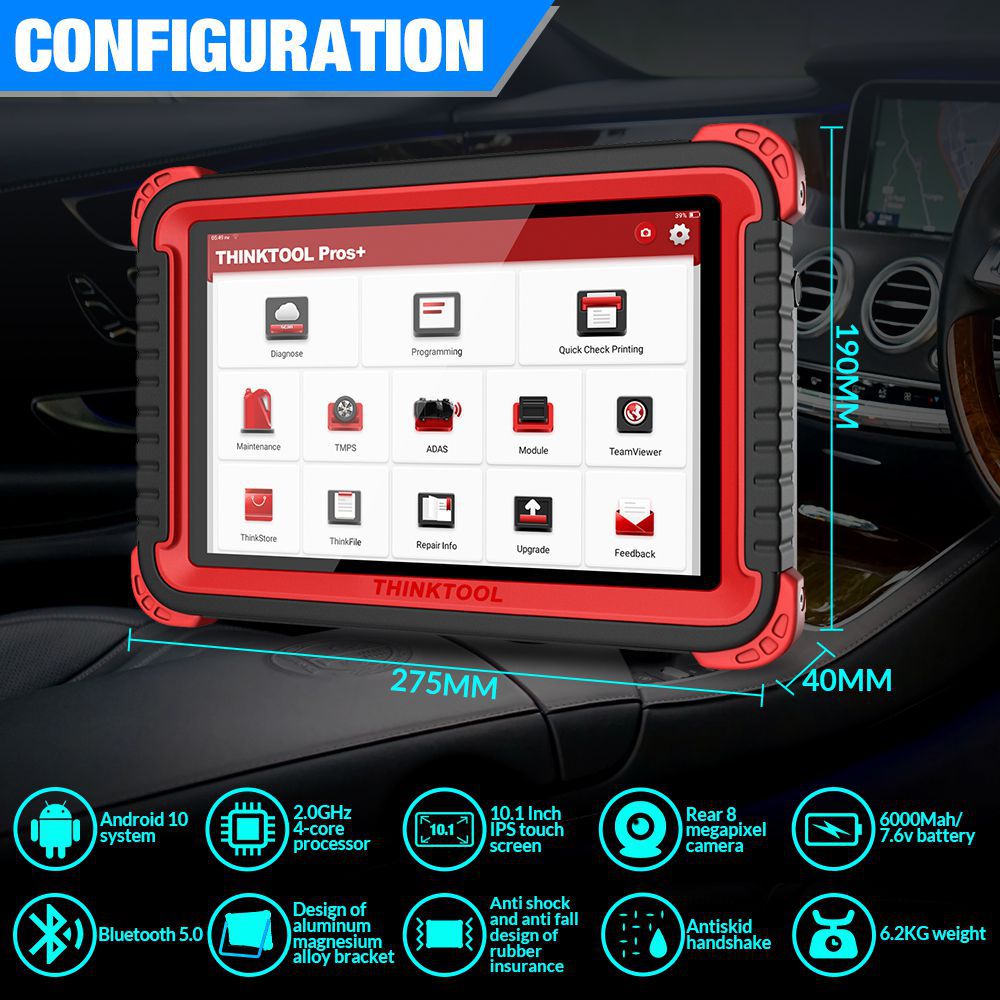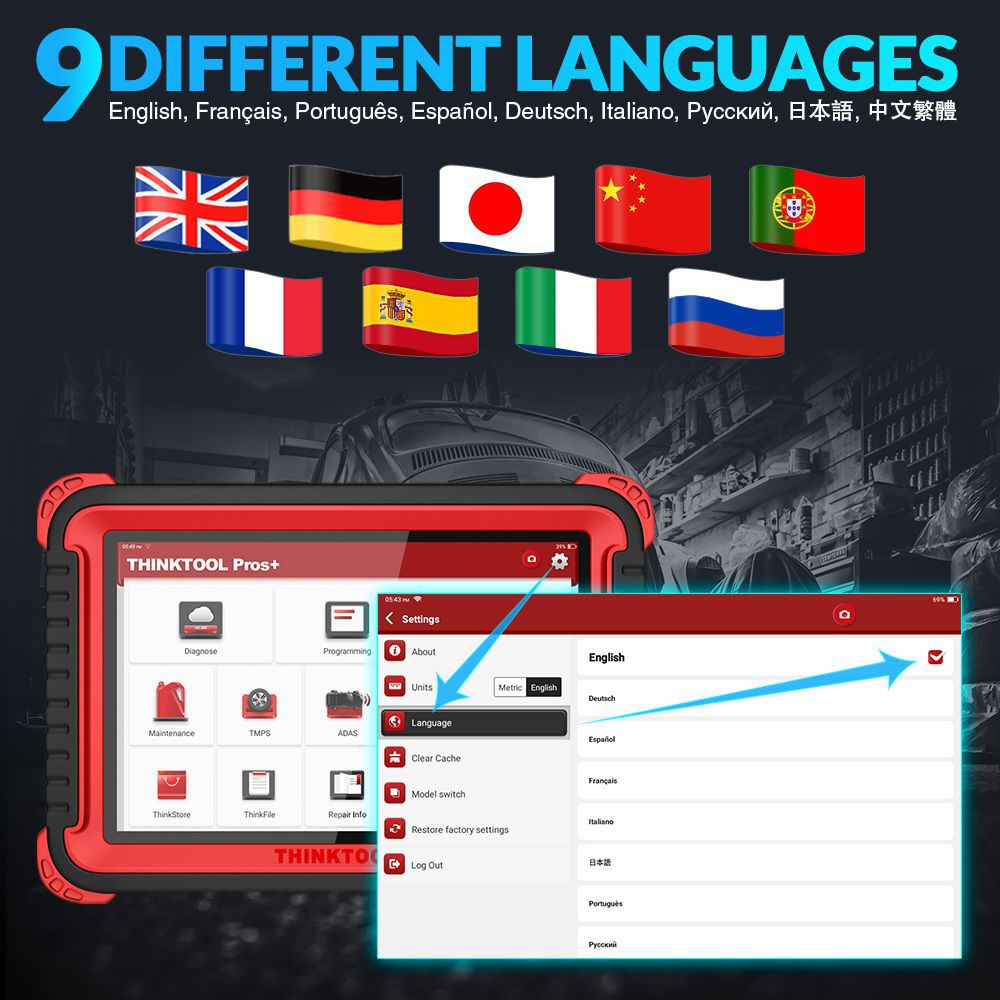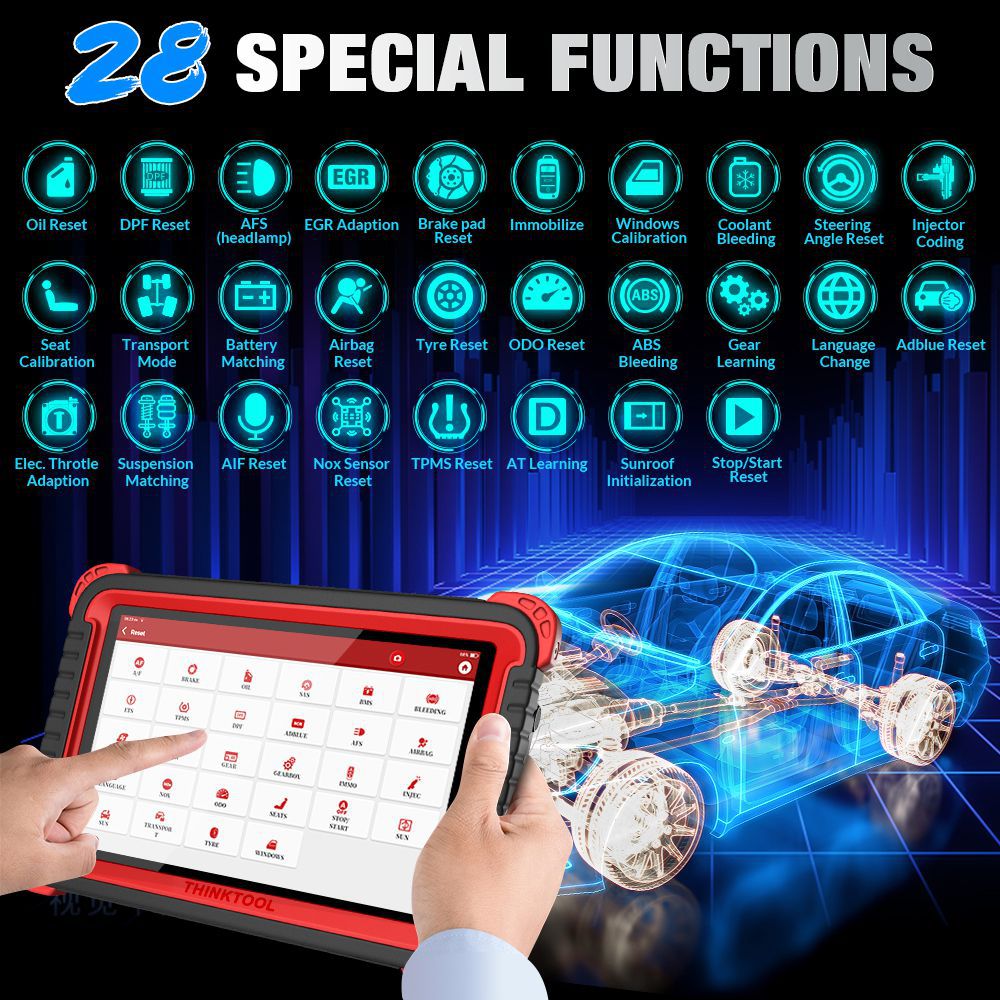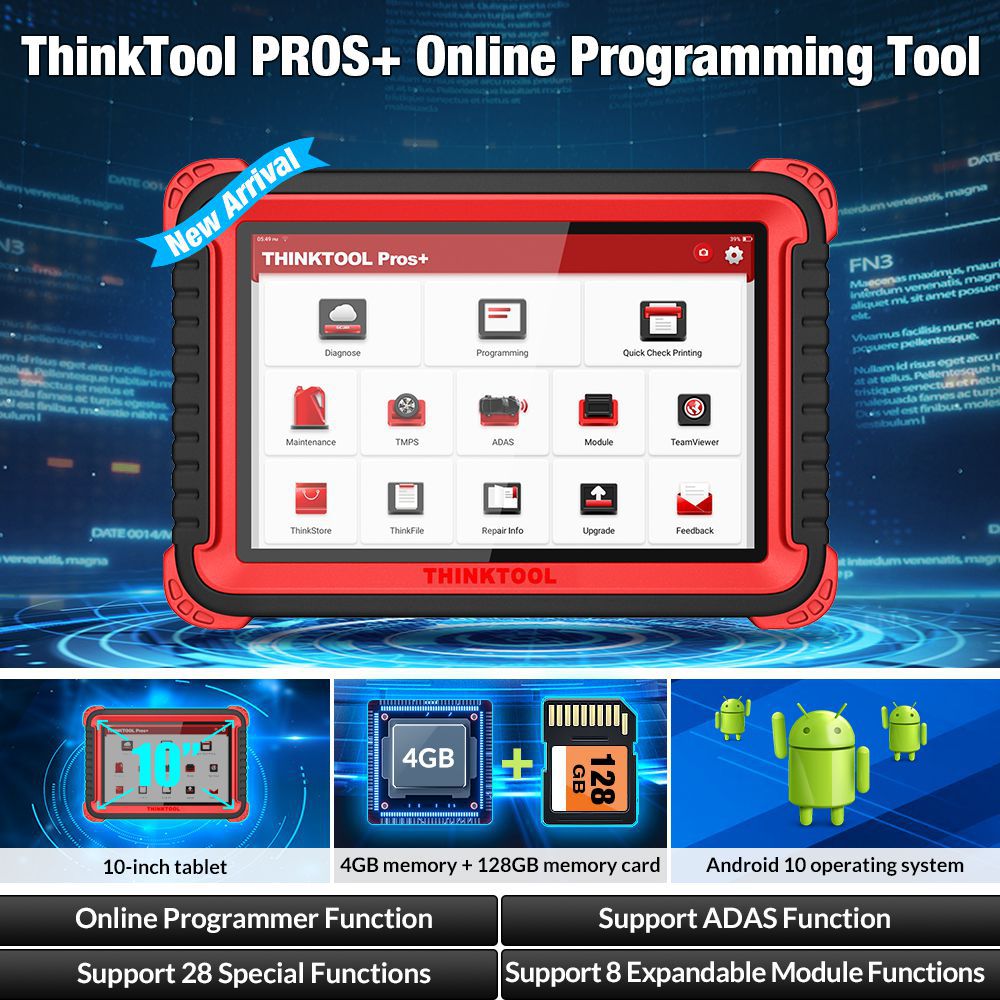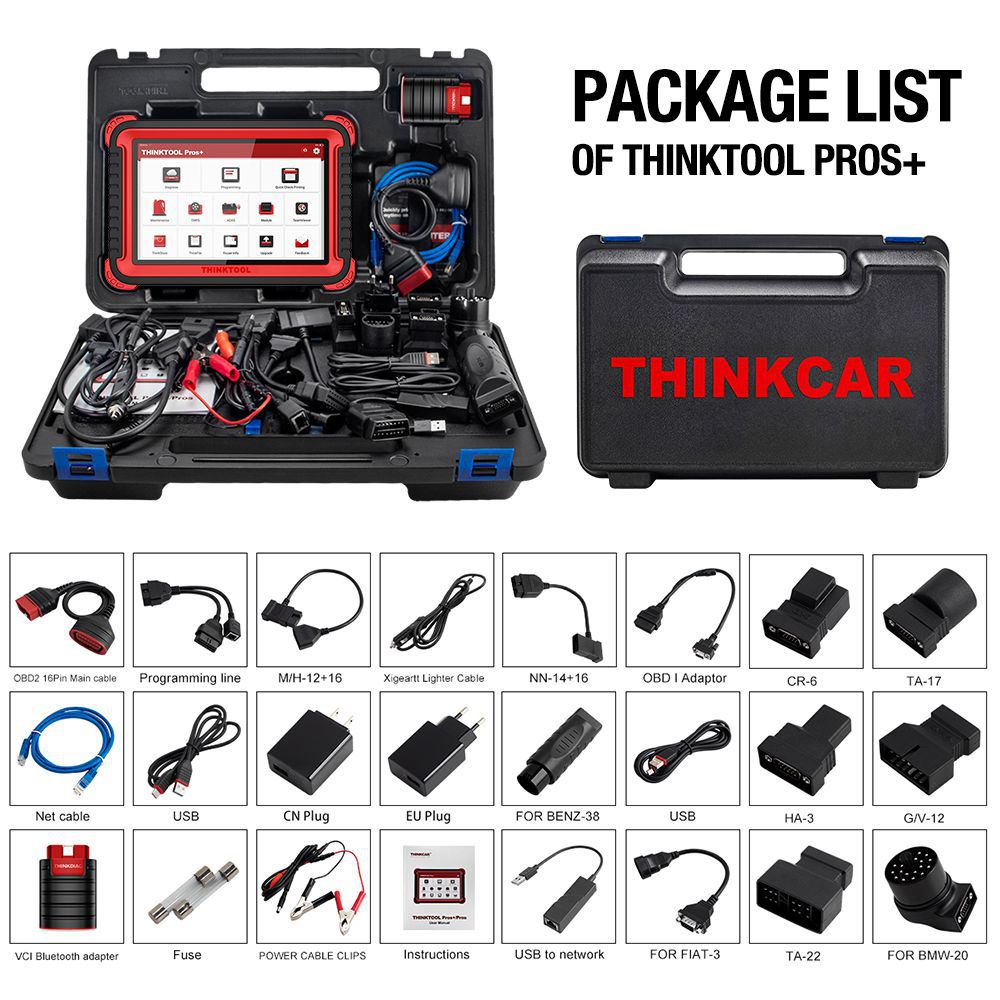 THINKCAR ThinkTool Pros+ diagnostic tools Online Programming obd2 scanner all system key program code reader pk PAD V
THINKCAR THINKTOOL Pros+10inch Car full system Scanner bluetooth wifi with 28 Special service, support Online programming ,ADAS Calibration, Active test+ Android 10 OS running on 10-inch HD IPS Touch Screen + 128GB Memory + 2 years free update online
Shipping:

Express Shipping Service


Estimated delivery time:

3-15

working days.

See details »

Returns:

Return for refund within 7 days,buyer pays return shipping.

Read details »

Support:
Related Accessories/Similar Items
Product Details

Product's Reviews
THINKCAR THINKTOOL Pros+10inch Car full system Scanner bluetooth wifi with 28 Special service, support Online programming ,ADAS Calibration, Active test+ Android 10 OS running on 10-inch HD IPS Touch Screen + 128GB Memory + 2 years free update online
You Deserve to Have a THINKCAR THINKTOOL PROS+
1.High-end online programming capabilities
2.Powerful Quad-Core 2.0GHz processor with 4G+128G Hardware Configuration
3.OE-Level Wireless Intelligent Diagnostics, covering more than 100 car makes
4.Unique Modular Design, supporting up to 8 functional modules for any application scenarios
5.Android 10 OS running on 10-inch HD IPS Touch Screen
6.Supporting 28 Service Reset Functions, more to cover soon
7.Topological Graph
8.Supporting ADAS Calibration
9.Remote Technical Support via TeamViewer
2021 THINKCAR THINKTOOL pros+ Professional Diagnostic Tool CAR REPAIR SHOPS & MECHANICS 's First Choice !!!
The Advance Function of THINKCAR ThinkTool Pros + Supports :
1.Online Programming ( Except USA & Spain )
Think Tool Pros+ supports programming and coding, which is to write the relevant control information of the software into the automotive computer's programmable EPROM or FLASH by making use of the electronic communication transmission technology.
ThinkTool PROS+ Support intelligent recognition of programming files, convenient and quick operation.Support for Mercedes-Benz, for BENZ New Energy, for BMW, for BMW New Energy, for GM, General New Energy, for FORD,
FORD New Energy, for Volkswagen, for Volkswagen New Energy, for Audi, for Audi New Energy, for Land Rover, for Nissan,Skoda, for Sit, for Mazda and other models Programming function.
2.ADAS calibration
Advanced Driver Assistance System (ADAS) is an electronic component in a vehicle, including various safety functions of the vehicle, such as automatic emergency braking (AEB), lane departure warning (LDW),lane keeping assist, blind spot elimination, night vision camera and Adaptive lighting.
The function on the equipment is disabled by default, and the user needs to activate the function with an activation card before using it. And this function needs to be matched with THINKCAR ADAS calibration tools. Mainly used to calibrate various camera and radar of driver assistance systems
3.TPMS Diagnostic function
THINKTOOL Pros+/Pros can work with wireless tire pressure diagnostic tool (optional accessory) toachieve the features of TPMS activation, programming and learning.
a)Activation:to activate the sensor's IlD, wheel pressure, sensor frequency, tire temperature and battery
status.
b)Programming:to program sensor data to a blank Thinkcar sensor, so as to replace a sensor that is in
low battery and does not function properly. There are three sensor programming methods available:automatic, manual, and via activation replication.
c) Learning:to write the sensor ID into the vehicle ECU for sensor identification.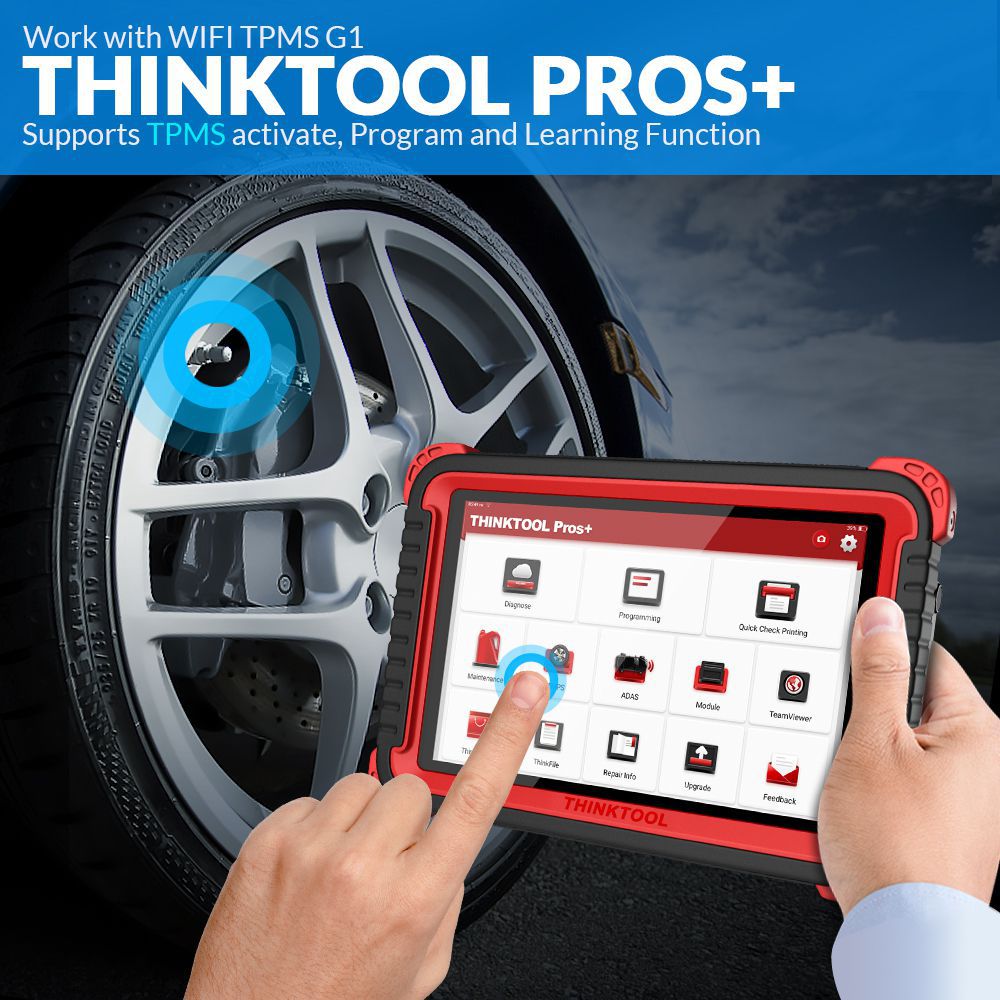 4.28 Maintenance function :
THINKTOOL Pros+/Pros supports matching, coding, programming of most vehicles' programable modules,and most commonly used maintenance and reset functions, namely, Oil Reset, Elec. Throttle Adaption,IMMO Service,Injector Coding,Break-pad Reset, Steering Angle Reset, ABS Bleeding,AFS Reset,Battery Matching,A/T Learning, DPF Regeneration, EGR Adaption, TPMS Reset, Sunroof lnitialization,Suspension Matching, Gear Learning, Airbag Reset, ODO Reset, AdBlue Reset, A/F Reset,CoolantBleeding, Language Change, NOx Sensor Reset, Seat Calibration, Stop/Start Reset,Transport Mode,Tyre Reset, Windows Calibration.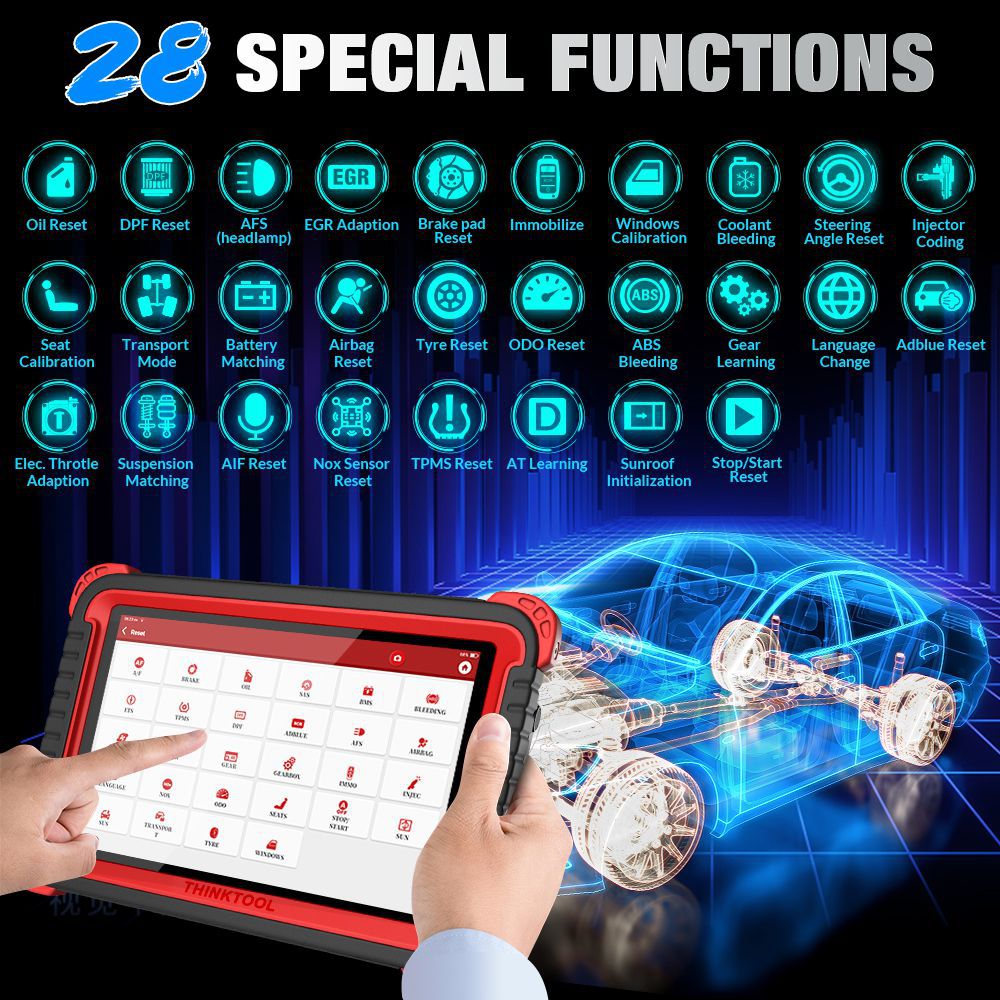 5.Modular expansion:
Support 8 optional modules: printer, work light, videoscope, battery tester, scope box, thermal imager, moudledock, wireless TPMS tool (note: you can buy those model on ThinkStore)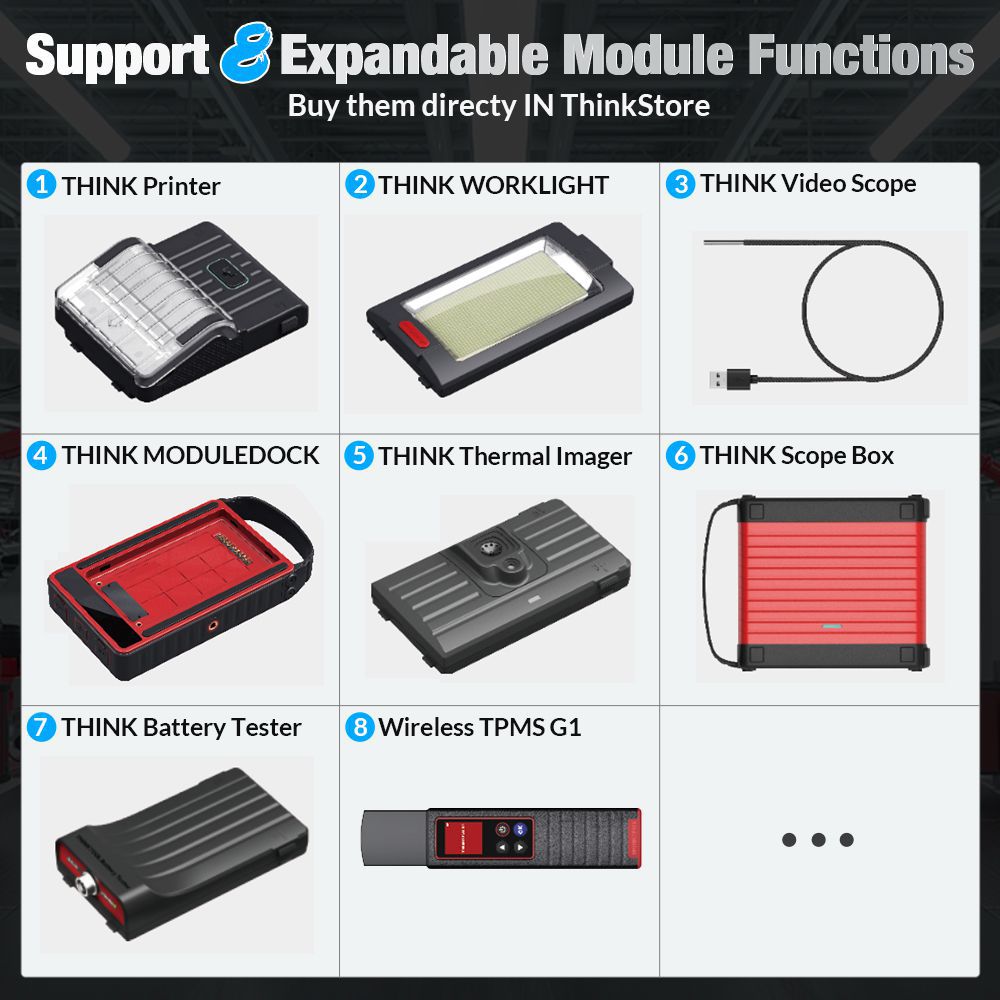 6.12 Data Graphs shows in the Same Screen, it is better you can compare and Analysis the Data , easy to find the problem of the car !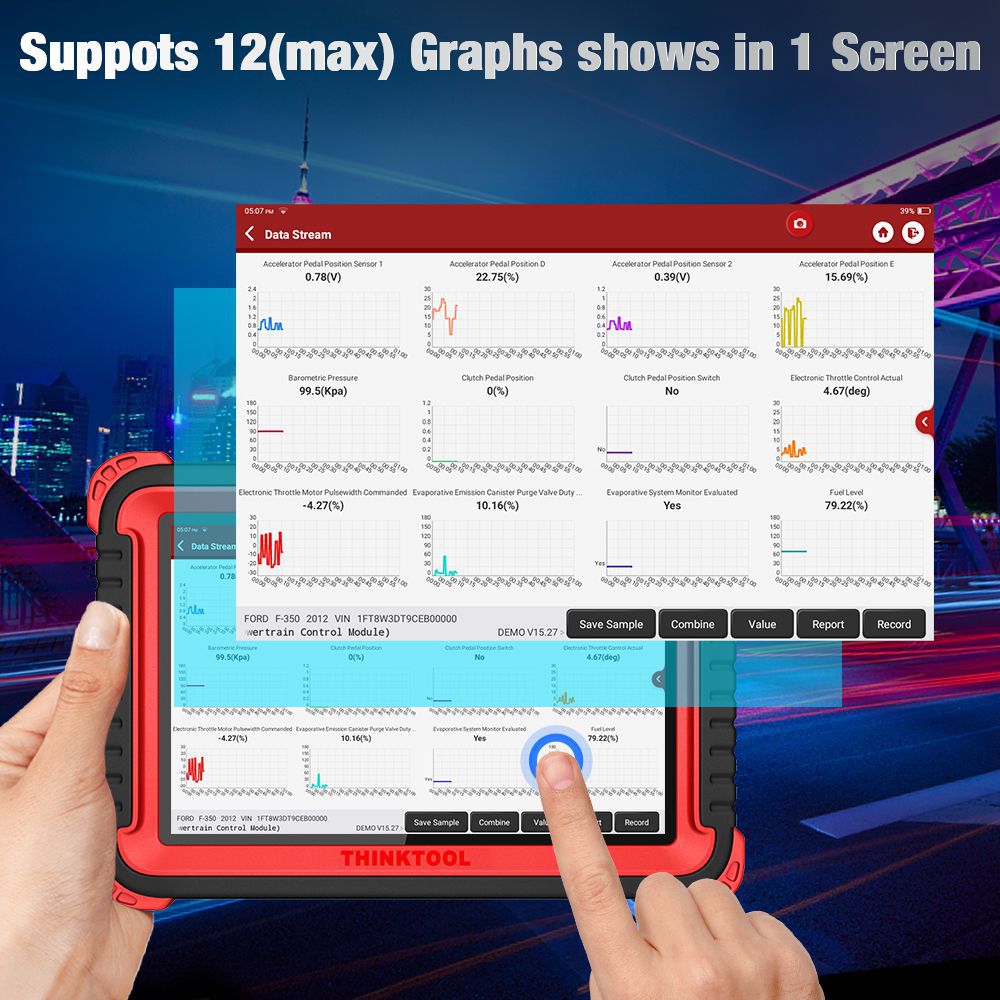 THINKCAR THINKTool PROS+ Features :
1.Language: English,German,Spanish,French,Italian,Japanese,Portuguese,Russian ,Chinese
2.ThinkTool PROS+ supports2 Years Free update.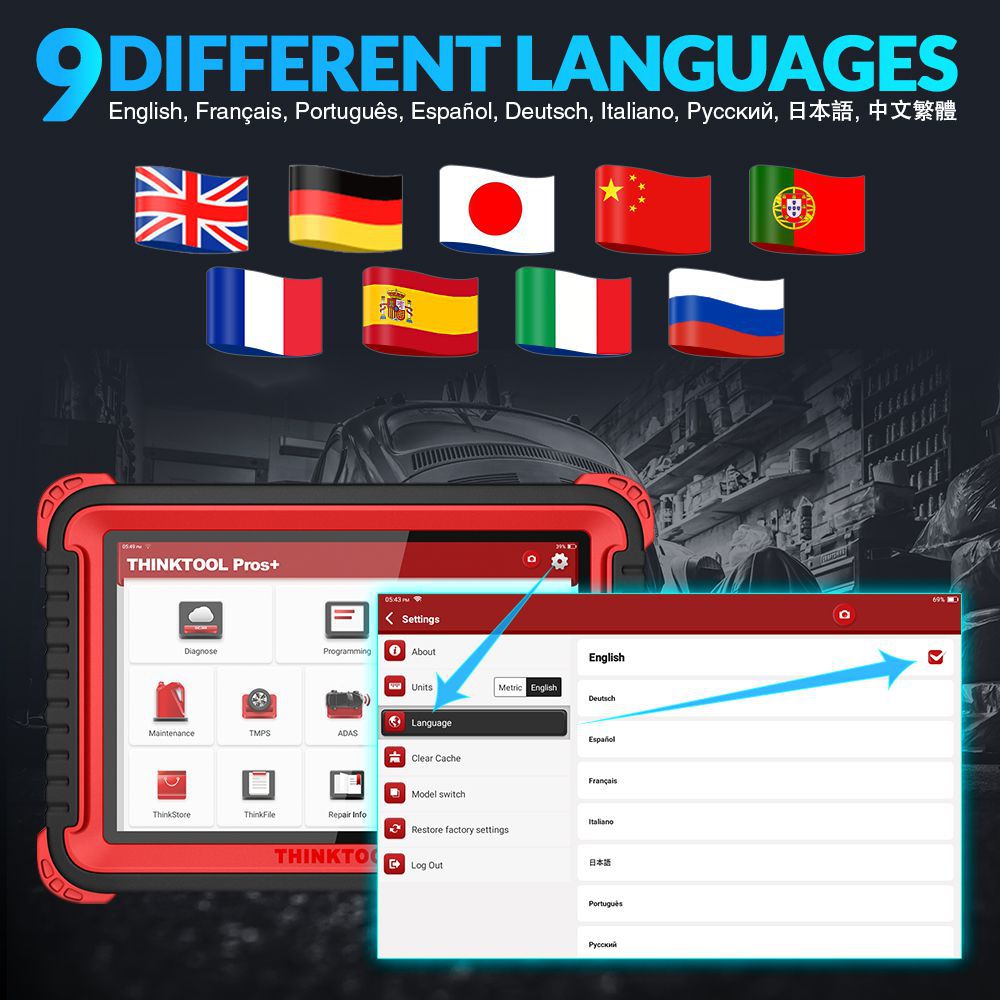 THINKCAR THINKTool supports Full system diagnostic :
Engines/Auto Transmission/Airbags/Immobilizer/Key Coding/ABS/Cruise Control/Instruments/ Self Leveling Suspension systems/Seats/Doors/Gateway/Steering Angle/Air Suspension/Body Systems/Electronic Power Steering & Motor Assisted/Power Steering/Tyre Pressure/Rain Sensors/4WD System/Stabilizer/Intelligent Parking Assist/Door Motors/Audio Systems/Air Conditioning/Tiptronic/Anti Theft/Soft Top/Headlamp Leveling/Central Locking/Automatic Clutch/ DPF Reset/Electric Windows/Plip Programming/Heated Rear Window/Xenon Headlights/Wash Wipe/Fuel Burning Heater/Transfer Box/Seat Memory/Oil Life Service Reset/Sliding Doors/Electronic Throttle/Navigation System/Rollover Sensor/Cruise Control/ Multi Function Steering Wheel/Aux Heating/Electronic Parking Brake/Clutch Electronics etc.( Great for car repair shops and mechanics to improve business)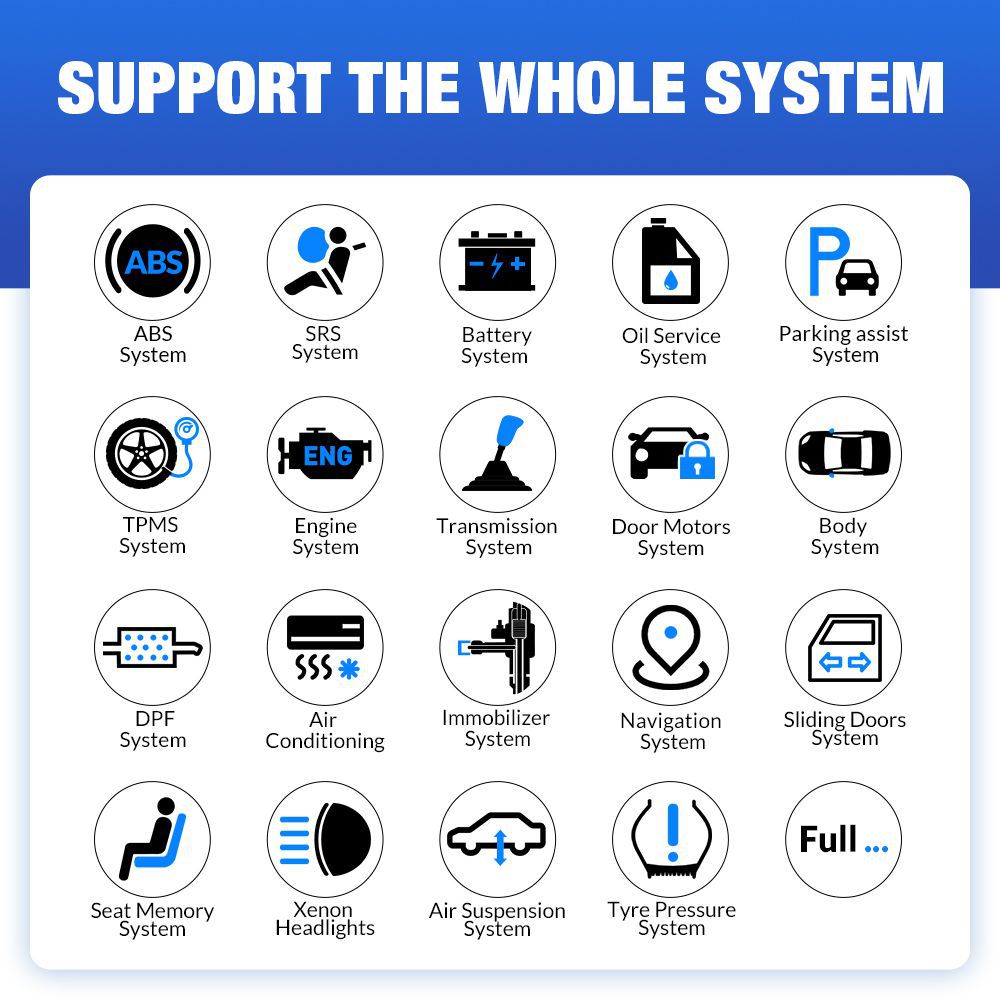 THINKCAR THINKTOOL PROS+ has 28 service functions which allows you to reset various systems in your vehicle. support more function than other scanners priced similarly :
1 Oil Reset
The lightening of the car maintenance light indicates that the vehicle needs maintenance.Reset themileage or driving time to zero after the maintenance, so the maintenance light will go out and the systemwill start a new maintenance cycle.
2 Elec.Throttle Adaption
Elec. Throttle Adaption is to utilize the car decoder to initialize the throttle actuator so that the learningvalue of the ECU returns to the initial state.By doing these, the movement of the throttle (or idle motor)can be more accurately controlled, thus adjust the intake volume.
3 Steering Angle Reset
To reset the steering angle, first find the relative zero point position for the car to drive in straight line.Taking this position as reference, the ECU can calculate the accurate angle for left and right steering.After replacing the steering angle position sensor, replacing steering mechanical parts (such as steeringgearbox, steering column, end tie rod, steering knuckle), performing four-wheel alignment, or recoveringcar body, you must reset the steering angle.
4 Battery Matching
This function enables you to perform a resetting operation on the monitoring unit of vehicle battery, inwhich the original low battery fault information will be cleared and battery matching will be done.
5 ABS Bleeding
When the ABS contains air, the ABS bleeding function must be performed to bleed the brake system torestore ABS brake sensitivity. lf the ABS computer,ABS pump, brake master cylinder, brake cylinder, brakeline, or brake fluid is replaced, the ABS bleeding function must be performed to bleed the ABS.
6 Break-pad Reset
lf the brake pad wears the brake pad sense line, the brake pad sense line sends a signal sense line to theon-board computer to replace the brake pad.After replacing the brake pad, you must reset the brake pad.Otherwise, the car alarms.
7 DPF Regeneration
DPF regeneration is used to clear PM (Particulate Matter) from the DPF filter through continuouscombustion oxidation mode (such as high temperature heating combustion, fuel additive or catalyst reducePM ignition combustion) to stabilize the filter performance.
8 Gear Learning
The crankshaft position sensor learns crankshaft gear machining tolerance and saves to the computerto more accurately diagnose engine misfires. lf gear learning is not performed for a car equipped withDelphi engine, the MlL turns on after the engine is started.The diagnostic device detects the DTC P1336'gear not learned'. In this case, you must use the diagnostic device to perform gear learning for the car.After gear learning is successful, the MIL turns off. After the engine ECU, crankshaft position sensor, orcrankshaft flywheel is replaced, or the DTC 'gear not learned" is present, gear learning must be performed.
9 IMMO Service
To prevent the car being used by unauthorized keys, the anti-theft key matching function must beperformed so that the immobilizer control system on the car identifies and authorizes remote control keysto normally use the car. When the ignition switch key, ignition switch, combined instrument panel,ECu,BCM, or remote control battery is replaced, anti-theft key matching must be performed.
10 Injector Coding
Write injector actual code or rewrite code in the ECU to the injector code of the corresponding cylinder soas to more accurately control or correct cylinder injection quantity. After the ECU or injector is replaced,injector code of each cylinder must be confirmed or re-coded so that the cylinder can better identifyinjectors to accurately control fuel injection.
11 TPMS Reset
After the tire pressure MIL turns on and maintenance is performed, the tire pressure resetting functionmust be performed to reset tire pressure and turn off the tire pressure MIL.Tire pressure resetting mustbe performed after maintenance is performed in the following cases: tire pressure is too low, tire leaks, tirepressure monitoring device is replaced or installed, tire is replaced, tire pressure sensor is damaged,andtire is replaced for the car with tire pressure monitoring function.
12 Suspension Matching
This function can adjust the height of the body. When replacing the body height sensor in the airsuspension system, or control module or when the vehicle level is incorrect, you need to perform thisfunction to adjust the body height sensor for level calibration.
13 AFS Reset
This feature is used to initialize the adaptive headlamp system.According to the ambient light intensity, theadaptive headlamp system may decide whether to automatically turn on the headlamps, and timely adjustthe headlamp lighting angle while monitoring the vehicle speed and body posture.
14 A/T Learning
This function can complete the gearbox self-learning to improve gear shifting quality. When the gearbox isdisassembled or repaired (after some of the car battery is powered off), it will lead to shift delay or impactproblem. In this case, this function needs to be done so that the gearbox can automatically compensateaccording to the driving conditions so as to achieve more comfortable and better shift quality.
15 Sunroof Initialization
This function can set the sunroof lock off, closed when it rains,sliding / tilting sunroof memory function,temperature threshold outside the car etc.
16 EGR Adaption
This function is used to learn the EGR (Exhaust Gas Recirculation) valve after it is cleaned or replaced.
17 ODO Reset
a) ODo reset is to copy,write, or rewrite the value of kilometers in the chip of odometer by using a car
diagnostic computer and data cable, so that the odometer shows the actual mileage.
b)Usually when the mileage is not correct due to the damaged vehicle speed sensor or odometer failure, it is necessary to do ODo reset after maintenance.
18 Airbag Reset
This function resets the airbag data to clear the airbag collision fault indicator. When the vehicle collidesand the airbag deploys, the corresponding fault code of the collision data appears, the airbag indicatorlights up, and the fault code cannot be cleared. Since the data inside the airbag computer is disposable,it is required that all new accessories must be replaced, but after performing this function, the data of theairbag computer can be recovered and the fault code can be cleared, the airbag light will go out, and theairbag computer can continue to use.
19 Transport Mode
ln order to reduce power consumption, the following functions may be disabled,including limiting thevehicle speed, not waking up the door opening network, and disabling the remote control key, etc. At thistime, the transport mode needs to be deactivated to restore the vehicle to normal.
20 A/F Reset
This function is applied to set or learn Air/Fuel ratio parameters.
21 Stop/Start Reset
This function is used to open or close the automatic start-stop function via setting the hidden function inECU(provided that the vehicle has a hidden function and supported by hardware).
22 NOx Sensor Reset
NOx sensor is a sensor used to detect the content of nitrogen oxides (NOx) in engine exhaust. lf theNOx fault is re-initialized and the NOx catalytic converter is replaced, it is necessary to reset the catalyticconverter learned value stored in the engine ECu.
23 AdBlue Reset (Diesel Engine Exhaust Gas Filter)
After the diesel exhaust treatment fluid (car urea) is replaced or flled up, urea reset operation is required.
24 Seat Calibration
This function is applied to match the seats with memory function that are replaced and repaired.
25 Coolant Bleeding
Use this function to activate the electronic water pump before venting the cooling system.
26 Tyre Reset
This function is used to set the size parameters of the modified or replaced tire.
27 Windows Calibration
This feature is designed to perform door window matching to recover ECU initial memory, and recover theautomatic ascending and descending function of power window.
28 Language Change
This function is used to change the system language of the vehicle central control panel.
THINKCAR THINKTool PROS+ Supports Complete OBD2 functions
Reading Codes:Show the detailed description of the Diagnostic Trouble Code (DTCs)
Erasing Codes & Reset:Turns off Check Engine Light (MIL), clears codes and resets monitors.
Data Stream:Reads and displays live ECU/PCM data stream, plotting functions graphically and stores freeze frame data.
I/M Readiness Status:Shows whether the various emissions-related systems on the vehicle are operating properly and are ready for inspection and maintenance testing.
Read Live Data Stream:Show the information of continuous data stream from a vehicle in live graphic (waveform) display.
View Freeze Frame Data:Check the certain vehicle conditions which are recorded by the on-board computer at the time the emission-related fault occurs.
O2 Sensor Test:Allows retrieval and viewing of O2 sensor monitor test results for the most recently performed tests from the vehicle's on-board computer.
On-Board Monitor Test:Retrieves and displays test results for emission-related powertrain components and systems.
Read Vehicle Information:Display the information such as VIN (Vehicle Identification Number), CID (Calibration ID) and CVN (Calibration verification number), etc.
Component Test:Certain vehicle components can be actuated by commands sent from the scanner to test their operability.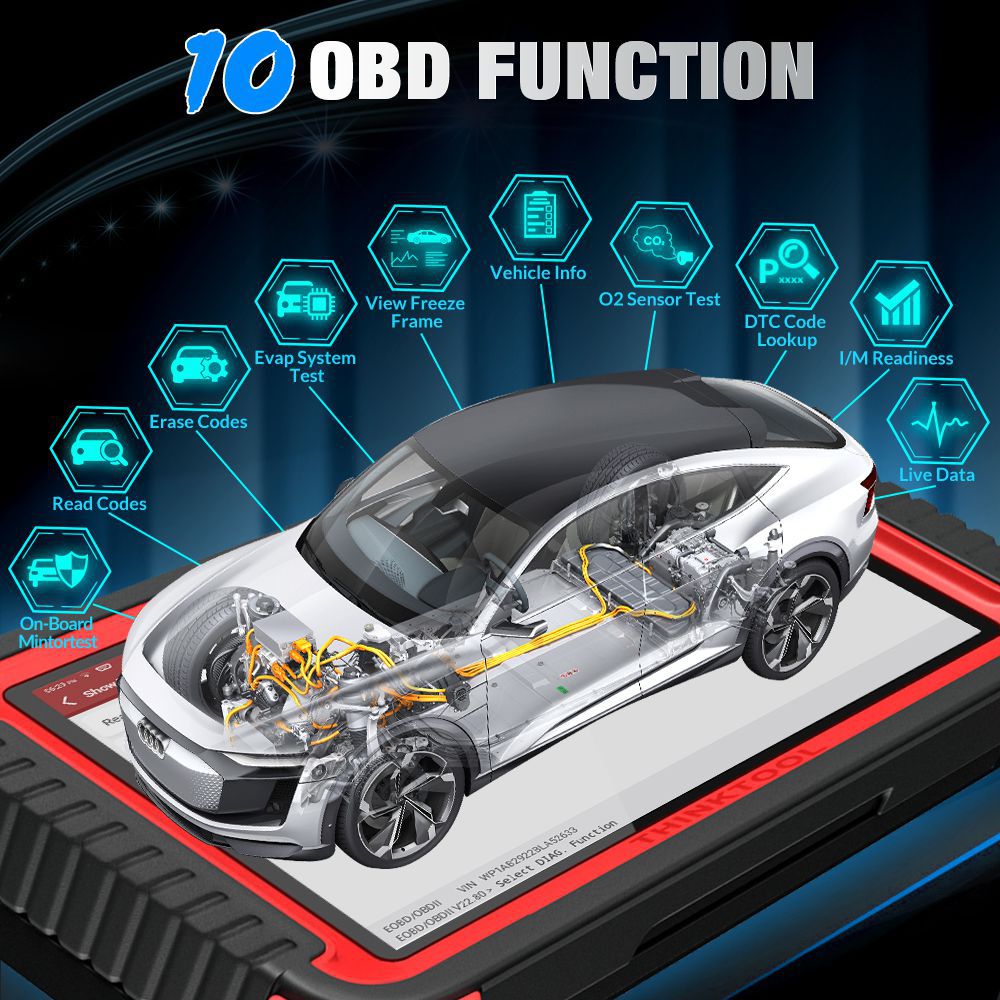 The Other Function of THINKCAR THINKTool PROS+ :
Auto VIN read Function :It can read VIN information automanually when you connect Car , fast get the inforamtion .
Quick test:It enables you to quickly access all the electronic control units of the vehicle and generate a detailed report about vehicle health.support system scan and system select
System Scan:automatically scan all systems of the vehicle
System Selection:manually choose the automotive electronic control system.
Quick Check and Printing
It adopts smart detection mode. After the vehicle is connected, the system will automatically recognize
the vehicle information, automatically check the vehicle, and automatically generates a report. Automatic
printing can be set so that no human intervention is needed throughout the process.
Actuation Test:This function is used to test whether the execution components in the electronic control system can work
ECU CODING
:The Coding function is used to re-flash the vehicle control modules, it allows you to reprogram adaptive data for certain components after making repairs or replacements.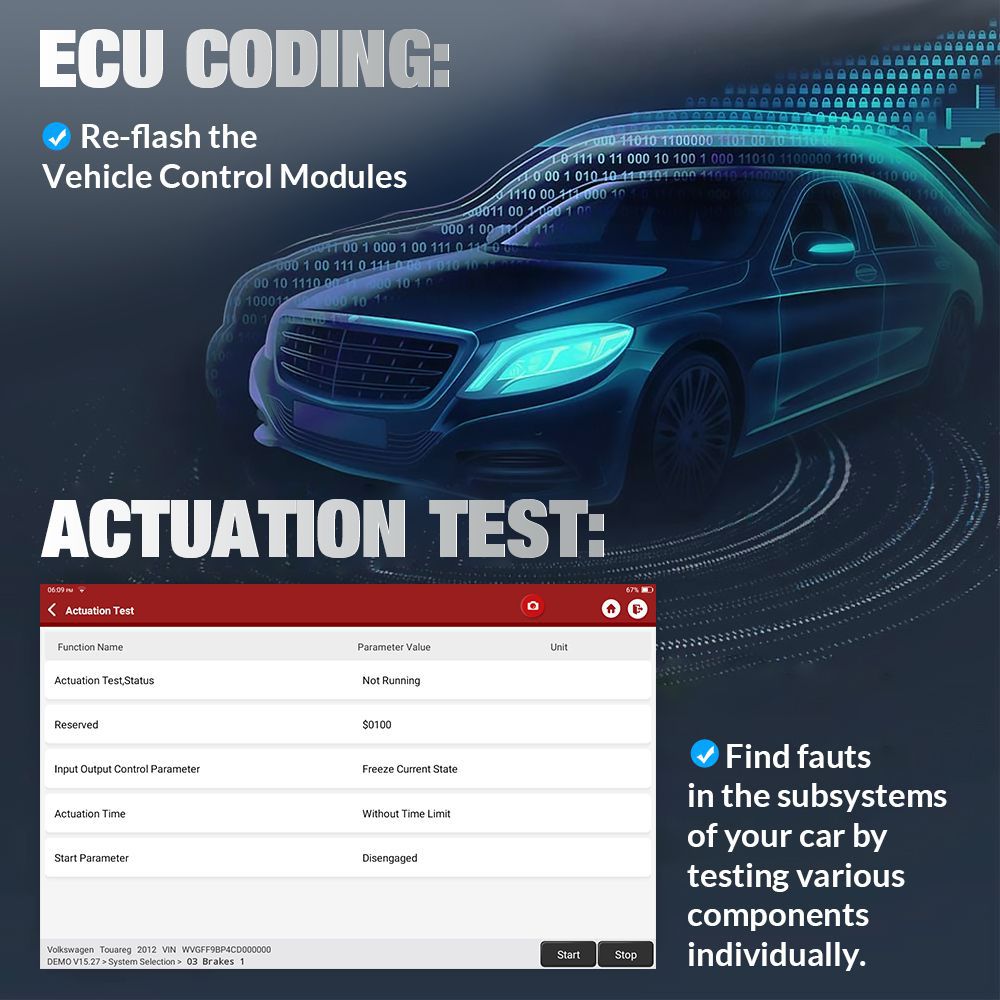 Graphical display
Combine: Displayed in graph merge status for data comparison.
Value: Displayed the parameters in values and shown in list format.
Customize: Customize the data stream option to be viewed. Tap the button, a pull-down list of the data stream items appears on the screen. Select the desired items (max12 items), and then screen will display the waveforms corresponding to these items immediately. If need to remove any items, just deselect them.
Multi-Language supported You can select the language of your country to operate THINKCAR THINKTOOL PROS+ with one click
Diagnostic Feedback
If you encounter an unresolved problem or diagnostic software bug during diagnosis, you can revert
the most recent 20 test records to Thinkcar Team. When we receive your feedback, we will analyze and troubleshoot it in a timely manner, to improve the quality of our products and user experience.
Quick print diagnostic reports
Thermal printer, work with the main unit, also can work with module dock. Quick print diagnostic reports anytime and anywhere.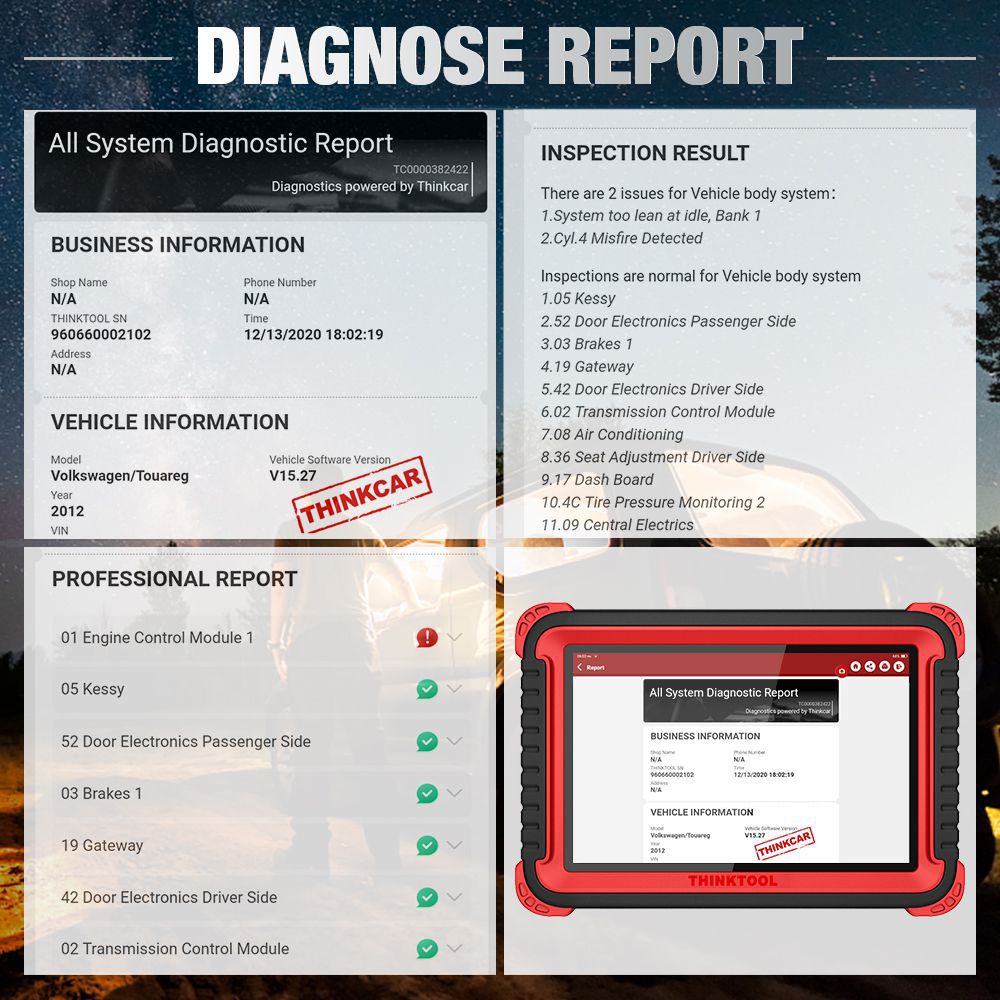 And More features waiting for you to discover......
THINKCAR ThinkTool Pros + Supports Car List :
For ASTONMARTIN, For AUDI, For AUSTFORD, For AUSTHOLDEN, For AUTOSEARCH, For BAIC, For BENZ, For BMW, For BXFIAT, For BXGM, For CHANGAN, For CHANGCHENG, For CHANGHE, For CHRYSLER, For CITROEN, For CMC, For DAEWOO, For DAIHATSU, For DEMO, For DFXK, For DR ECUAID, For EOBD2, For FERRARI, For FIAT, For FLYER, For FUTIAN, For GAZ, For GM, For HAFEI, For HMAZDA, For HONDA, For HUACHEN, For HYUNDAI, For IKCO, For INDIAN MAHINDRA, For INDIAN MARUTI, For INDIAN TATA, For ISUZU, For IVECO, For IZH, For JACTY,For JIAO, For JINLONG, For JOYLONG, For JPISUZU, For KIA, For LANDROVER, For LIFAN, For LIUWEI_TY, For LUXGEN, For MAHINDRA, For MALAYSIA PERODUA, For MALAYSIA PROTON, For MARUTI, For MASERATI, For MAXUS, For MAZDA, For MITSUBISHI, For MVM, For NISSAN, For OPEL, For PAZ, For PERODUA, For PEUGEOT, For PORSCHE, For PROTON, For QIRUI_TY, For QOROS, For RENAULT, For RESETADBLUE, For RESETAFS, For RESETAIRBAG, For RESETAIRFUEL, For RESETBLEED, For RESETBMS, For RESETBOX , For RESETBRAKE, For RESETCOOLANT, For RESETDPF, For RESETEGR, For RESETETS, For RESETGEAR, For RESETIMMO, For RESETINJEC, For RESETLANGUAGE, For RESETNOXSENSOR, For RESETODO, For RESETOIL, For RESETSAS, For RESETSEAT, For RESETSTOPSTART, For RESETSUN, For RESETSUS, For RESETTPMS, For RESETTRANSPORT, For RESETTYRE, For RESETWINDOW, For ROVER, For SAAB, For SAICMG, For SAIPA, For SAMSUNG, For SEAT, For SEAZ, For SGM, For SKODA, For SMART, For SPARK_TY, For SPRINTER, For SSANGYONG, For SUBARU, For SUZUKI, For TATA, For TOYOTA, For TPMS, For TRUMPCHI, For UAZ, For USAFORD, For VAZ, For VOLVO, For VW, For WEILI, For XIALI, For XINKAI, For ZAZ, For ZHONGSHUN, For ZHONGTAI, For ZHONGXING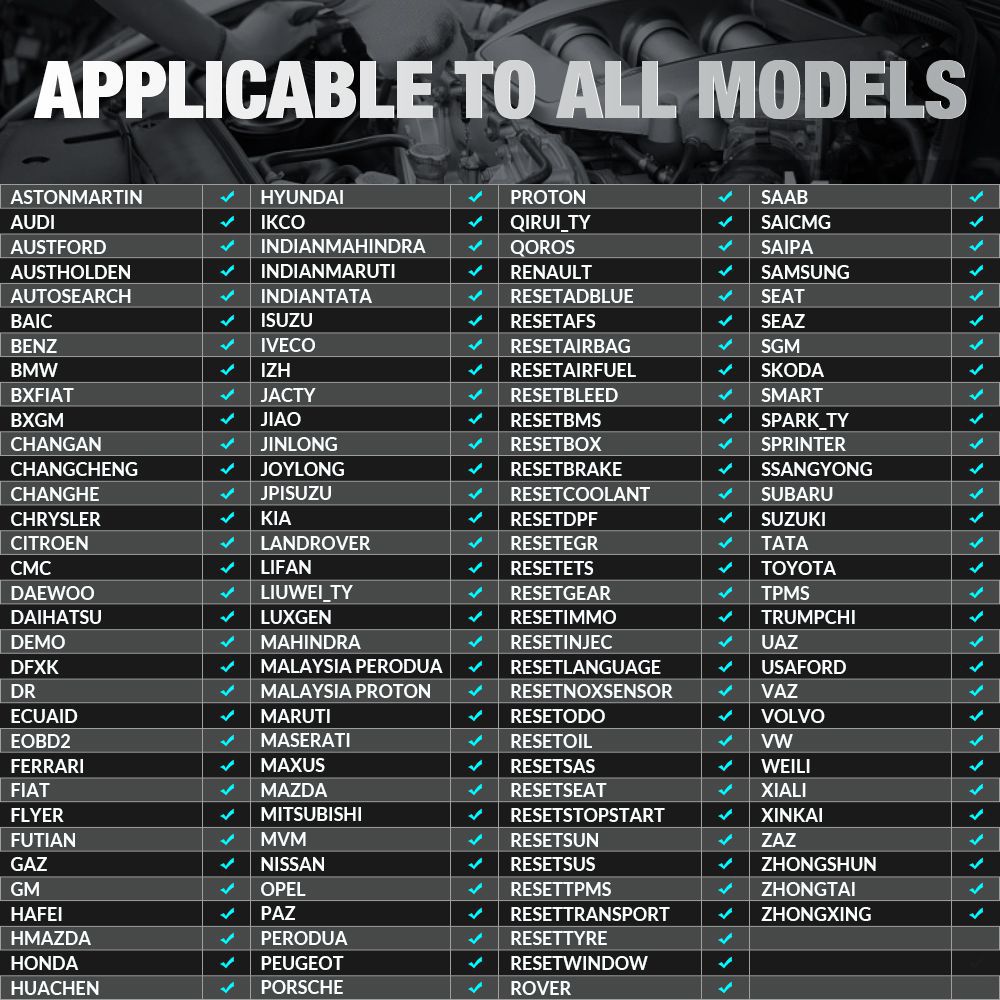 How To Register THINKCAR ThinkTool Pros+ :
Step 1 :Setting language & Time Zone , Connect WIFI
Step 2 :Agree the Register term
Step 3 :Register an account with your Email box
Step 4 :VCI Activate - Enter the serial number and Password to activate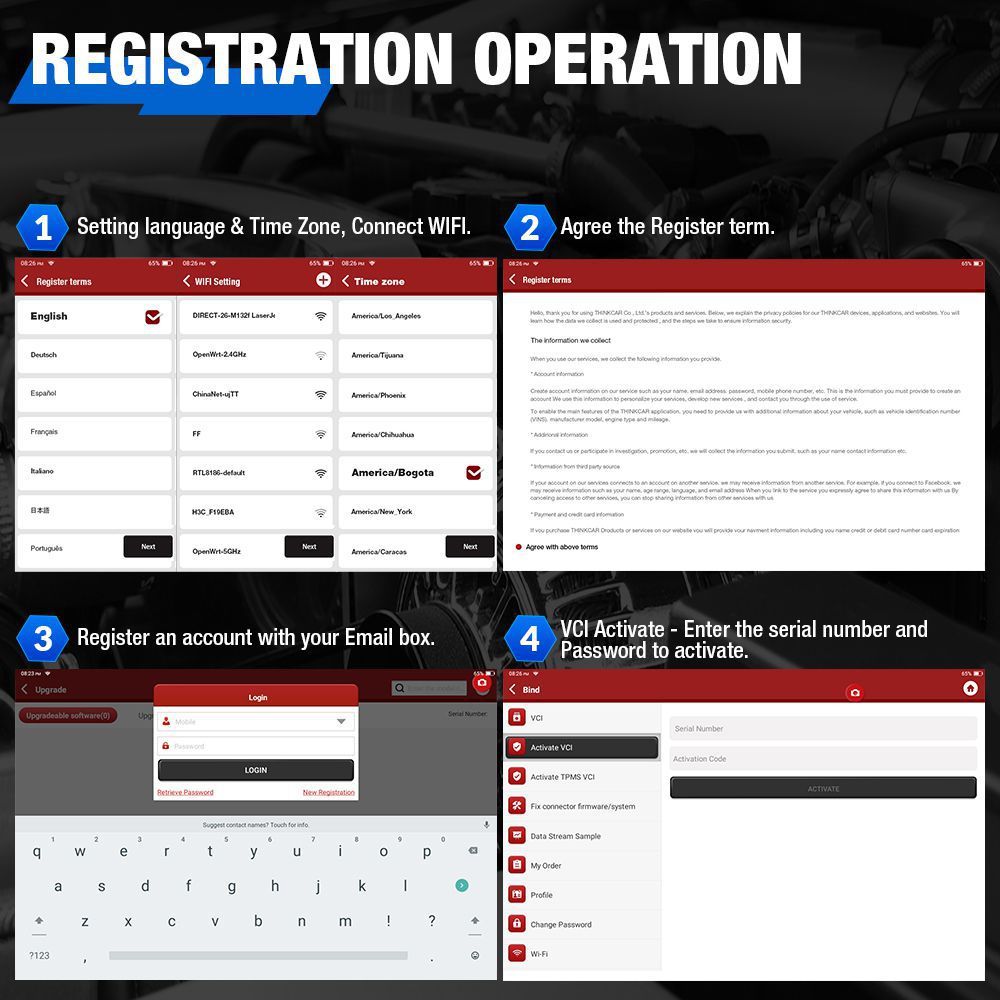 How To Update THINKCAR ThinkTool Pros+ :
ThinkTOOL PRO+ is with2 years free Update
Click "Update" to One-Click Update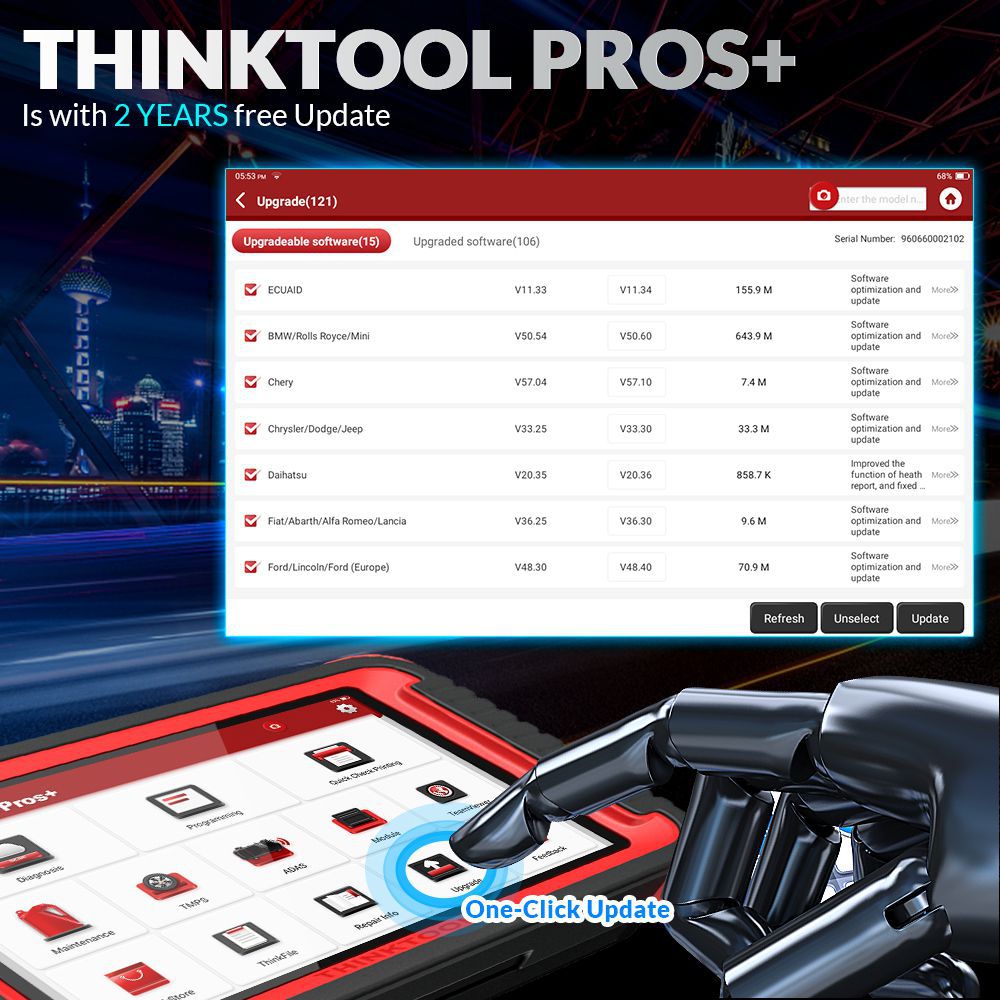 How To Printer the Diagnostic Report :
Two Ways Print :
1. Share the Diagnostic Report out via USB , then print .
2. Use Think Printer to print directly ( need buy Think Printer additional )
High-end hardware configuration of THINKCAR ThinkTool Pros+ :
Operating System: Android 10
Camera:Rear camera 8.0MP
Memory:4G
Network:Wi-Fi, WL AN 802. 11b/g/n
Storage:128G(Pros+)
Bluetooth: Bluetooth 5.0
Battery: 6000mAh/7.6V
Working Temperature: 0°C ~ 50°C
Screen: 10 inches
Storage Temperature:-20°C ~ 60°C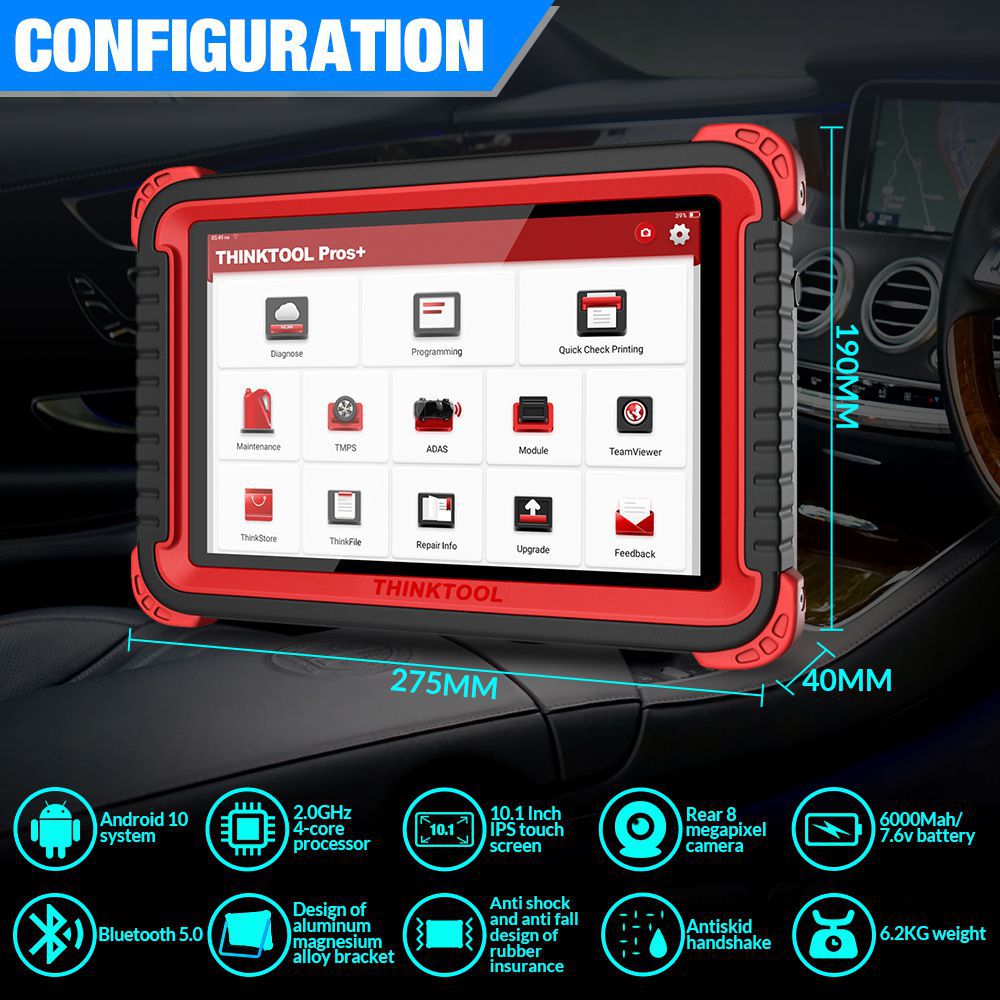 The Packing of THINKCAR ThinkTool Pros+ :