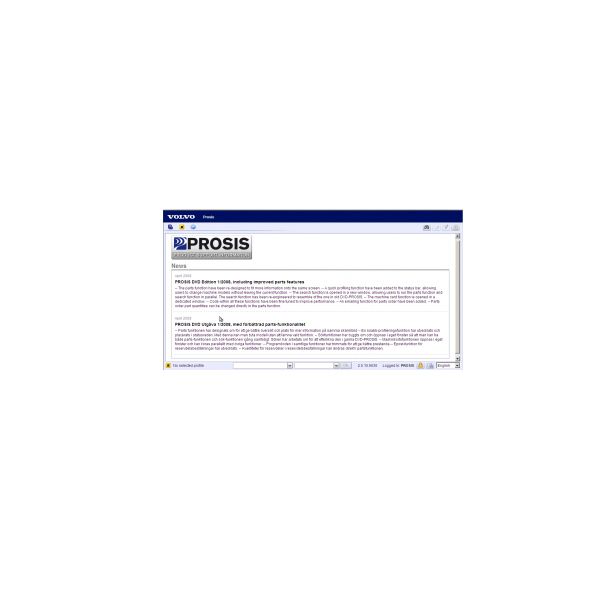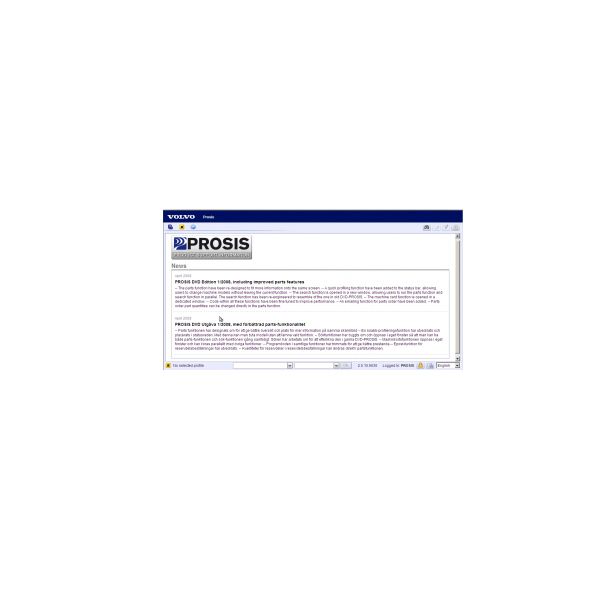 2009 Parts for Volvo Prosis with Multi-Language Buy SS40/SS40-B Instead
2009 Parts for Volvo Prosis, supports multi-language, can work withmost of Volvo vehicles, is repair database.
Shipping:

Standard Flat Rate Shipping Service


Estimated delivery time: 7-45 working days.

See details»

Returns:

Return for refund within 7 days,buyer pays return shipping.

Read details »

Support:
Product Details

Product's Reviews
2009 Parts for Volvo Prosis
Language: English/ Spanish/ German/ French/ Japanese
Date: 2009
Quantity of CD: 2DVD DL+1CD
The list of models, included in PROSIS Volvo Construction Equipment is below.
Articulated Haulers (ART)
5350 (
Volvo
BM)
5350B (Volvo BM)
5350В 4x4 (Volvo BM)
5350В 6x4 (Volvo BM)
860 (Volvo BM)
861 (Volvo BM)
А20 (Volvo BM)
А20 6x4 (Volvo BM)
А20С (Volvo BM)
А20С (Volvo)
А25 (Volvo BM)
А25 4x4 (Volvo BM)
А25 6x4 (Volvo BM)
А25В (Volvo BM)
А25В 4x4 (Volvo BM)
А25С (Volvo BM)
А25С (Volvo)
А25С 4x4 (Volvo BM)
А25С 4x4 (Volvo)
A25D (Volvo)
A25D 4x4 (Volvo)
A25E (Volvo)
A25E 4x4 (Volvo)
A30 (Volvo BM)
A30C (Volvo BM)
A30C (Volvo)
A30D(Voiyo)
A30E(Volvo)
A35 (Volvo BM)
А35С (Volvo BM)
A35С (Volvo)
A35D (Volvo)
A35E (Volvo)
A40 (Volvo BM)
A40 (Volvo)
A40D (Volvo)
A40E (Volvo)
T450D (Volvo)
Backhoe Loaders (BHL)
BL60 (Volvo)
BL61 (Volvo)
BL61 PLUS (Volvo)
BL70 (Volvo)
BL71 (Volvo)
BL71 PLUS (Volvo)
Compact Excavators (CEX)
ЕС15 XT (Volvo)
EC15XTV (Volvo)
EC1 5B XR (Volvo)
EC1 5B XT (Volvo)
EC15BXTV (Volvo)
EC20 XT (Volvo)
EC20XTV (Volvo)
EC20B XT (Volvo)
EC20BXTV (Volvo)
EC25 (Volvo)
EC30 (Volvo)
EC35 (Volvo)
EC35C (Volvo)
EC45 (Volvo)
EC50 (Volvo)
EC50W (Volvo)
EC55 (Volvo)
EC55-2 (Volvo)
EC55B (Volvo)
EC55C (Volvo)
EC55-EU (Volvo)
EC70 (Volvo)
EC70W (Volvo)
ECR28 (Volvo)
ECR38 (Volvo)
ECR48C (Volvo)
ECR58 (Volvo)
ECR88 (Volvo)
EW50 (Volvo)
EW50 W (Volvo)
EW55 (Volvo)
EW55B (Volvo)
EW70 (Volvo)
EW70 W (Volvo)
Compact Wheel Loaders (CWL)
L20B (Volvo)
L25B (Volvo)
L30 (Volvo BM)
L30 (Volvo)
L30B (Volvo)
L32 (Volvo)
L32B (Volvo)
L35 (Volvo)
L35B (Volvo)
L40 (Volvo)
L40B (Volvo)
L45 (Volvo)
L45B (Volvo)
ZL302C (Volvo)
ZL402C (Volvo)
ZL502C (Volvo)
Excavators (EXC)
ЕС130 (Akerrnan)
EC130C (Akerrnan)
EC130C (Volvo)
EC135BLC (Volvo)
EC140 LC (Volvo)
EC1 40 LCM (Volvo)
EC140BLC (Volvo)
EC140B LCM (Volvo)
EC140CL (Volvo)
EC140CLM (Volvo)
EC150 (Akerrnan)
EC150 (Volvo)
EC150 LC (Volvo)
EC150C (Akerrnan)
EC150C (Volvo)
EC160 (Volvo)
EC160BLC (Volvo)
EC160B NLC (Volvo)
EC160CL (Volvo)
EC160CNL (Volvo)
EC180BLC (Volvo)
EC180CL (Volvo)
EC200 (Akerrnan)
EC200 (Volvo)
EC210 (Volvo)
EC210 F (Volvo)
EC210 LC (Volvo)
EC210 LR (Volvo)
EC210 NLC (Volvo)
EC210B F (Volvo)
ЕС210 B FX (Volvo)
EC210 B LC (Volvo)
EC210 B LR (Volvo)
EC210 B NC (Volvo)
EC210 B NLC (Volvo)
EC210 С L (Volvo)
EC210 С LR (Volvo)
EC210 С N (Volvo)
EC210 С NL (Volvo)
EC230 (Akerrnan)
EC230B (Akerrnan)
EC230B (Volvo)
EC235CNL (Volvo)
EC240 (Volvo)
EC240 LC (Volvo)
EC240 LR (Volvo)
EC240 NLC (Volvo)
EC240BFX (Volvo)
EC240B LC (Volvo)
EC240B LR (Volvo)
EC240B NLC (Volvo)
EC240CL (Volvo)
EC240C LR (Volvo)
EC240CNL (Volvo)
EC280 (Volvo)
EC290 (Volvo)
EC290 LC (Volvo)
EC290 LR (Volvo)
EC290 NLC (Volvo)
EC290BFX (Volvo)
ЕС290В LC (Volvo)
EC290B LR (Volvo)
EC290B NLC (Volvo)
EC290CL (Volvo)
EC290C LR (Volvo)
EC290CNL (Volvo)
EC300 (Akerman)
EC330B LC (Volvo)
EC330CL (Volvo)
EC340 (Volvo)
EC360 (Volvo)
EC360 LC (Volvo)
EC360 NLC (Volvo)
EC360B LC (Volvo)
EC360B LR (Volvo)
EC360B NLC (Volvo)
EC360CL (Volvo)
EC360CNL (Volvo)
EC390 (Volvo)
EC420 (Akerman)
EC450 (Akerman)
EC450 (Volvo)
EC460 (Volvo)
EC460 LC (Volvo)
EC460B LC (Volvo)
EC460B LR (Volvo)
EC460CL (Volvo)
EC620 (Akerman)
EC650 (Akerman)
EC650 (Volvo)
ЕС700В LC (Volvo)
EC700CL (Volvo)
ECR145CL (Volvo)
ECR235CL (Volvo)
EW130 (Akerman)
EW130 (Volvo)
EW130C (Akerman)
EW130C (Volvo)
EW140 (Volvo)
EW140B (Volvo)
EW140C (Volvo)
EW145B (Volvo)
EW150 (Akerman)
EW150C (Akerman)
EW150C (Volvo)
EW160 (Volvo)
EW160B (Volvo)
EW160C (Volvo)
EW170 (Volvo)
EW170 KR (Volvo)
EW180 (Volvo)
EW180B (Volvo)
EW180C (Volvo)
EW200 (Akerman)
EW200 (Volvo)
EW200B (Volvo)
EW210C (Volvo)
EW230 (Akerman)
EW230B (Akerman)
EW230B (Volvo)
FC2121C (Volvo)
FC2421C (Volvo)
FC2924C (Volvo)
FC3329C (Volvo)
Motor Graders (GRD)
G710 (Volvo)
G710 VHP (Volvo)
G71 OB (Volvo)
G716 VHP (Volvo)
G720 (Volvo)
G720 VHP (Volvo)
G720B (Volvo)
G726 VHP (Volvo)
G726B (Volvo)
G730 (Volvo)
G730 VHP (Volvo)
G730B (Volvo)
G736 VHP (Volvo)
G740 (Volvo)
G740 VHP (Volvo)
G740B (Volvo)
G746B (Volvo)
G780 (Volvo)
G780 VHP (Volvo)
G780B (Volvo)
G930 (Volvo)
G940 (Volvo)
G946 (Volvo)
G960 (Volvo)
G970 (Volvo)
G976 (Volvo)
G990 (Volvo)
Skidsteer Loaders (SSL)
МС110 (Volvo)
MC110B (Volvo)
MC60 (Volvo)
MC60B (Volvo)
MC70 (Volvo)
MC70B (Volvo)
MC80 (Volvo)
MC80B (Volvo)
MC90 (Volvo)
MC90B (Volvo)
Wheel Loaders (WLO)
4200 (Volvo BM)
4200B (Volvo BM)
4300 (Volvo BM)
4300B (Volvo BM)
4400 (Volvo BM)
4500 (Volvo BM)
4600 (Volvo BM)
4600B (Volvo BM)
616B (Volvo BM)
6300 (Volvo BM)
646 (Volvo BM)
EL70 (Volvo BM)
EL70C (Volvo BM)
L110E (Volvo)
L110F (Volvo)
L120 (Volvo BM)
L120B (Volvo BM)
L120C(VolvoBM)
L120C (Volvo)
L120D (Volvo)
L120E (Volvo)
L120F (Volvo)
L150 (Volvo BM)
L150C (Volvo BM)
L150C (Volvo)
L150C LB (Volvo)
L150D (Volvo)
L150E (Volvo)
L150F (Volvo)
L160 (Volvo BM)
L160 CO (Volvo ВМ)
L180 (Volvo BM)
L180 CO (Volvo ВМ)
L180 HL (Volvo BM)
L180C (Volvo BM)
L180C (Volvo)
L180C CO (Volvo BM)
L180C CO (Volvo)
L180CHL (Volvo BM)
L180C HL (Volvo)
L180D (Volvo)
L180D HL (Volvo)
L180E (Volvo)
L180E HL (Volvo)
L180F (Volvo)
L180F HL (Volvo)
L220D (Volvo)
L220E (Volvo)
L220F (Volvo)
L330C (Volvo BM)
L330C (Volvo)
L330C LL (Volvo BM)
L330C LL (Volvo)
L330D (Volvo)
L330E (Volvo)
L350F (volvo)
L50 (Volvo BM)
L50B (Volvo BM)
L50C (Volvo BM)
L50C (Volvo)
L50C OR (Volvo BM)
L50C OR (Volvo)
L50D (Volvo)
L50E (Volvo)
L60E (Volvo)
L60E OR (Volvo)
L60F (Volvo)
L70 (Volvo BM)
L70B (Volvo BM)
L70C (Volvo BM)
L70C (Volvo)
L70D (Volvo)
L70D OR (Volvo)
L70E (Volvo)
L70E OR (Volvo)
L70F (Volvo)
L90 (Volvo BM)
L90 CO (Volvo BM)
L90B (Volvo BM)
L90C (Volvo BM)
L90C (Volvo)
L90C OR (Volvo BM)
L90C OR (Volvo)
L90D (Volvo)
L90D OR (Volvo)
L90E (Volvo)
L90E OR (Volvo)
L90F (Volvo)