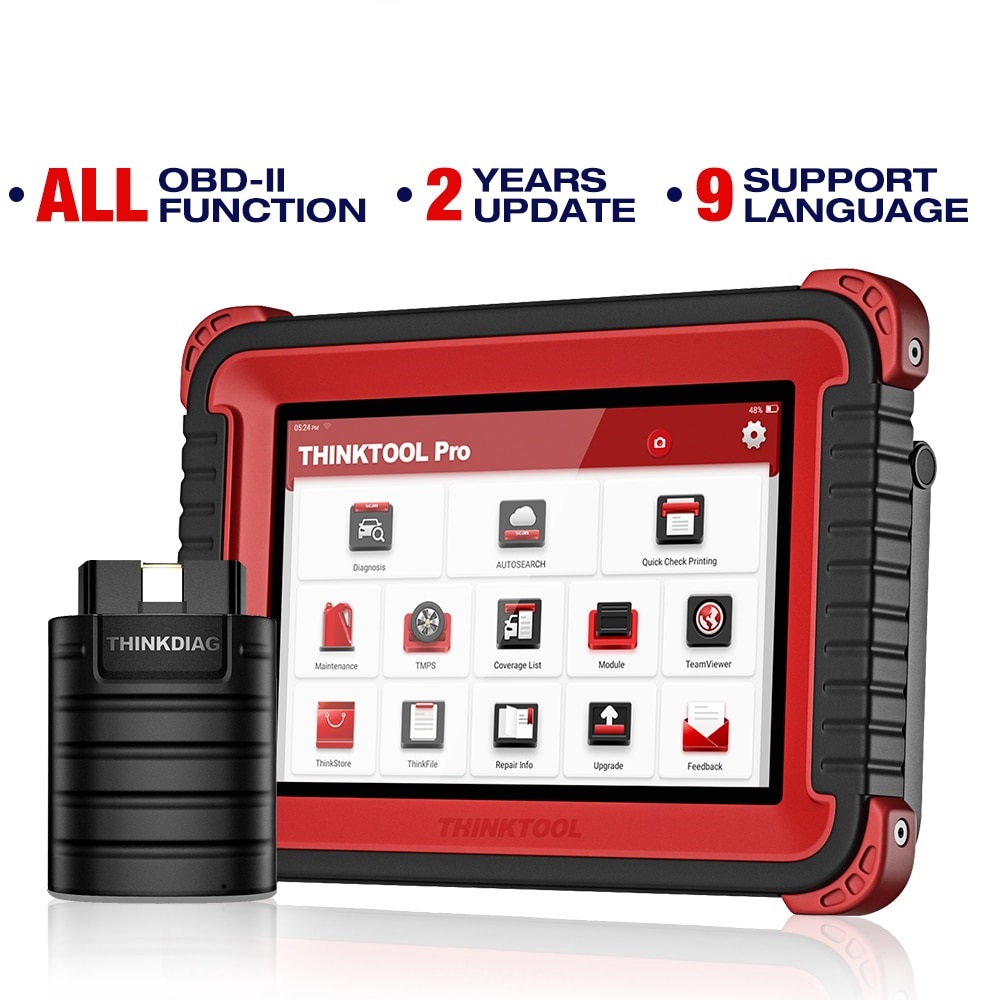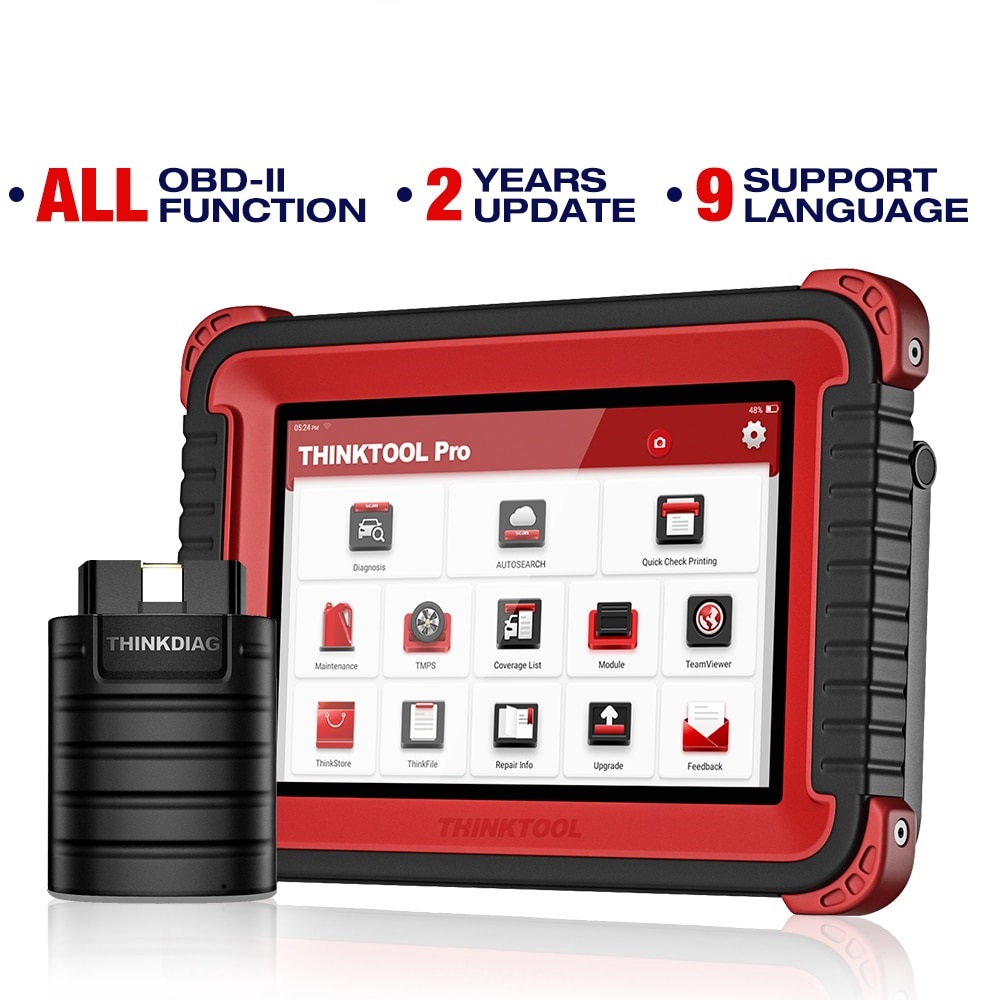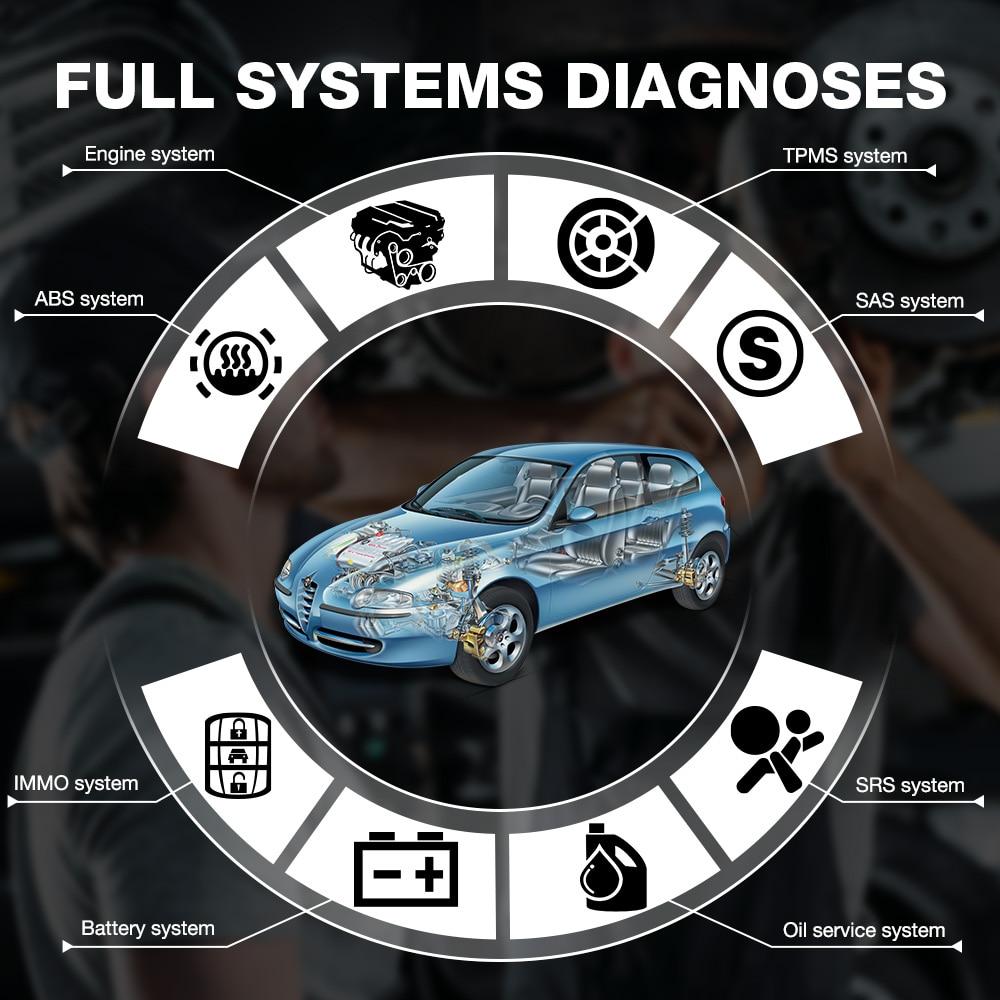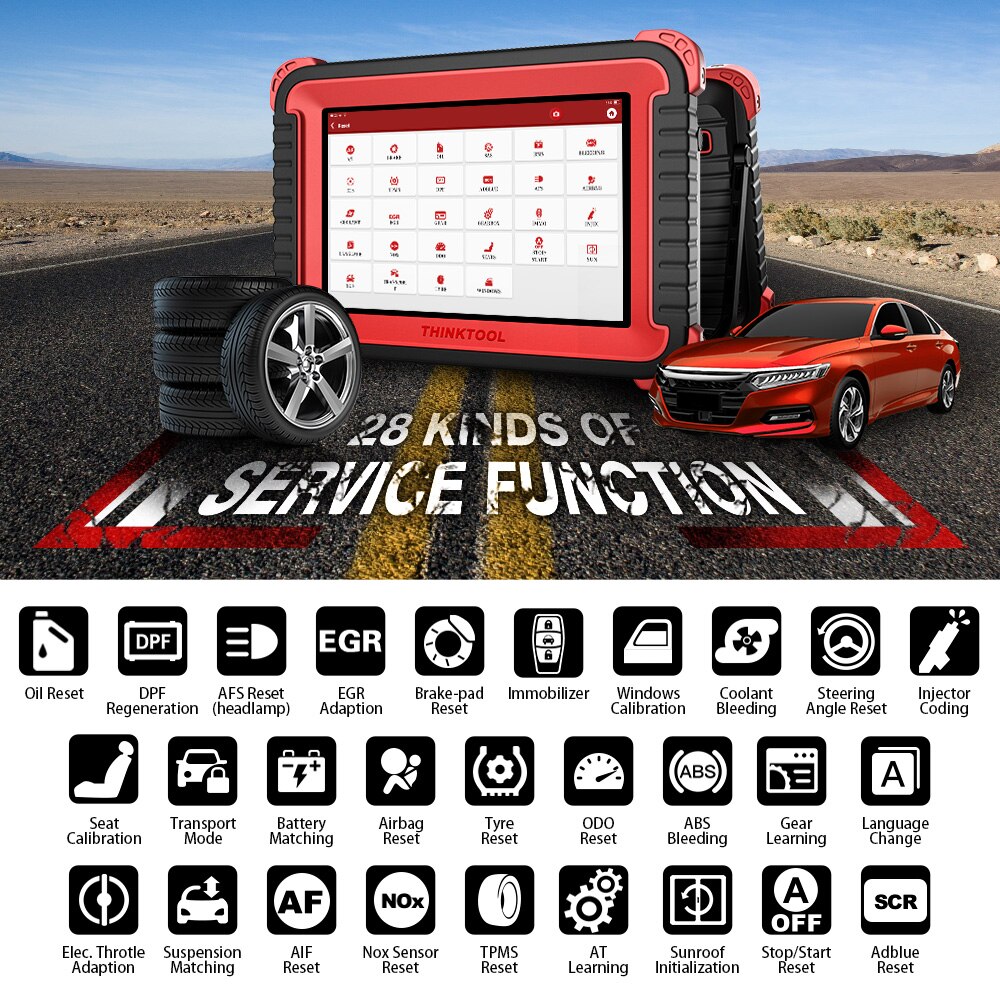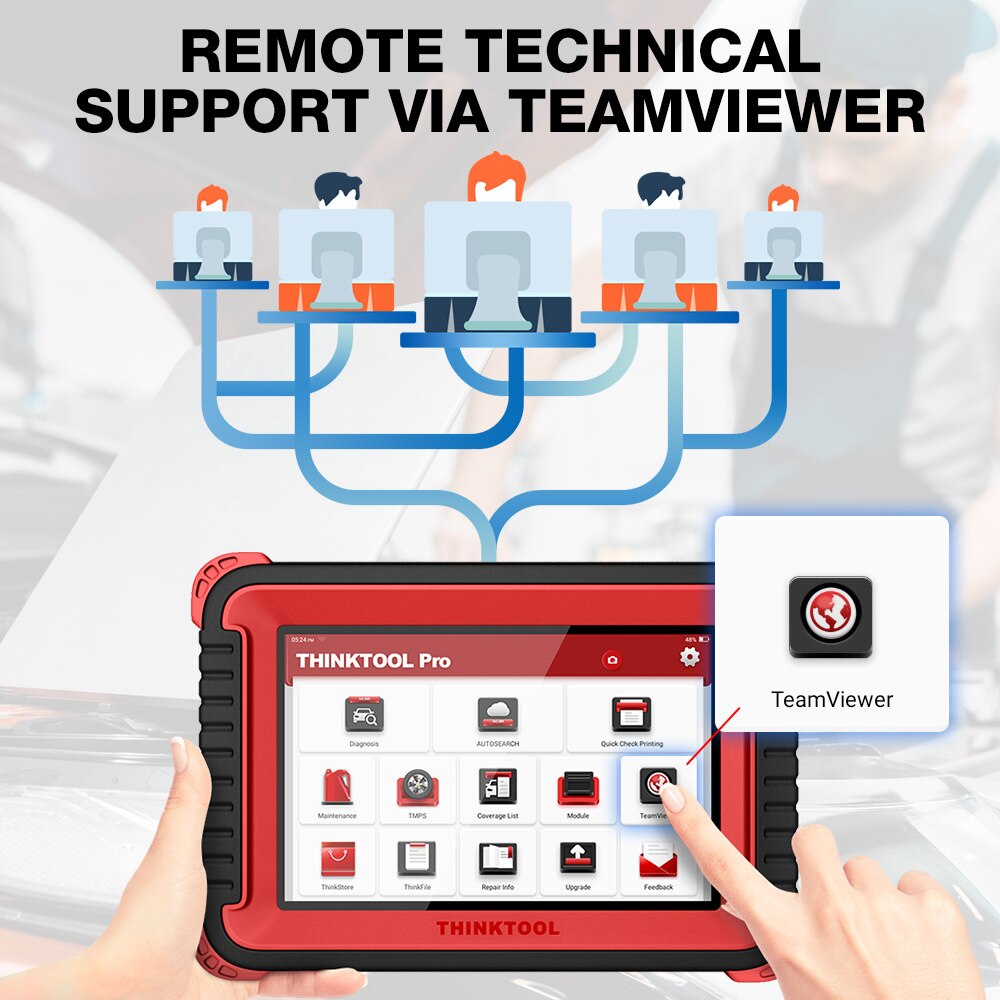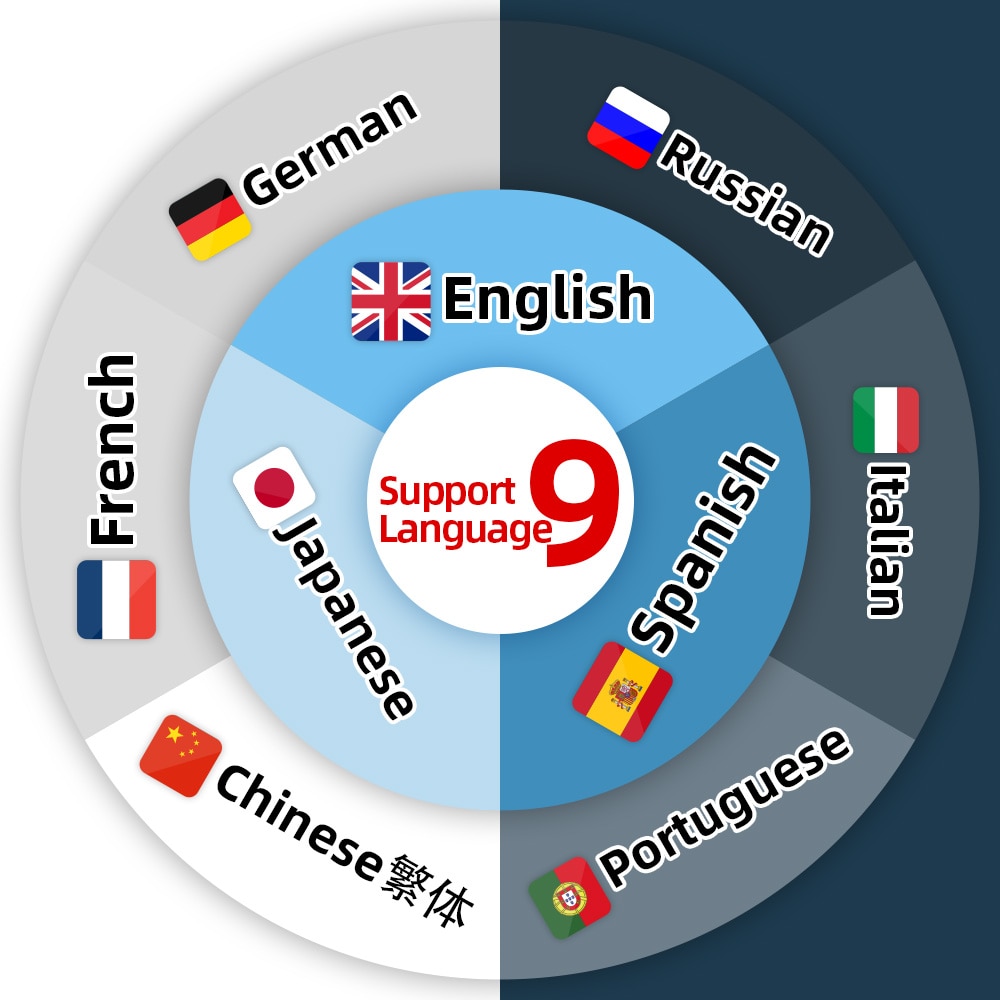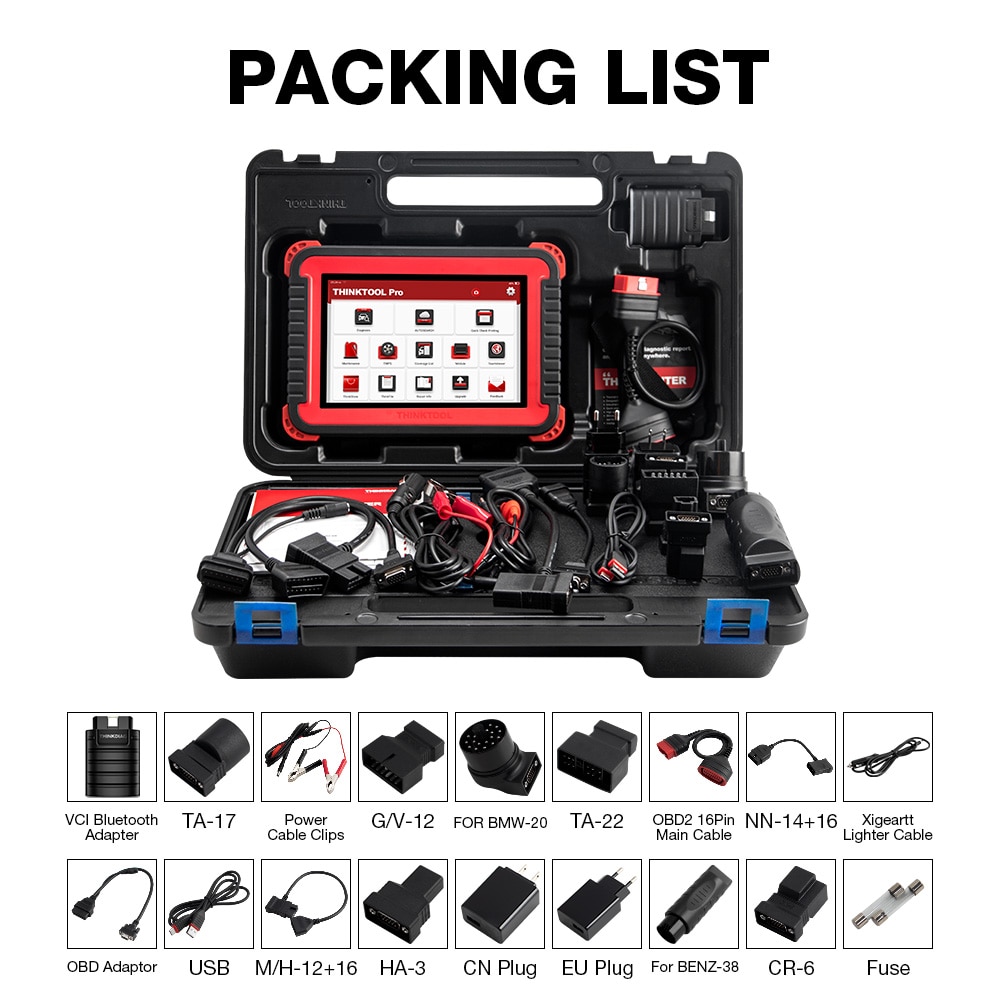 Thinkcar Thinktool Pro OBD2 Professional Full System Diagnostic tool Scanner Code Reader Car Auto Scanner ECU Coding Active Test
THINKTOOL Pro is a new generation modular intelligent diagnostic equipment based on Android 10system developed by THINKCAR.
Shipping:

Express Shipping Service


Estimated delivery time:

3-15

working days.

See details »

Returns:

Return for refund within 7 days,buyer pays return shipping.

Read details »

Support:
Related Accessories/Similar Items
Product Details

Product's Reviews
THINKTOOL Pro is a new generation modular intelligent diagnostic equipment based on Android 10system developed by THINKCAR.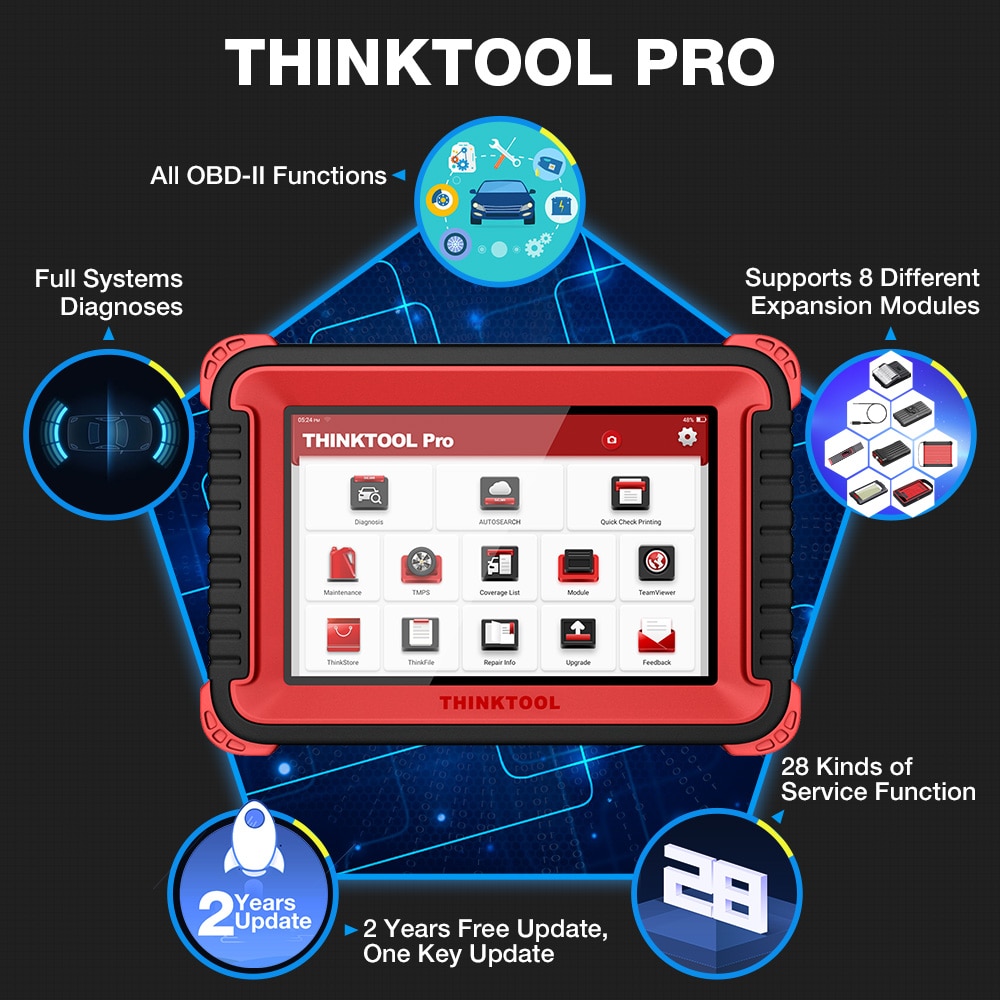 Want a Full-System scanner ?
To diagnose car comprehensively, Thinktool Pro scanner can read DTCs and data streams, perform active test, Coding for ALL systems.
For instance:
Engines/Auto Transmission/Airbags/Immobilizer/Key Coding/ABS/Cruise Control/Instruments/ Self Leveling Suspension systems/Seats/Doors/Gateway/Steering Angle/Air Suspension/Body Systems/Electronic Power Steering & Motor Assisted/Power Steering/Tyre Pressure/Rain Sensors/4WD System/Stabilizer/Intelligent Parking Assist/Door Motors/Audio Systems/Air Conditioning/Tiptronic/Anti Theft/Soft Top/Headlamp Leveling/Central Locking/Automatic Clutch/ DPF Reset/Electric Windows/Plip Programming/Heated Rear Window/Xenon Headlights/Wash Wipe/Fuel Burning Heater/Transfer Box/Seat Memory/Oil Life Service Reset/Sliding Doors/Electronic Throttle/Navigation System/Rollover Sensor/Cruise Control/ Multi Functios.
Actuation Test:
This function is used to test whether the execution components in the electronic control system can work
ECU CODING:
The Coding function is used to re-flash the vehicle control modules, it allows you to reprogram adaptive data for certain components after making repairs or replacements.
Graphical display:
Combine: Displayed in graph merge status for data comparison.
Value:
Displayed the parameters in values and shown in list format.
Customize:
Customize the data stream option to be viewed. Tap the button, a pull-down list of the data stream items appears on the screen. Select the desired items (max12 items), and then screen will display the waveforms corresponding to these items immediately. If need to remove any items, just deselect them.
Diagnostic Feedback:
If you encounter an unresolved problem or diagnostic software bug during diagnosis, you can revert
the most recent 20 test records to Thinkcar Team. When we receive your feedback, we will analyze and troubleshoot it in a timely manner, to improve the quality of our products and user experience.
Quick print diagnostic reports:
Thermal printer, work with the main unit, also can work with module dock. Quick print diagnostic reports anytime and anywhere.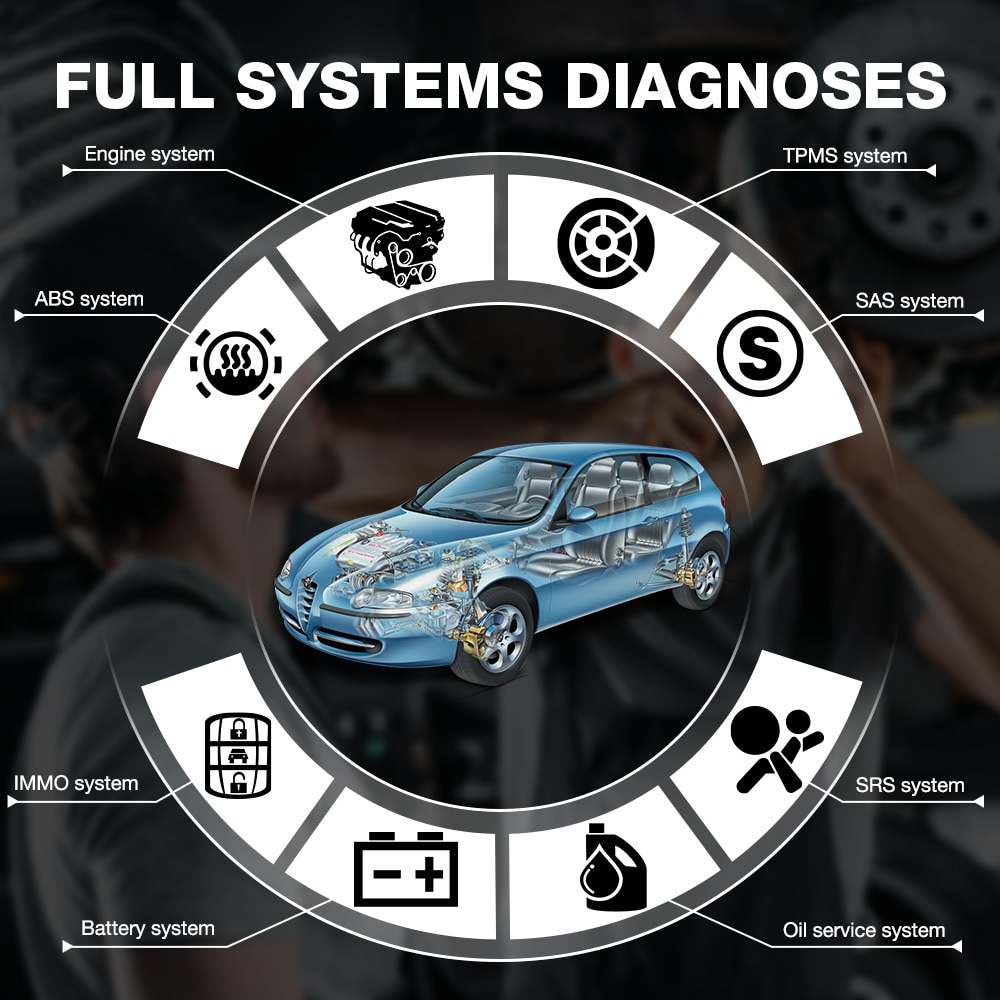 THINKTOOL Pro Support 28+ Kinds of Special Reset
1、Oil Reset
The lightening of the car maintenance light indicates that the vehicle needs maintenance.Reset the mileage or driving time to zero after the maintenance, so the maintenance light will go out and the system will start a new maintenance cycle.
2、Elec.Throttle Adaption
Elec. Throttle Adaption is to utilize the car decoder to initialize the throttle actuator so that the learning value of the ECU returns to the initial state.
3、Steering Angle Reset
To reset the steering angle, first find the relative zero point position for the car to drive in straight line.Taking this position as reference,the ECU can calculate the accurate angle for left and right steering.
4、Battery Matching
This function enables you to perform a resetting operation on the monitoring unit of vehicle battery, in which the original low battery fault information will be cleared and battery matching will be done.
5、ABS Bleeding
When the ABS contains air, the ABS bleeding function must be performed to bleed the brake system to restore ABS brake sensitivity.
6、Break-pad Reset
lf the brake pad wears the brake pad sense line, the brake pad sense line sends a signal sense line to the on-board computer to replace the brake pad.After replacing the brake pad, you must reset the brake pad.Otherwise, the car alarms.
7、DPF Regeneration
DPF regeneration is used to clear PM(Particulate Matter) from the DPF filter through continuous combustion oxidation mode (such as high temperature heating combustion, fuel additive or catalyst reduce PM ignition combustion) to stabilize the filter performance.
8、Gear Learning
After the engine ECu, crankshaft position sensor,or crankshaft flywheel is replaced, or the DTC 'gear not learned' is present, gear learning must be performed.
9、IMMO Service
To prevent the car being used by unauthorized keys, the anti-theft key matching function must be performed so that the immobilizer control system on the car identifies and authorizes remote control keys to normally use the car.
10、Injector Coding
Write injector actual code or rewrite code in the ECU to the injector code of the corresponding cylinder so as to more accurately control or correct cylinder injection quantity.
11、TPMS Reset
Note:Cooperate with wireless tire pressure diagnosis tool to realize TPMS activation, programming and learning functions
12、Suspension Matching
This function can adjust the height of the body. When replacing the body height sensor in the air sus pension system, or control module or when the vehicle level is incorrect, you need to perform thisfunction to adjust the body height sensor for level calibration.
13、AFS Reset
This feature is used to initialize the adaptive headlamp system.
14、A/T Learning
This function can complete the gearbox self-learning to improve gear shifting quality.
15、Sunroof Initialization
This function can set the sunroof lock off, closed when it rains,sliding /tilting sunroof memory function,temperature threshold outside the car etc.
16、EGR Adaption
This function is used to learn the EGR valve after it is cleaned or replaced.
17、ODO Reset
ODO reset is to copy, write, or rewrite the value of kilometers in the chip of odometer by using a car diagnostic computer and data cable, so that the odometer shows the actual
18、Airbag Reset
This function resets the airbag data to clear the airbag collision fault indicator.
19、Transport Mode
ln order to reduce power consumption, the following functions may be disabled, including limiting the vehicle speed, not waking up the door opening network, and disabling the remote control key, etc.At this time, the transport mode needs to be deactivated to restore the vehicle to normal.
20、A/F Reset
This function is applied to set or learn Air/Fuel ratio parameters.
21、Stop/Start Reset
This function is used to open or close the automatic start-stop function via setting the hidden function in ECU(provided that the vehicle has a hidden function and supported by hardware).
22、NOx Sensor Reset
NOx sensor is a sensor used to detect the content of nitrogen oxides (NOx) in engine exhaust. lf theNOx fault is re-initialized and the NOx catalytic converter is replaced, it is necessary to reset the catalytic converter learned value stored in the engine Ecu.
23、AdBlue Reset (Diesel Engine Exhaust Gas Filter)
After the diesel exhaust treatment fluid (car urea) is replaced or filled up, urea reset operation is required.
24、Seat Calibration
This function is applied to match the seats with memory function that are replaced and repaired.
25、Coolant Bleeding
Use this function to activate the electronic water pump before venting the cooling system.
26、Tyre Reset
This function is used to set the size parameters of the modified or replaced tire.
27、Windows Calibration
This feature is designed to perform door window matching to recover ECU initial memory, and recover the automatic ascending and descending function of power window.
28、Language Change
This function is used to change the system language of the vehicle central control panel.
.......
Begin to Use
Diagnostic function, coverage more than 100 car brands, support intelligent diagnosis and traditional
diagnosis, including OBD II fll-function diagnosis, fll-system diagnosis including: read fault code, clear
fault code, read real-time data stream, special function, auction test. A diagnosis report can be generated
after the diagnosis.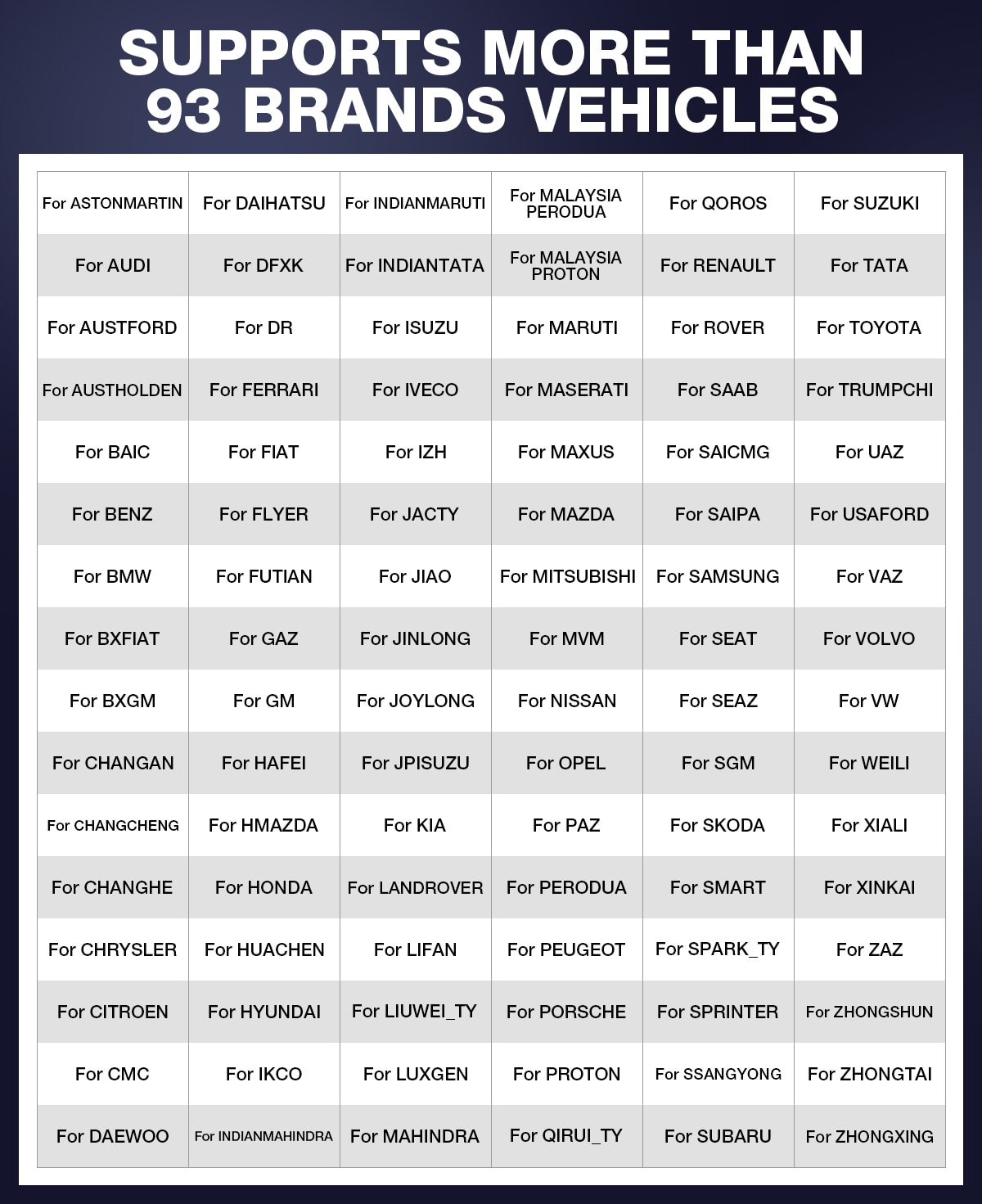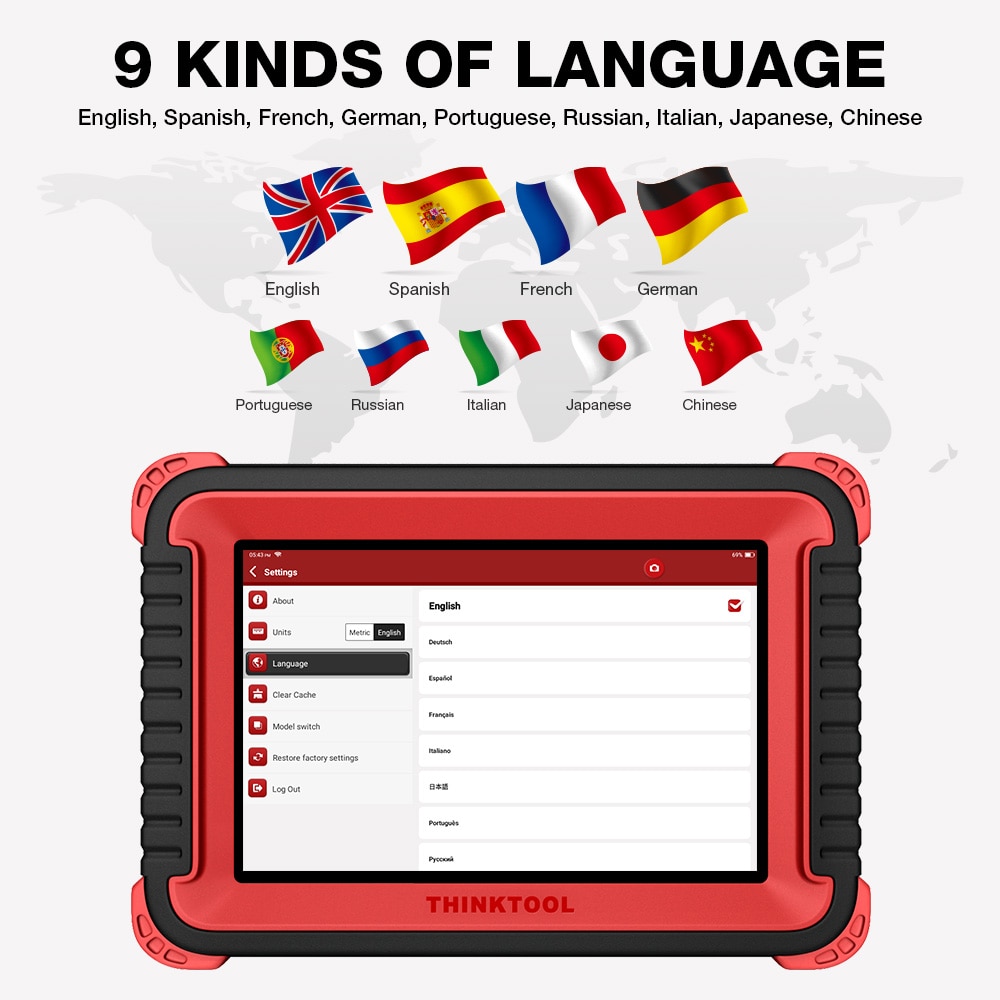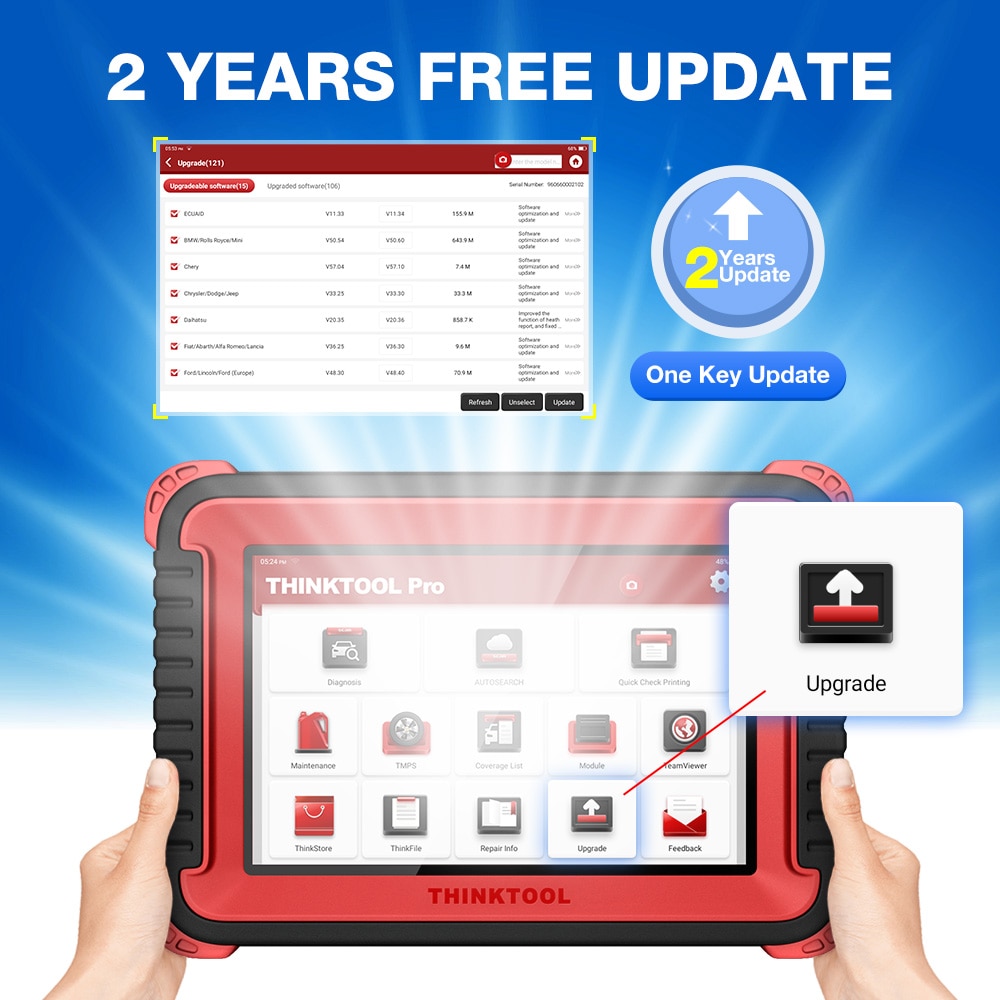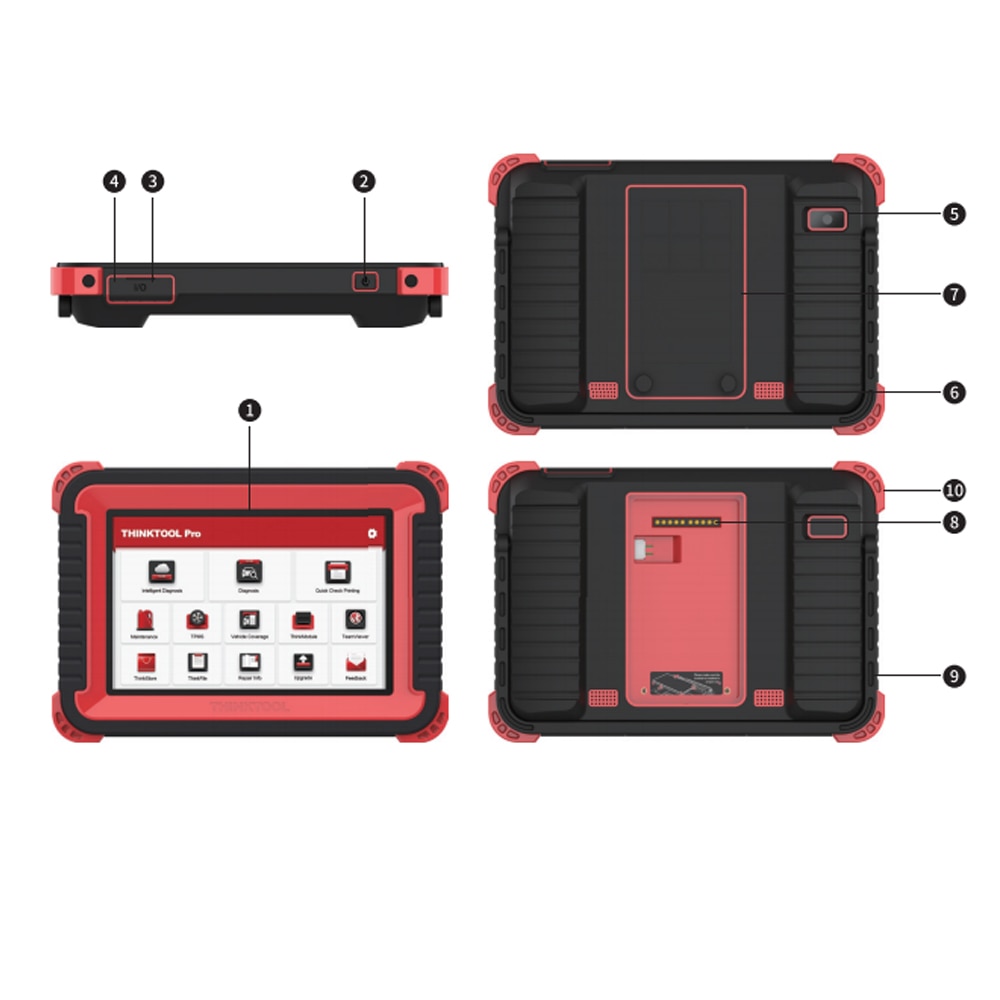 (1) Display:
(2) Power Key:
Press and hold it for 3 seconds to turn it off.
Press and hold it for 8 seconds to perform forced shutdown.
Press it once to activate or turm off the device.
(3) Type C Charging Slot:
connect the supplied charger for charging
(4) USB Port:
Reserved for add-on modules and other devices with similar port.
(5) Rear Camera
(6) Speaker
(7) Backplane:
Remove the backplane of the tablet, and install function modules on the backend.
(8) Pin:
Used for communication between the function expansion module and the host.
(9) Adjustable Kickstand:
Flip out it to 180-degree angle and work comfortable at your desk, or hang it
on automotive part.
(10) Rubber Protection Sheet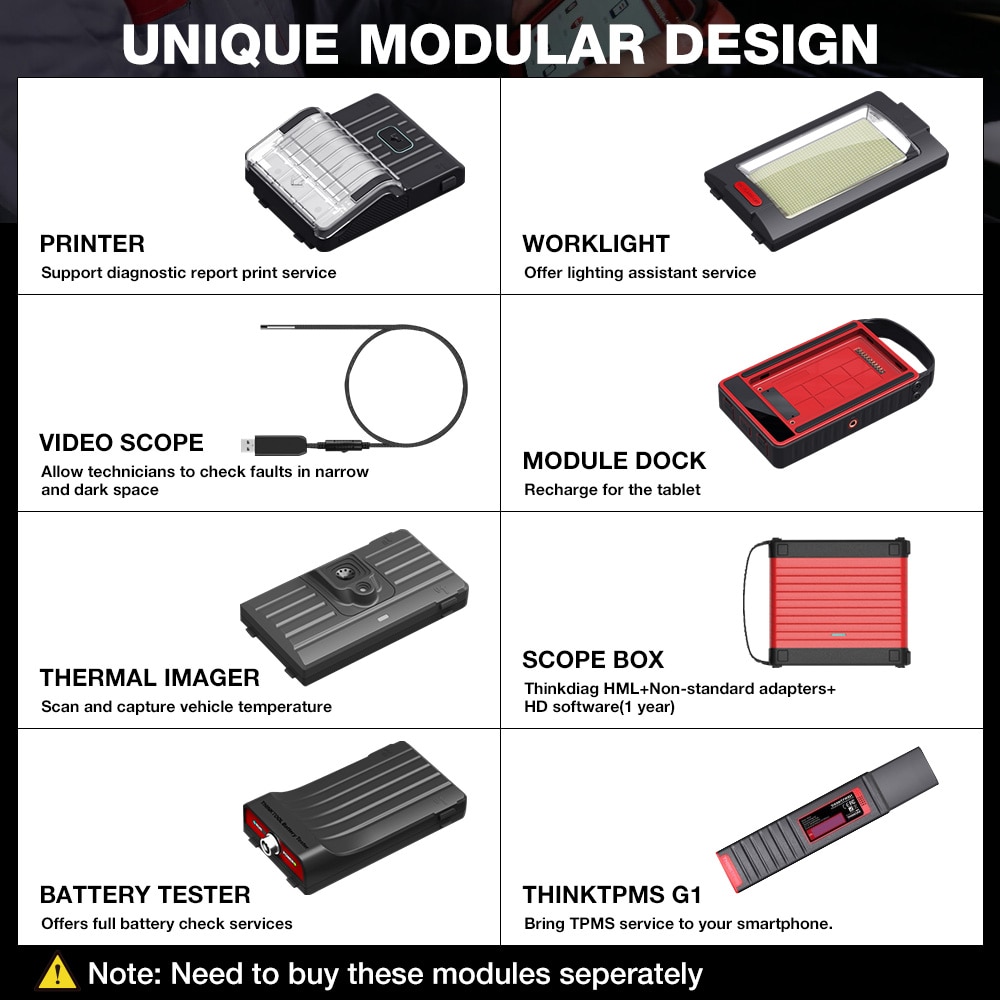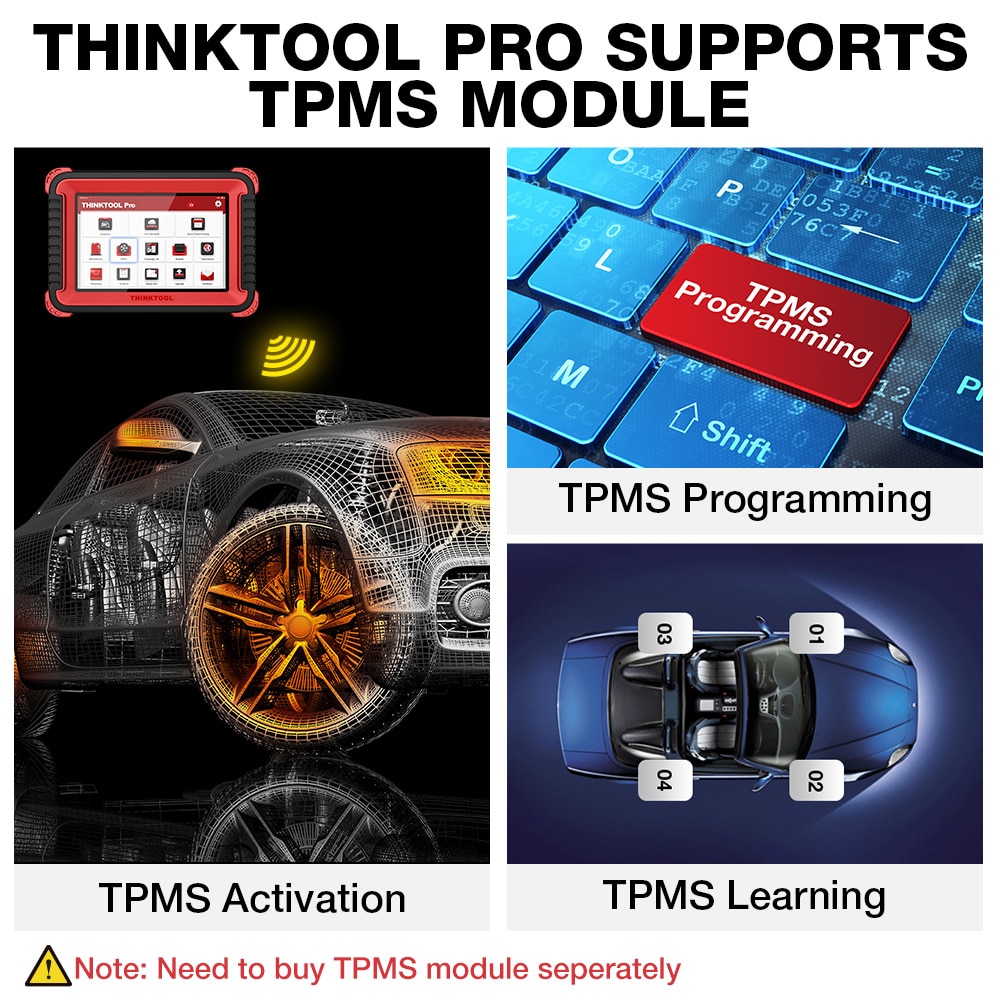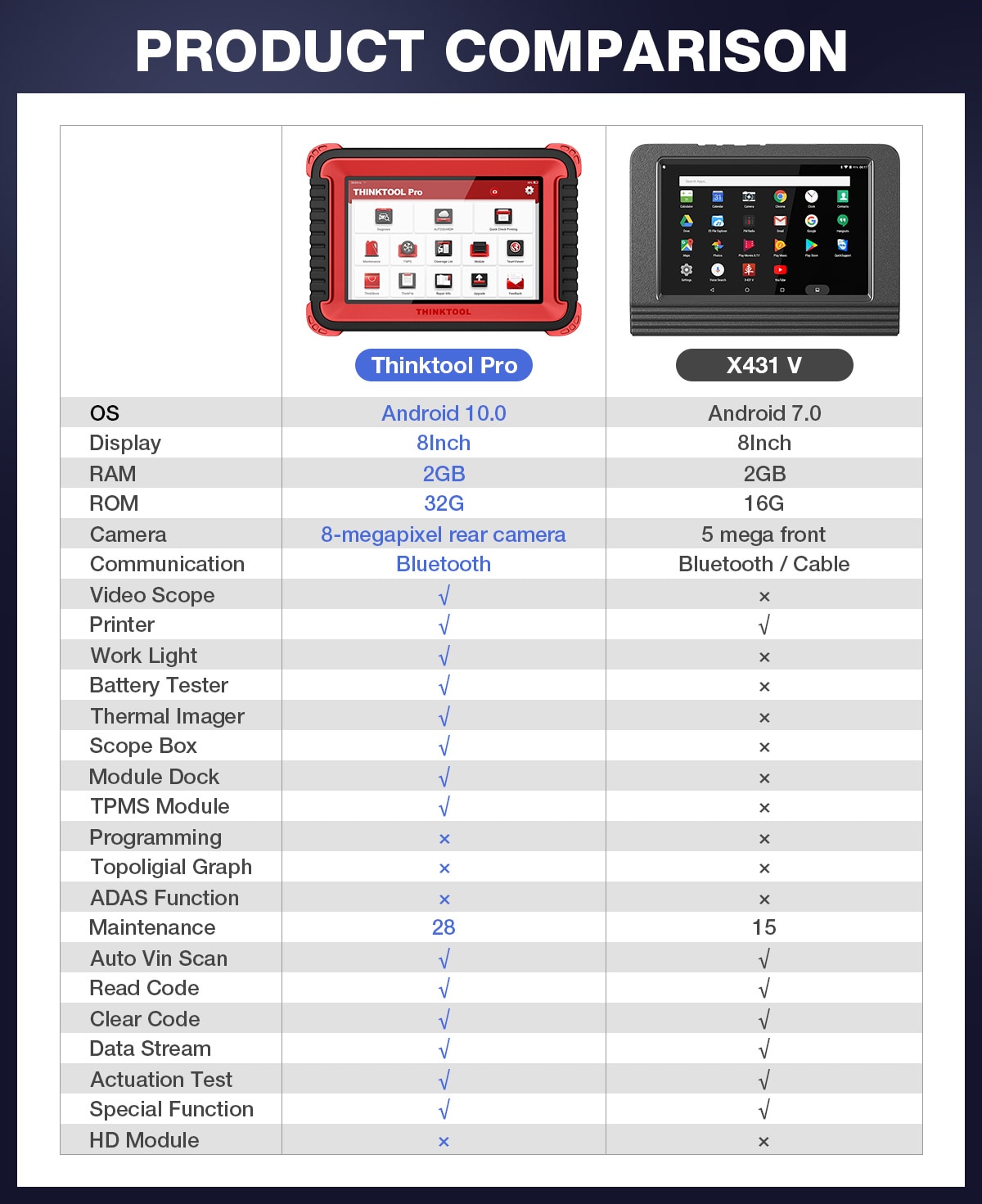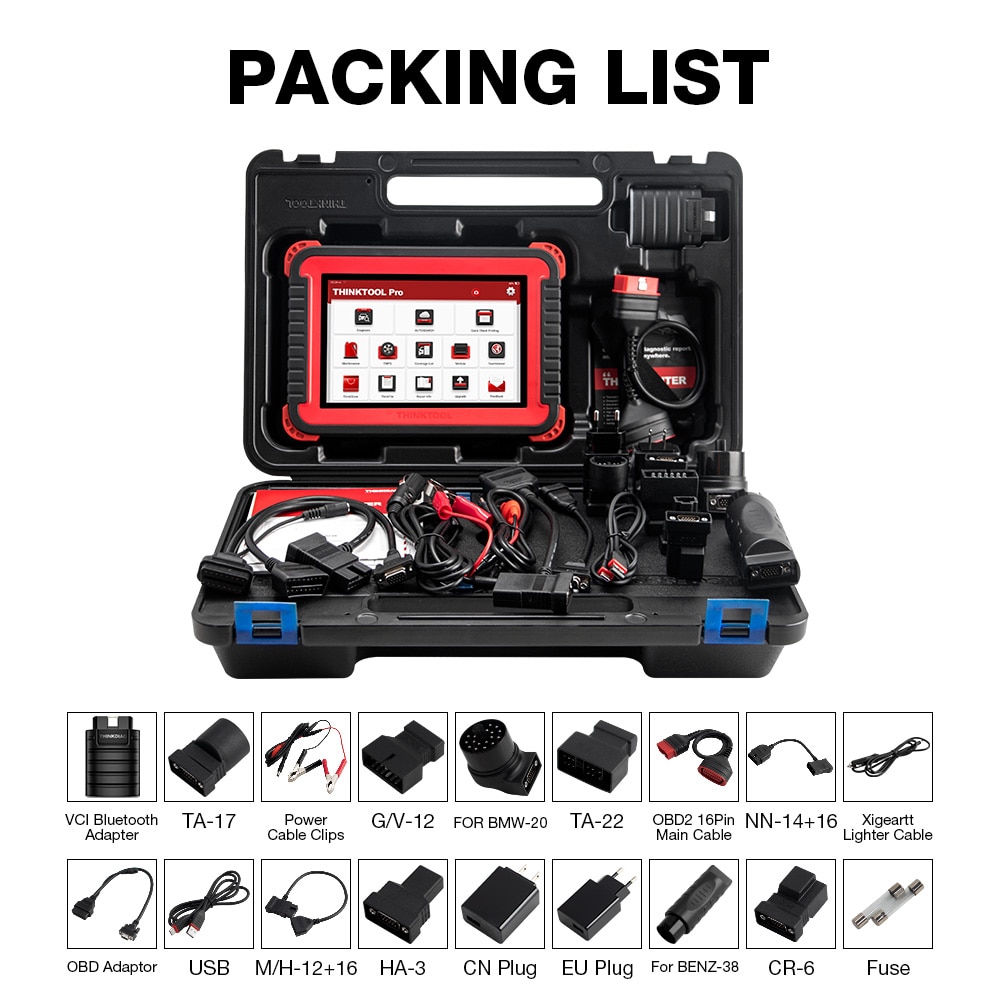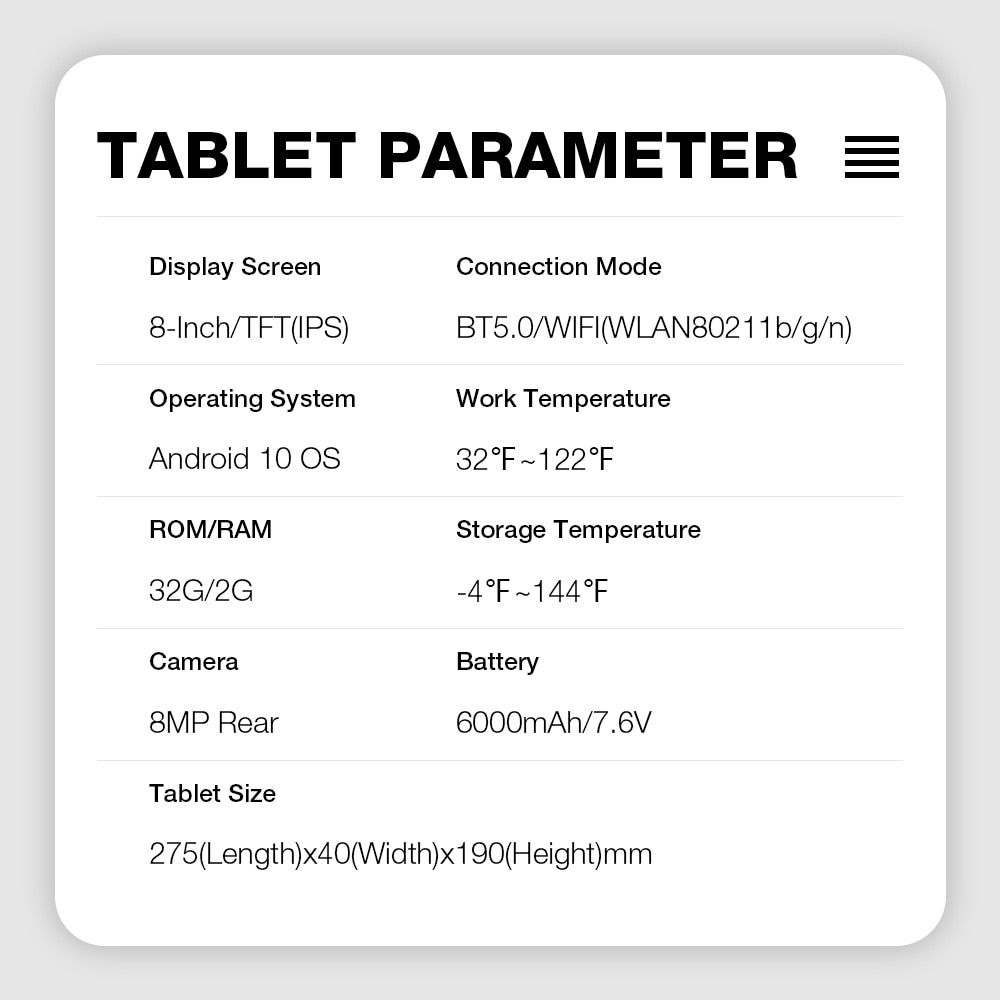 Warranty & Update
*One Year Warranty for Any Quality Problems
*Lifetime Free Tech Support
*One Year Free Update