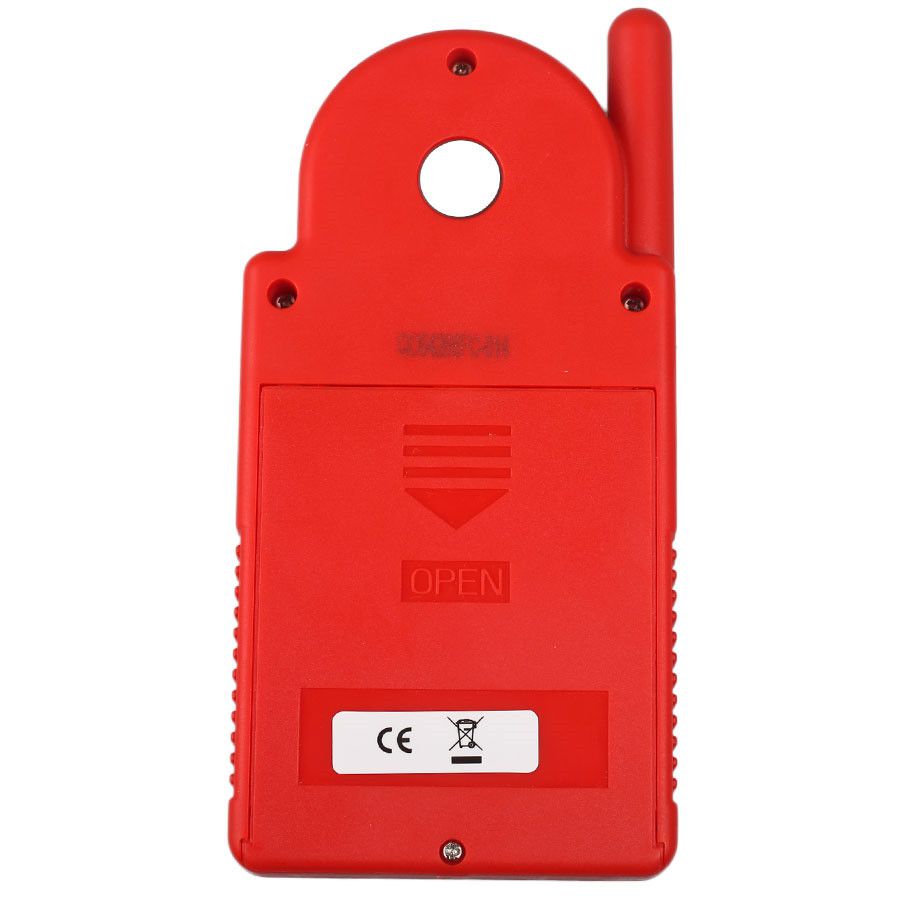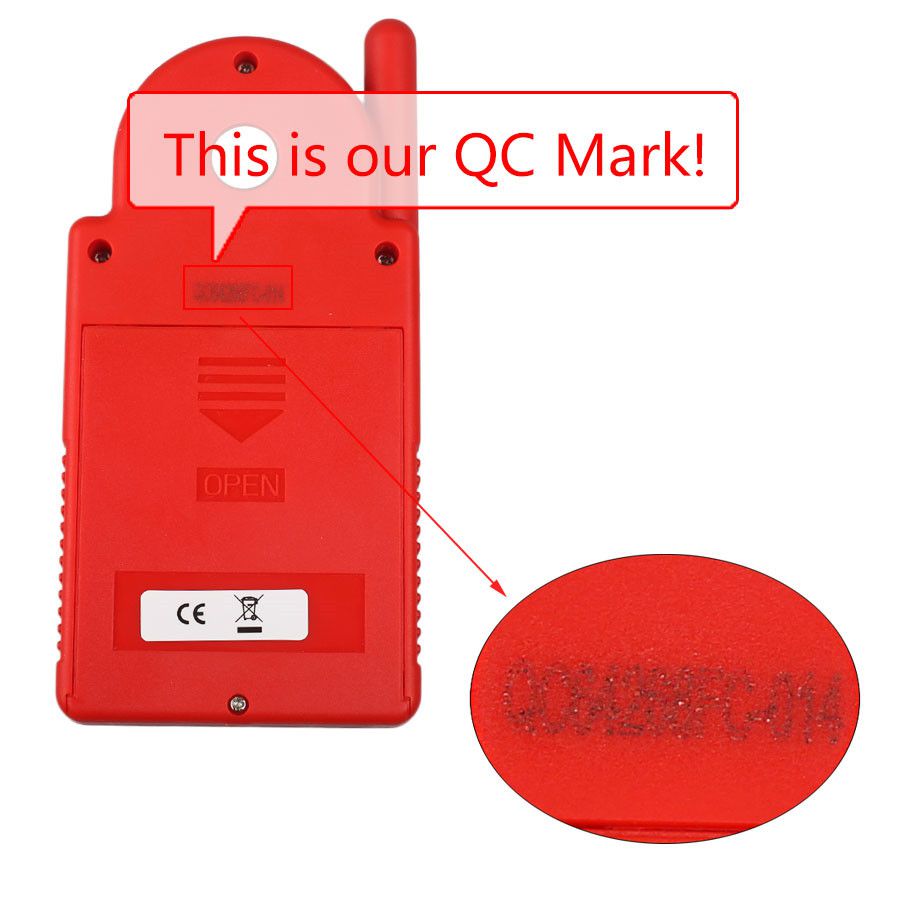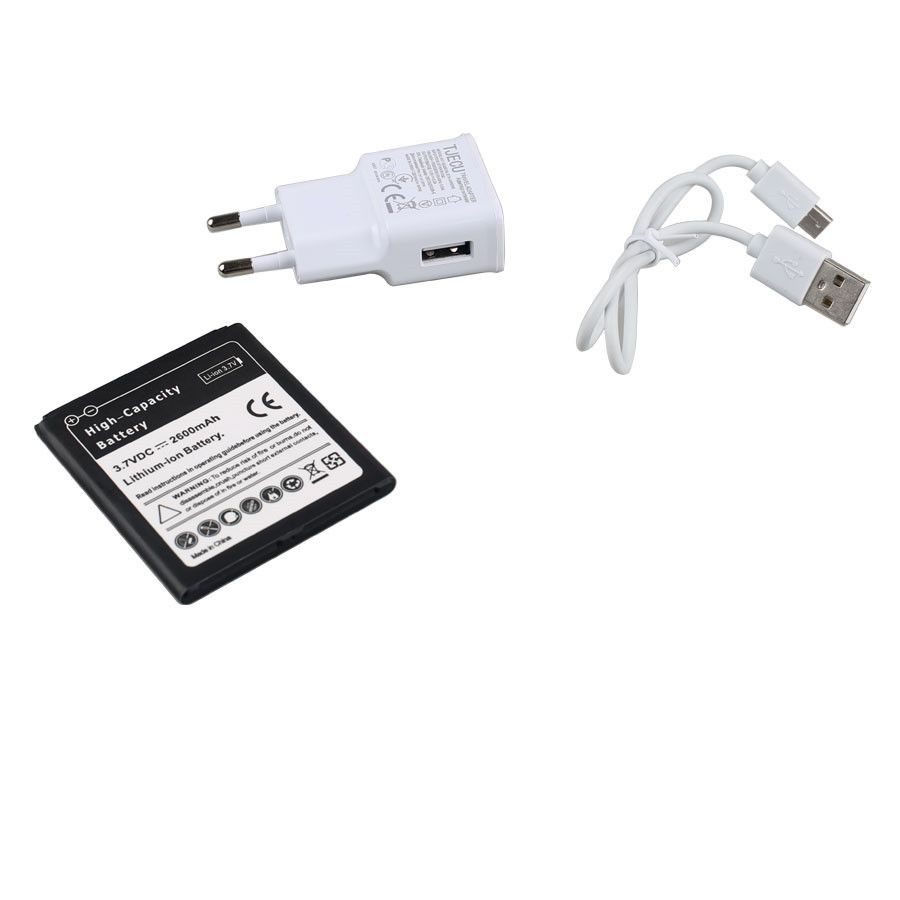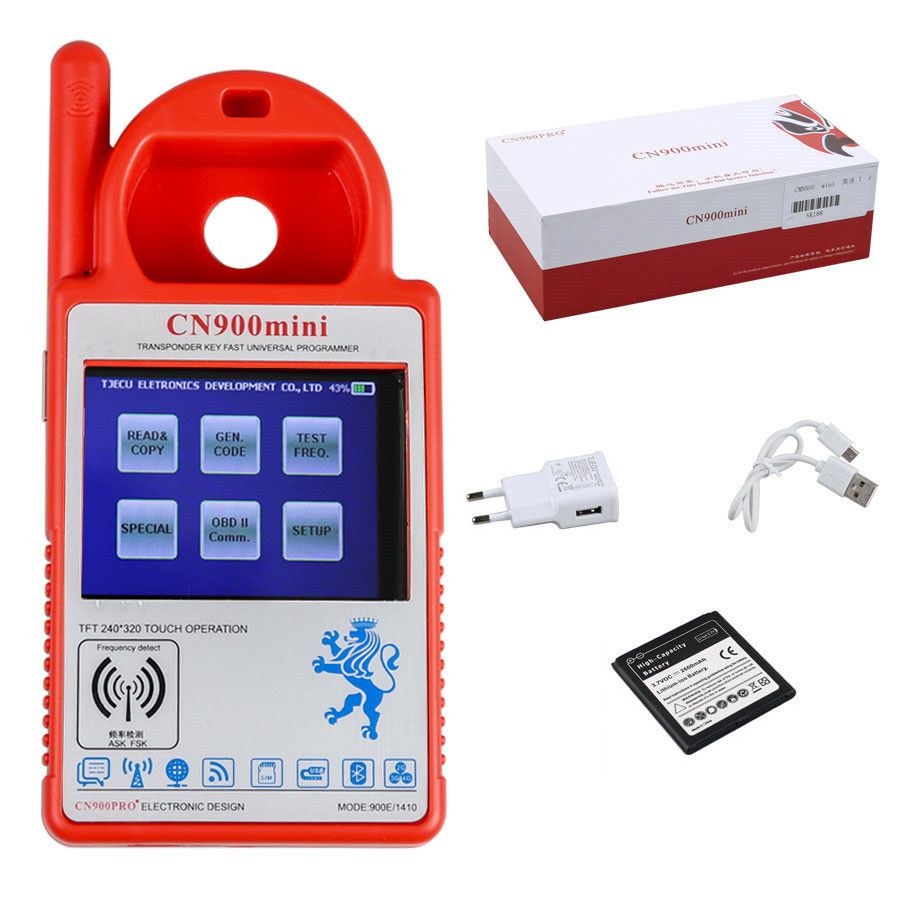 Smart CN900 Mini CN900 Transponder Key Programmer Software V5.18 Firmware V1.34.2.19
Smart Mini CN900 Transponder Key Programmer,Supports Online update.Various types of vehicle anti-the fault detection, matching detection.Portable Super long standby,supports 4 kinds of frequency 850/900/1800/1900MHZ,Supports 11/12/13/33/T5/4C/4D/42/46/48/72G chip copy.
Shipping:

Express Shipping Service


Estimated delivery time:

3-15

working days.

See details »

Returns:

Return for refund within 7 days,buyer pays return shipping.

Read details »

Support:
Product Details

Product's Reviews

Smart CN900 Mini CN900 Transponder Key Programmer
TOP 7 Reasons to get CN900 Mini Transponder Programmer:
1. Directly copy 4C and other chips like Toyota 4D67.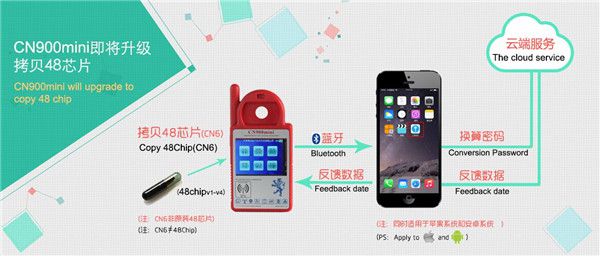 2. Supports copy 4D chips,46 chips,72G chip.

3. Recognize locked ID48 and can unlock ID48.
4.
Language:
English/Chinese
5. Copy 4D chip and Toyota G chip via CN5 chip
6. CN900 MINI supports all function of CN900, no need to connect with decoders to copy 4D,4C,46,G chips.
7. Free Update on
www.cn900.netNote:
Toyota G chip copy needs tokens,one tokens for one copy. Mini CN900 comes with 12 free tokens, after you use up 12 tokens,please contact us for another free 12 tokens. For more tokens, you need to pay. Please kindly notice, thank you.
CN900 Mini Key Copy Firmware Update to V1.32.2.19 (Aug. 28th, 2017)
Add Toyota 71,74,8A Smart key ADD and DELETE via OBDII
Add Toyota 71,74,8A Smart key all keys
lost
programming
Add Toyota 8A smart key RENEW
Add 8E Bank Data read, CS crypto Programming, CS Unlock
Add Partial 48 Decoding and Copy. Shoddy 48 identification
Add HITAG VAG identification
Improve TOYOKEY OBD system upgrade
Mini CN900 Firmware Update to V1.13 (July 29,2016)
* ADD: Detect 8A chips (Toyota H) and distinguish between master and vice
* ADD: Toyota Smart Key renew
* Bug fixes: T5-20 copy 11, 12, 13, 33
* Bug fixes: 42 copy and blank PCF7935 copy 42 support
1. Browse to CN900 Mini official website, register and download CN900_MINI_Updater_v1.9
2. Or you can directly download updater v1.9
here
3. Delete previous updater file (updater v1.8 etc)
4. Open the updater v1.9 setup.exe
5. Click on
Update
button.
6. The main module of firmware is updating. Wait for upgrade procedure complete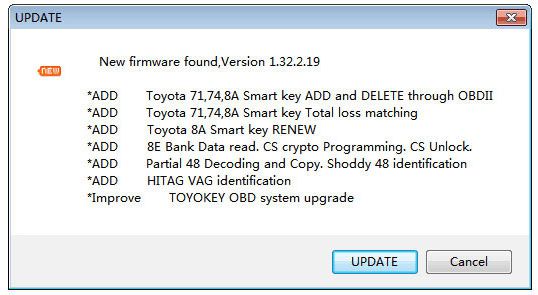 Mini CN900 Highlights:
RFID identifly 125KHZ 134.2KHZ 13MHZ
RF data reception 27-900MHZ
RF radio frequency identification,support all kinds of remote controls
RF Data transmission, supports all kinds of remote control simulation test
Various types of vehicle anti-the fault detection, matching detection
Portable Super long standby
Supports 4 kinds of frequency 850/900/1800/1900MHZ
GSM/GPRS SIM
USB2.0
Bluetooth4.0(Will be released in future)
Comes with card slot
As for the product improvements, specifications are subject to change.
CN900 MINI Key Copy Machine Main Features
Function 1:
1) Read out the chip code for 11 12 13 33 T5 40 41 42 44 45 46 48 4C 4D 8C and 8E chips. With the detail format for ID 48 and 4D Chips.
2) New identify functions for Toyota "G " chip key (year: 2010) (Chip: 4D-72).
And it will show if the key is the main key or the vice key for Toyota, and later will add new identify function for the Chinese Car.
Function 2:
Identify Toyota smart key, and read out the data.
Function 3:
Supports on copying the chips (11 12 13 33 T5 41 and 42) and parts of 44 and 45.
Using "FREE " dedicated chips can copy none battery 4C and 4D chips directly.(Remark :cn1(4C),cn2(4D) is the name of special chip)
Function 4:
Connecting with Chinese PC software, it can save the read key code data unlimited.(PC Software has not released,will be released in the future)
Function 5:
Supports chip programming: with the inner function of HITAGETI, it can write ID 46
Renault
Crypto chips.
Function 6:
Without removing the ECU (Benz W140), it can start the chip.
Function 7:
Unlock the 48 chips except the crypto lock 48 chips.
Function 8:
Supports pin code calculating for Hyundai and Kia (before 07 year), by using the Last 6 Codes of VIN Number.
Function 9:
Supports starting the key and calculating the pin code for more than 60 kinds of cars.
Supports on programming all kind of Fiat key, such as (11, 13 and 33), These 3 kinds of 48 chips anti-theft way.
Function 10:
Identify HONDA_46 CRV_46/CIVIC_46/ Mitsubishi 46
Ordinary 60 can be programmed to be 66/67/68/71/74
Function 11:
Copy CN1 (4C), CN2 (4D) chip .And size is 6mmX12mmX4mm
Supports software update, such as adding new function for copying the induction card for Electronic Gate.
Function 12:
Copy all ID46 chip:
BMW
46 chip,ACURA 46 chips,Honda CRV FIT(NEW) Accord(2008) Civic 46 chips;Mazda haima 46 chips;Mitsubishi 46 chips;Buick
GM
C CRUZE 46 chip. New Chery tiggo A3 46 chips; Nissan TIIDA TENNA LIVINA Sylphy Nissan QASHQAI Q35 46 chip. Brilliance 46 chip.Peugeot/Citroen 307 206 -46 chips;Triumph Senna 406 (2001year);Picasso 46 chip.Suzuki swifts SX4 46 chip.
Land Rover
FREELANDER 46 chip. Geely dedicated 46 chip.
Function 13:
Copy 4D chip
Function 14:
Supports 72G Chip copy
CN900 Mini Package List:
1set x Smart MINI CN900 Programmer
CN900 Mini Key Copy Machine PCB display:



FAQ for Mini CN900:
Q:Does CN900 Mini reuqire to connecte with computer when do RF data reception, RFID identify etc?
A: Mini CN900 PC software will be released soon. Software currently is not available.
Q: Can i read eeprom with XPROG, then connect MINI CN900 with computer to program eeprom key?
A: Yes, but technical skill is required.
Q: Can this Mini cn900 read Kia pin code?
A: sorry,it can not.
ND900 is the China version CN900 car key copy machine. They perform same functions, differ in outlook. (PS, they use different 4D, 46 cloner box when copy 4D/46 chip). So Mini versionCN900 is aboard version and mini nd900 is domestic version instead.
CN900 mini inherited most of CN900's feature but mini one make car key copy more easierwithout connecting with 4D,46,G Decoder Cloner Box.
Mini CN900 comes with built-in battery, do not need to attached to the power adapter.
CN900 Mini support WiFi,Bluetooth and internet connection. The big size one do not support.
CN900/ND900 Mini will replace big CN900 in the near feature.