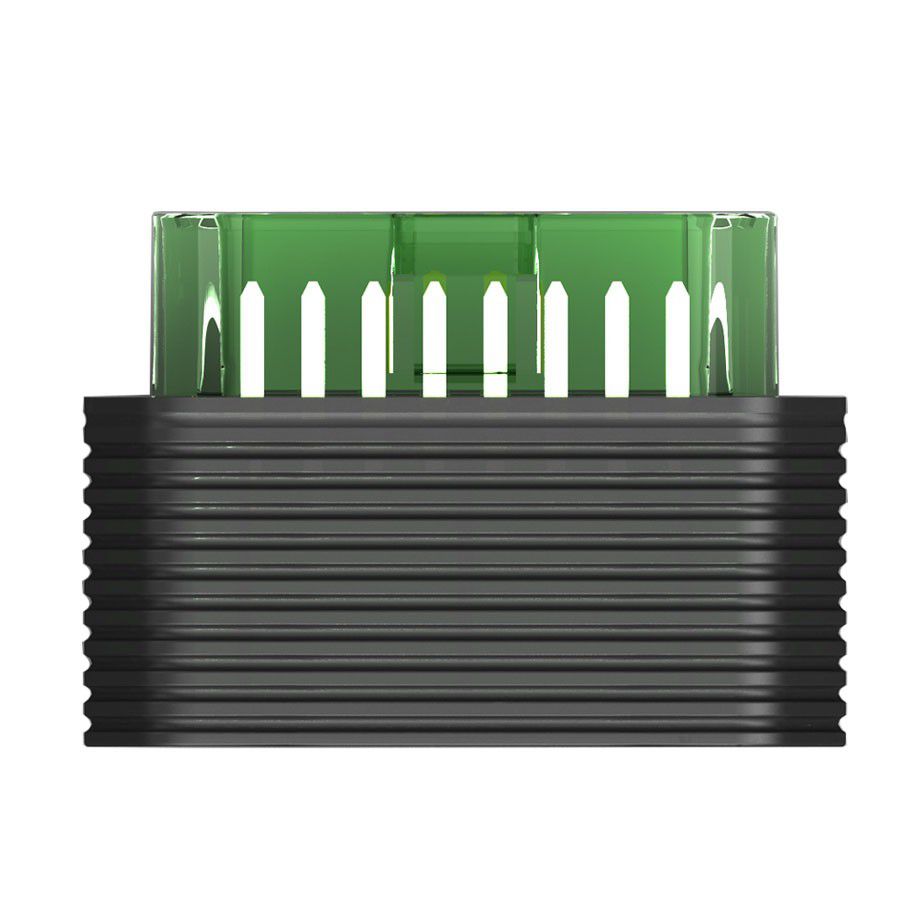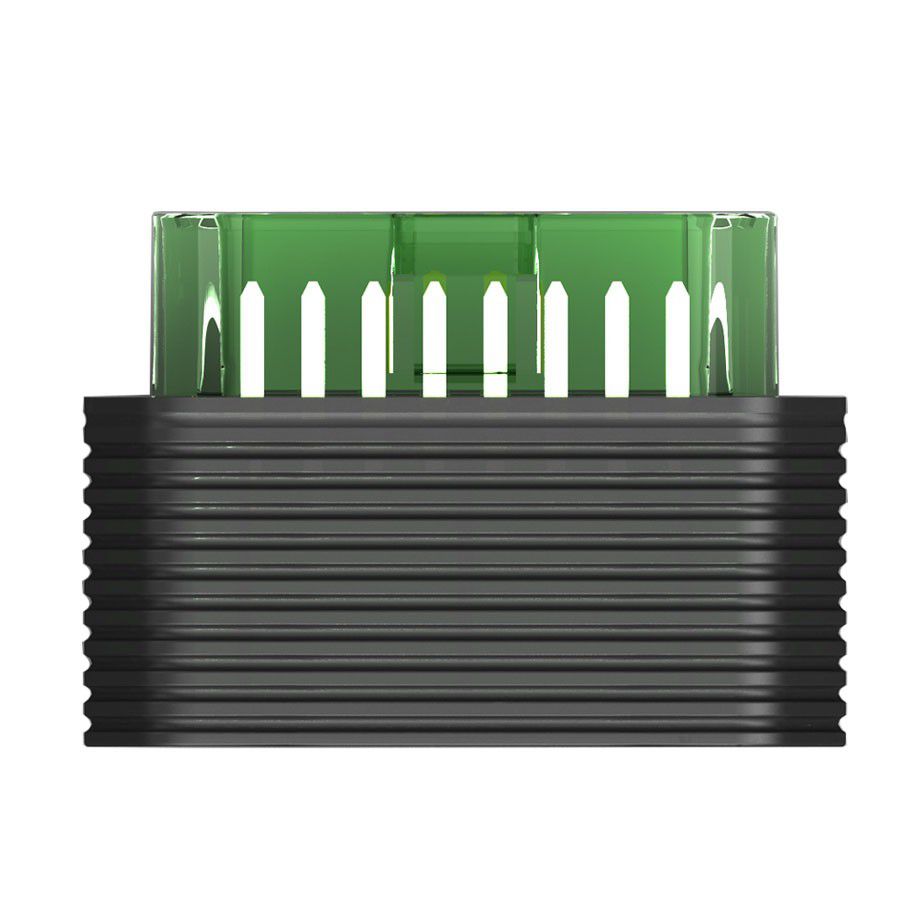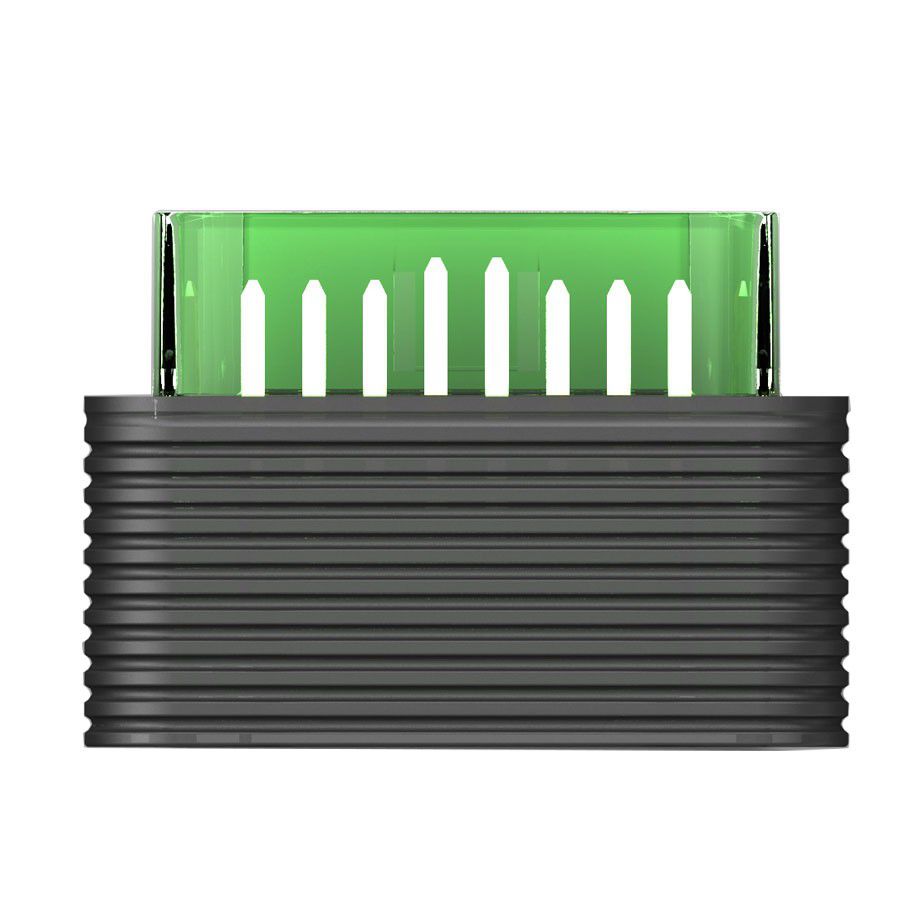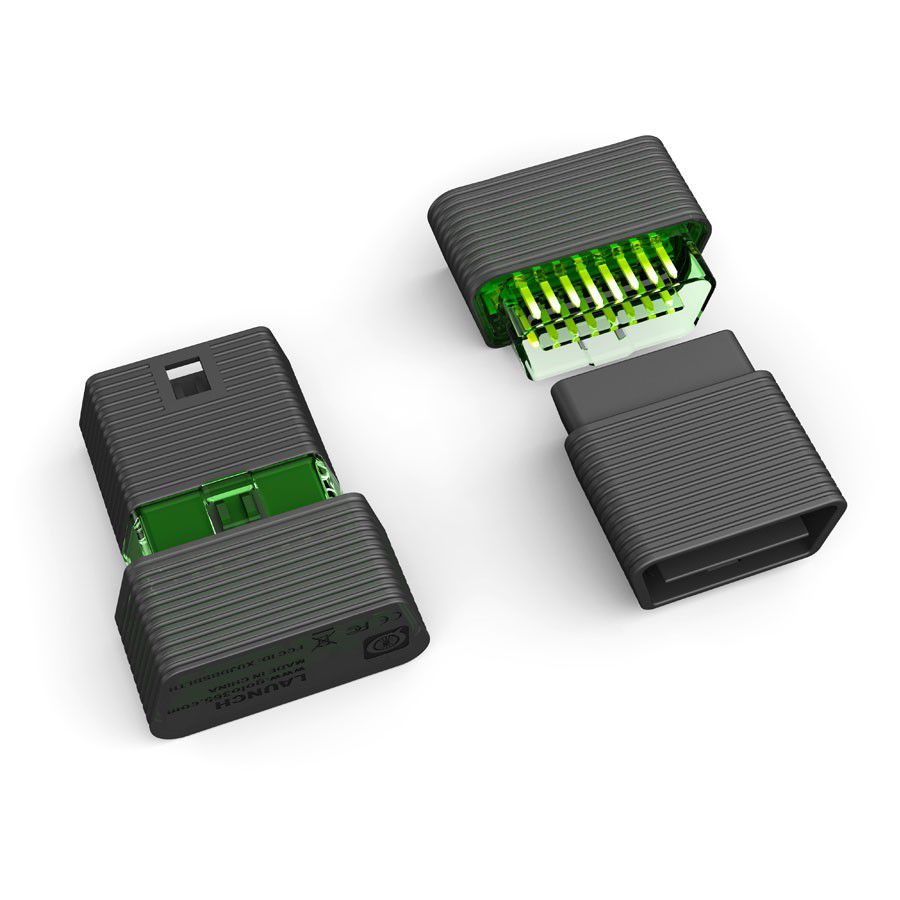 Original Launch M-Diag Lite Plus EZdiag for iOS Android Built-in Bluetooth OBDII with One Free Car Software
M-Diag is an easy to use OBDII diagnostic tool designed with the professional technician in mind. The device is small and portable, yet powerful enough to rival its competitors. Users have the option to purchase manufacturer specific carline software based on their needs. This feature allows for full-system diagnostics including bi-directional capabilities, quickly and easily from the convenience of your smart phone.
Shipping:

Express Shipping Service


Estimated delivery time:

3-15

working days.

See details »

Returns:

Return for refund within 7 days,buyer pays return shipping.

Read details »

Support:
Product Details

Product's Reviews
Original Launch M-Diag Lite Plus EZdiag for iOS Android Built-in Bluetooth OBDII with One Free Car Software

Notice: Only can ship to USA Address, can not ship to other country. Ship from our USA Warehouse.

Top 6 Reasons to Get Launch M-Diag Lite Plus:

1. Multi-Language available:
English, Chinese, Spanish, French, Russian
2. Directly Update Online:
update at
Launch
golo official site: www.goloiov.com
3. Light and small OBDll device, easy to handle
4. Plug and play through Bluetooth connection with smart phone
5. Widest carline software coverage
: Support the generic OBD, CAN bus, and proprietary protocols of over70 car manufacturers and2, 500 car models;
6. Support Multiple Special Functions including
: Oil Reset, Brake Reset, ABS Bleeding, DPF Regeneration, Gear Relearn, Injector Reset, SAS Reset, Battery Reset, Throttle Relearn, TPMS Reset & Plip Programming
Notice:
You can choose one Demo software and another software for free, and for other software you want, please visit Launch M-Diag Lite official website www.goloiov.com to buy online directly.
Launch M-Diag Features:
I/M Readiness Monitor
Read DTC's
Clear DTC's
Read Freeze Frame Data
Read and Graph Data Stream PID's
Full System Scan *
Actuation Tests *
Special Functions *
Launch M-Diag Features Explanation:I/M Monitor Check
* I/M Readiness monitors self-test the car's emission-related systems. Read these self-test monitoring test results to make sure your car is ready for inspection;
* To pass an OBD II plug-in emissions inspection test, all of the OBD monitors must have run and successfully completed with no faults found. This tells the emissions test computer that your vehicle is performing within emissions limits for your year, make and model, and that your vehicle is in compliance with the applicable emissions laws, and that your vehicle is not polluting.
Read and Clear DTC's
* Read diagnostic trouble codes (DTC's), clear the codes and the check engine light (MIL). Upon malfunction, get access to the Freeze Frame snapshot of the sensor data. M-Diag supports the diagnosis for generic and manufacturer specific trouble codes of over 70 car makes and 2,500 models.
Read and Graph Data Stream PID's
* PID's are the serial data that can be accessed from the vehicle computer using M-Diag. PID's provide valuable diagnostic information when checking the operation or status of various sensors, circuits and switches in the vehicle's engine management system; M-Diag can also convert the PID values to waveforms. Comparing the waveforms of several related sensors can help you find faults that might otherwise be impossible to detect.
Full System Scan
* In addition to the generic OBD and the four basic systems: Engine, Transmission, ABS, and SRS. M-Diag, which supports OEM-specific coverage for dozens of vehicle systems, quickly checks and clears codes for all available modules on the vehicle .
Actuation Tests
*By performing the actuation tests, you can remotely test control the vehicle actuator's including the doors, windows, horns, and lights, etc. to check whether the systems are working properly. The control systems supported by M-Diag will vary from different car makes and models.
Special Functions:Launch M-Diag User Instruction:
1. Launch M-Diag Lite official website www.goloiov.com (will be available soon)
2. The green indicator blinks means it's working normally. The red indicator blinks means Bluetooth connection OK.
3. Golo M-Diag Lite supports both Android and IOS systems, the update frequency depends on Android and IOS systems.
4. Bluetooth pair needs no password, if it needs, try 0000 or 1111.
5. Android users' guide: Install APP ->complete registration -> click the specific car software to download.
IOS users' guide: Install app -> complete user registration-> click the specific car software to download, note: you are required to download the corresponding market software, otherwise it won't work.
6. Please make sure to complete download car software firstly and then download free software like EOBD & DEMO, if not it may cause device malfunction.
7. M-Diag Lite has FCC and CE certification; please feel free to use it.
8. iOS system currently supports the special functions including DEMO, EOBD2, Oil / Service reset, brake pads reset and steering angle reset, more 7 kinds of special function will be added.
Android system supports 11 special functions including: IMMO & key programming,
Odometer Adjustment
, Oil / Service reset, ABS bleeding, TPS throttle body adaptation, brake pads reset,
Steering angle reset, battery matching, DPF regeneration, Injector coding, Tire Pressure Warning Light Reset, gear learning.
9. M-Diag Lite can access to the full system of vehicles developed in the list.
10. M-Diag Lite has no area limitation, the available language including Chinese Simple, English, French, Spanish, Russian and Chinese Traditional. The user is allowed to change the language of APP and
download the models. Kindly notice, don't download all languages or it will take up the capacity of your phones or tablets.
11. Support password recovery
Passwords can be retrieved only if users fill in the real E-mail during the registration.
12. Support one year warranty and It must be non artificial damage. If the user does not want to return the adapter, just buy a new adapter and choose the function of adapter switch in the software, and then follow the prompts to use the new adapter. The old adapter will be useless automatically and the model software user bought should be the same.
13. Support 12V cars
Launc M-Diag Lite VS. Easydiag: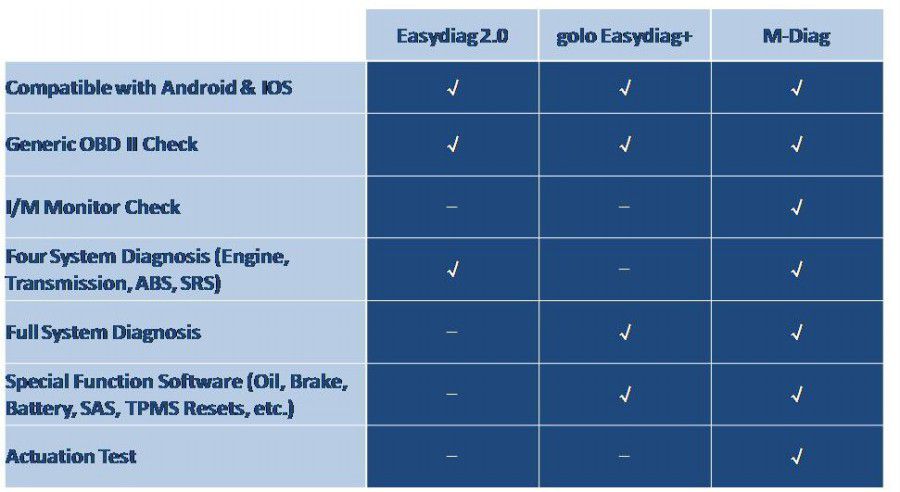 Here is a brief introduction of special functions in the main menu and that under a model.
1. Special function in the main menu
If users choose special functions in the main menu and select one, then users can perform this function for all models developed in the list.
For example, users go to Special Functions in the main menu for oil reset, they can reset oil for all cars listed there like
BMW
, Toyota, Honda and cannot go to diagnosis or others.
2. Special functions under a model
That is a special function like oil reset after users go to
BMW
software.
For example, users go to BMW software, there must be lots of functions incl. Special Functions. Then, they can select oil reset for the
BMW
model.
M-Diag available on the Apple App Store & Google Play Store:



M-Diag Specs:
Vehicle port Standard OBDII port
Bluetooth BT 2.0
Typical power consumption (12V) quiescent current 25mA
Device operating current 35mA
Operating Temperature -20 to 55℃ ( -4 to 131°F )
Storage Temperature -30 to 70℃ ( -22 to 158°F )
Storage humidity < 80%
Operating humidity < 60%
Dimensions 48mm × 24mm × 65mm
Net Weight 55g
Operating voltage Vehicle battery DC entry 9 to 15V
How to use your Launch M-Diag Step by Step:

1.Launch M-Diag Lite User registration and login
Enter your email address to apply for a user account
2.Launch M-Diag Lite device activation
Enter the S/N and A/C(Activation Code)in the password envelope to active the M-Diag device.
3.Launch M-Diag device installation
Step 1: Find the OBDII port,which is usually located underneath the dashboard;
Step 2: Plug the M-Diag into the OBDII port of the vehicle and the LED indicator will light up to show the operating status.
Note:
1.Remove the M-Diag device after using. Do not leave it in the OBDII port.
2.Turn off the ignition before plugging or unplugging the M-Diag device.
4. Purchase diagnostic softwareStep 1:
TAP ON "Purchase more car line software" to eter the car line software list.
Step 2:
Select the car line software,tap on the vehicle icons to see more car line software details.
Step 3:
Tap on "Purchase" to enter the purchase confirmation page.
Step 4:
Tap on "Pay" and follow the instructions to complete payment.
Step 5:
Enter the car line software download page after payment complete.
Package List:
1pc x M-Diag Connector
1pc x Password Paper