Autel MAXI AP200 Bluetooth Code Reader Full Systems Diagnoses AutoVIN TPMS IMMO Service PK MX808/Launch Easydiag
Autel MAXI AP200 is DIY version of Autel MK808, equipped with its own App -"Maxi AP200", can work on both IOS and Android, plug and play, easy to use. Autel ap200 supports complete vehicle diagnosis, 19 special functions included.
Shipping:

Express Shipping Service


Estimated delivery time:

3-15

working days.

See details »

Returns:

Return for refund within 7 days,buyer pays return shipping.

Read details »

Support:
Related Accessories/Similar Items
Product Details

Product's Reviews
Autel AP200 Bluetooth OBD2 Scanner, Code Reader with Full Systems Diagnoses and 19 Service Functions, Mini Size Version of MK808 Diagnostic, Vehicle Scan Tool for iPhone & Android Devices

Autel MaxiAP AP200 Scanner highlights:
1. Simplified Edition of MK808, shares the same functions as the most cost-effective tablet diagnostic tool
Autel
MK808, but costs much less than the later (Only 1/6 of MK808)
2.
Bluetooth Connection
: This portable OBD2 scanner is characterized by Bluetooth connection, and you can download the free APP "MaxiAP200" on your iOS or Android devices to get the car diagnosis going on without any worries about the compatibility.
3. All OBDII functions are available and free
4.
With One Free Vehicle Software + More Maker ($21.99 for IOS/ $15.99 for Android)
5. Support up to 19 specific functions, including Oil Reset, EPB, BMS, SAS, DPF, TPMS, IMMO, etc.
6. Expand coverage with additional in-app purchase
7. Auto VIN technology identifies vehicles automatically (AutoVIN Retrieval Boost in Effectiveness)
8. Generate repair reports of tested vehicles and support PDF format for easy sharing and printing
9. Keep records of vehicles tested previously
10.
Multi-Languages Supported
: English, French, German, Spanish, Portuguese, Dutch, Polish, Swedish, Korean, Japanese, Russian, Italian
11.
Version Declaration:
Android: 1.05; IOS: 1.04
Description:
Autel AP200, as a mini-sized smartphone-compatible (Bluetooth) version of MK808 & MX808, is equipped with an OBDII adapter and free diagnostic App to turn your iOS or Android device into a powerful diagnostic scan tool.
It's capable of performing professional complete-system diagnostics, powerful special services, and comprehensive OBD2 functions for passenger vehicles, and it also offers the pay-as-you-go software subscription for as low as USD21.99 (iOS & Android) a year.
The MaxiAP AP200 package includes a Bluetooth (BT) OBDII connector and a MaxiAP200 app. It is the perfect Do-It-Yourself tool for customers looking for quick and easy diagnostic functions of all systems. It is almost compatible with all vehicle models of European, Asian, and North America makes.

Autel AP200 Functions:

I. Comprehensive system diagnosis
With superior systems diagnoses, this multipurpose obd2 scanner can be used to read all available systems' ECU information to facilitate the vehicle diagnosis. The complete systems vary from different cars and they usually include Engine, transmission, ABS, SRS, SAS, TPMS, EPB and Fuel systems etc.

Read DTCs from the vehicle's control systems to locate problem areas, and offer solutions;
Erase the codes easily after DTCs retrieving and certain repairs have been carried out;
Live data shows each parameter item displayed in analog, text, waveform graph modes etc.;
The active test used to access vehicle-specific subsystem and component tests.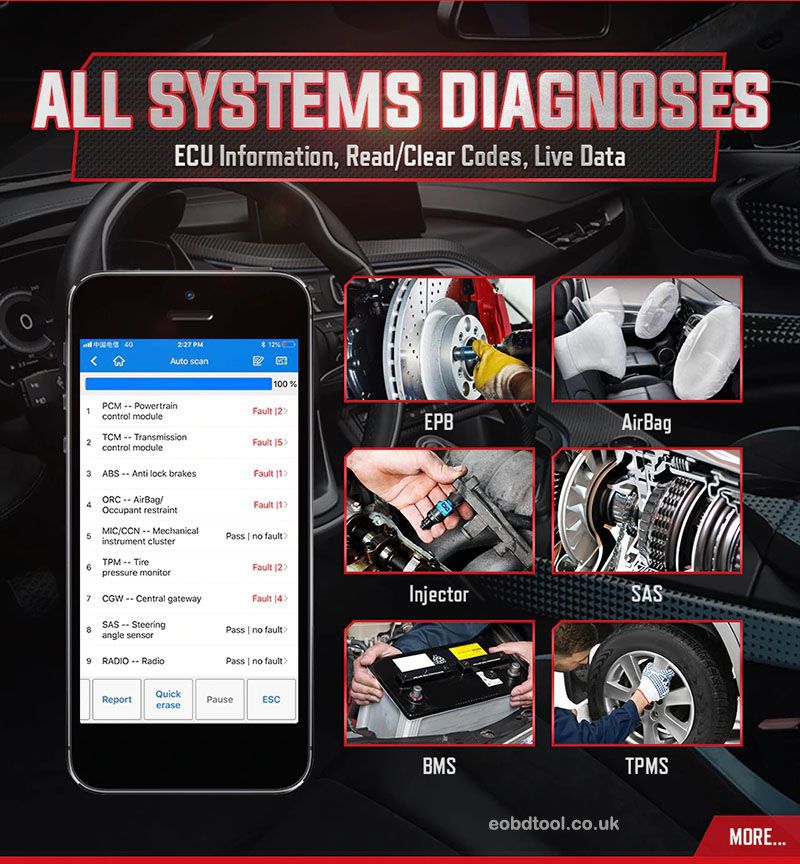 II. 19 Kinds Maintenance Functions:
This Bluetooth OBD2 scanner is specially designed to provide you with quick access to the vehicle systems for various scheduled service and maintenance performances. There is some commonly-used special reset services are listed for your reference:
Oil Reset:
Perform reset for the Engine Oil Life system, which calculates an optimal oil life change interval depending on the vehicle driving conditions and climate.
EPB Reset:
Maintain the electronic braking system safely and effectively by deactivating and activating the brake control system, setting brakes after disc or pad replacement, etc.
BMS Reset
: Evaluate the battery charge state, monitor the close-circuit current, register the battery replacement, and activate the rest state of the vehicle.
SAS Reset:
perform calibration for the Steering Angle Sensor, which permanently stores the current steering wheel position as the straight-ahead position in the sensor EEPROM.
TPMS Reset:
quickly look up the tire sensor IDs from the vehicle's ECU, as well as to perform TPMS replacement and sensor test.
IMMO Key Programming:
Disable the
lost
vehicle keys and program the replacement key fob.
DPF Regeneration:
Manage DPF regeneration, DPF component replacement teach-in and DPF teach-in after replacing the engine control unit.
ABS Bleeding:
ABS brake bleeding to get a firm brake pad after air exhaustion after repair ABS pump system.
Sunroof Reset:
The sunroof memory generally needs to be reset when the vehicle's battery is replaced or the car dies.
Suspension Reset:
Try reset electronic suspension air ride with the massage system close all doors koeo flip through messages system go to suspension reset or on off.
Gearbox (Transmission )Reset:
Procedure Reset Transmission Adaptive Learning DIY. Start the car and drive. Once you perform this procedure the Engine Control Unit (ECU) and Transmission Control Unit (TCU) will work together to learn how you drive by monitoring your driving pattern. After you follow this programming method of the TCU / ECU drive the car.
AFS Headlamp Reset:
'AFS' means Adaptive Front lighting System (at night with the Bi-Xenon headlights) it swivels either side, pressing that button means they stay pointing straight ahead and don't turn when you turn the steering wheel.
Injector Coding:
Leaking injectors and some dead injectors can be missed even when an injector is disabled. Other problems with the ignition system and mechanical components also may not show an rpm loss when an injector is turned off.
Throttle Adaptation:
The throttle body is a tube containing a pivoting flat valve (butterfly) that is used to control the amount of air entering an engine. In an electronically fuel injected car, a throttle position sensor and air flow sensor communicate with the computer, which supplies the corresponding amount of fuel needed at the injectors. It must need re-learning throttle sensor position after clearing or repair.
......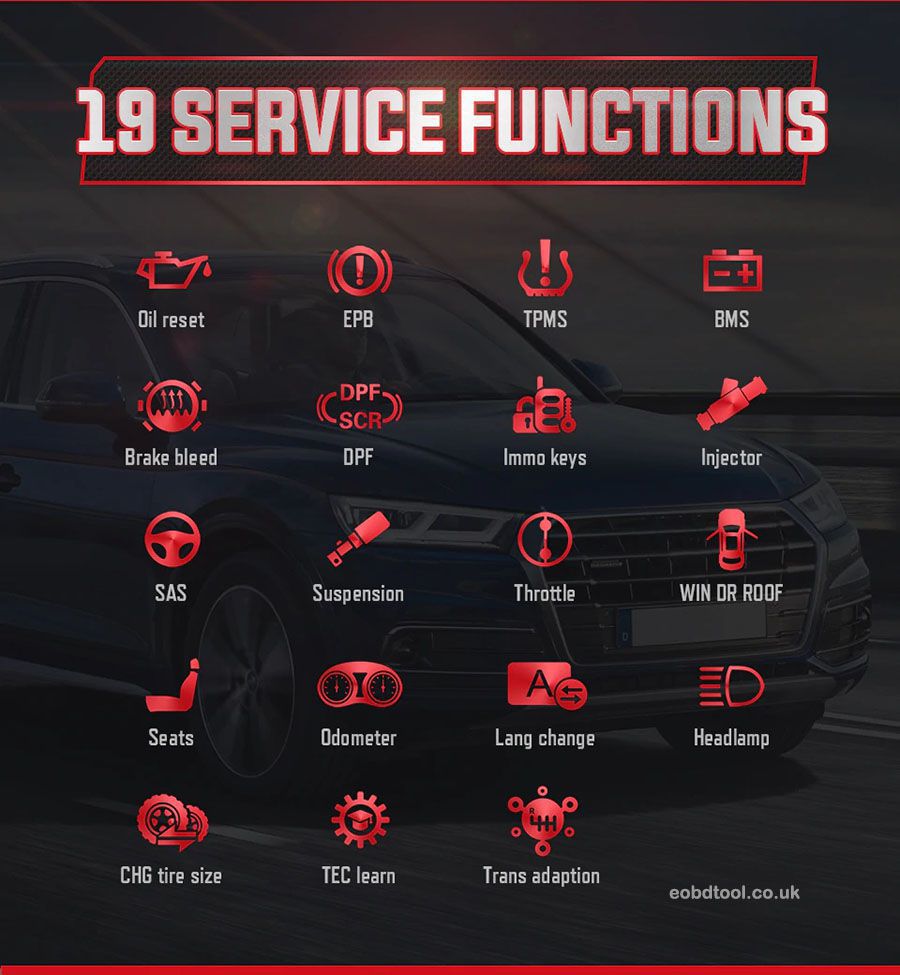 III. Comprehensive OBD2 Function:
Read extensive current, pending and permanent codes in OBD system quickly
Clear detected fault codes and turn off the Check Engine Light efficiently
View graphical live data of vehicle's computer module(s) for easy analyses
View the vehicle's operating parameters at the moment a DTC is detected
Read I/M readiness status to have a vehicle inspected for state emissions compliance
Perform O2 sensor test to check fuel efficiency and vehicle emissions
Read the results of on-board diagnostic monitoring tests for specific components/systems
Retrieve the vehicle information of VIN, CINs, and CVNs completely
Perform the component Test by allowing initiating a leak test for the vehicle's EVAP system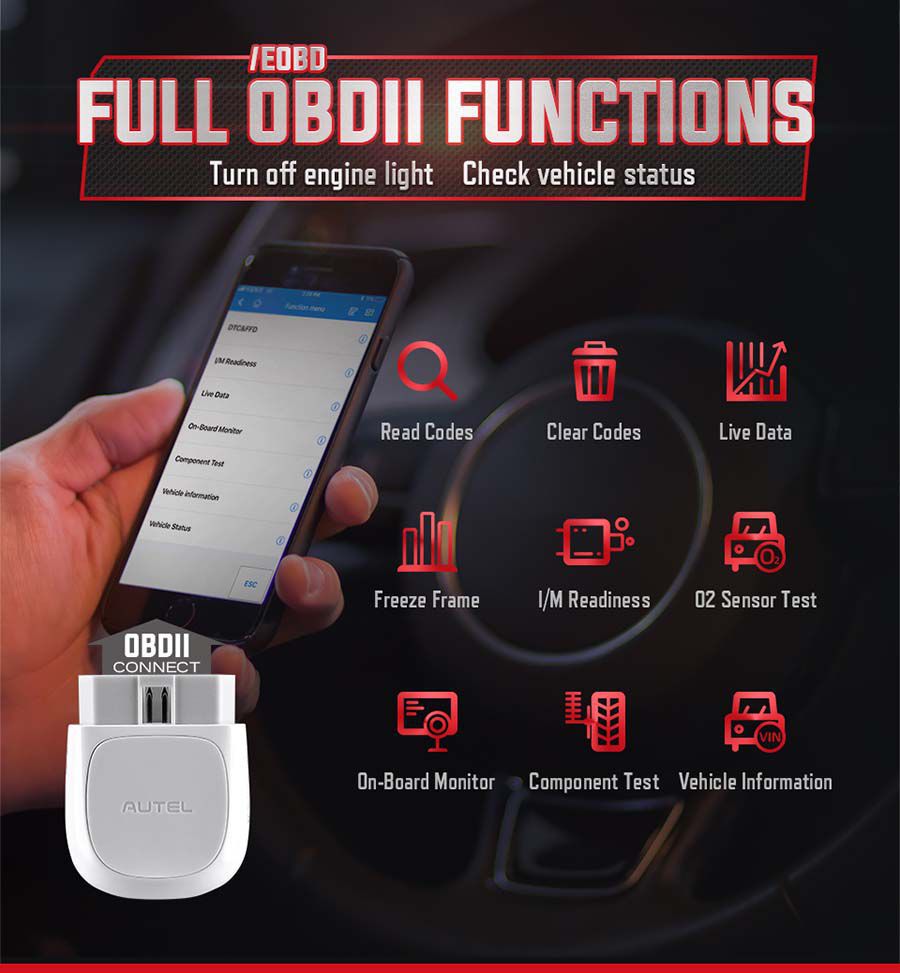 IV. Other functions:
Special AutoVIN feature: The Auto VIN function of the AP200 helps quickly reveal car's info, including the vehicle type, country of origin, engine size, etc. and the report about the car info can be transformed as PDF file for better PC Printing.
History Recording display: While offering you detailed diagnostic result, this car scanner is capable of recording history diagnostic information and the history recordings can be used as an effective data reference in the period of car diagnosis.
Super Convenience & Real-time Data: No fuss with complex operations. This car diagnostic scanner saves time by guiding you directly to Fast Bluetooth Matching / Automatic VIN Scan / One-step Full Systems Diagnoses & DTC Clearance, for improved diagnostic efficiency.
It costs you no seconds to read real-time vehicle data, also replay the history recording, for easier vehicle problem analysis.
Autel Maxi AP200 Vehicle Coverage:
It can support many common car brands as the Autel MX808.
Nissan, Benz, Mazda, Ford, Peugeot, Citroen, Hyundai, Kia, Chrysler, Fiat, Honda,
GM
, Subaru, Opel, Vauxhall,
Holden
, Saab, Samsung, LandRover, FordAU, FordEU, Benz_Sprinter, Smart, Maybach, Infiniti, SsangYong, Isuzu,
Renault
, Dacia, Daewoo,
Jaguar
, Toyota, Lexus, Scion, VolksWagen, Audi, Bentley, Bugatti, Lamborghini, Seat, Skoda, VolksWagen_CV, LT3,
Porsche
, Abarth, Alfa, Lancia, NissanGTR,
Volvo
, Acura, Dodge, JEEP, Mitsubishi, Maserati, AstonMartin, Ferrari, Bmw, Mini, Daihatsu, Suzuki, MarutiSuzuki, ZAZ, IZH, SeAZ, PAZ, MAZ, KAMAZ, UAZ, Vaz, GAZ, Brazil
GM
, FiatBrazil, BJHyundai, DFKia, Chery, Chery_NE, Riich, Rely, Karry, FordChina, MazdaChina, DFNissan, DFVenucia, BAICMotor, BAICHuansu, BAICSenova, BJEV, BAICWeiwang, Haima, ChangheAuto, ChangheSuzuki, LandWind, Qingling, TJFAW, Luxgen, DFHonda, GZHonda, ChangAn, BYD, Foton, Geely, Emgrand, Gleagle, Maple, Englon, GreatWall, Cnfiat, Peugeot_China, Citroen_China, GuangQiMit, Saicmaxus, ToyotaChina, Soueast, SH_VolksWagen, YQ_VolksWagen, SH_Skoda, YQ_Audi, JAC, Bril
BMW
, Lifan, JMC, S
GM
W, BaojunAuto, Brilliance, DFXK, DFFG, Roewe, MG, Zotye, Hafei, ChanganSuzuki
More detailed car models, please check on:
https://www.autel.com/vehicle-coverage/coverage2
If you are not sure about the compatibility between this obd2 scanner and your car, please feel free to contact us.
THE OPERATING PROCEDURES:
1. Download and install the app-MaxiAP200 in Google Play or App Store to your device;
2. Register and log in the MaxiAP200 APP;
3. Get one free car software through Mall after binding VCI for the first time;
4. Plug the MaxiAP200 tool into the vehicle's Data Link Connector (DLC);
5. Turn on the vehicle ignition while turn the engine off;
6. Tap Me/Setting button of your device to pair the MaxiAP AP200 with your device;
7. Start to diagnose your car.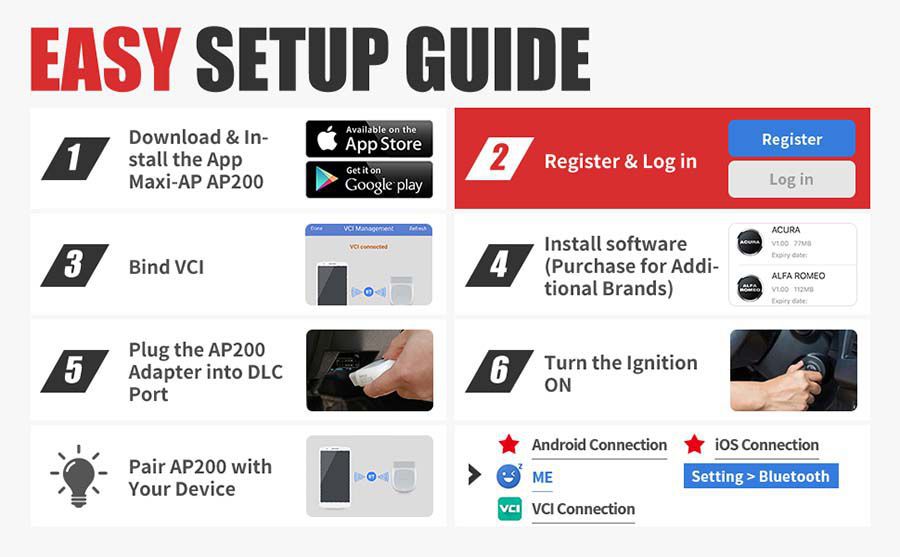 Points for Attention:
1. This code reader is only suitable for exclusive MaxiAP200 App. Whatever you own an Android or iOS device,
free download and update(in App Store/Google Play) are available for lifetime.
2. Android users please pair Bluetooth in App rather than in the setting of mobile devices . (IOS users, go to Settings > Bluetooth. )
3. MaxiAP200 is warranted for 12 months against defects in materials and workmanship.

Warranty: 12-month warranty for any quality problems

Specifications:
Package List:
1 * Main Unit
Difference among Autel AP200 and other itemsAutel AP200 vs Autel MK808 vs Autel MK808TS vs Autel MK808BT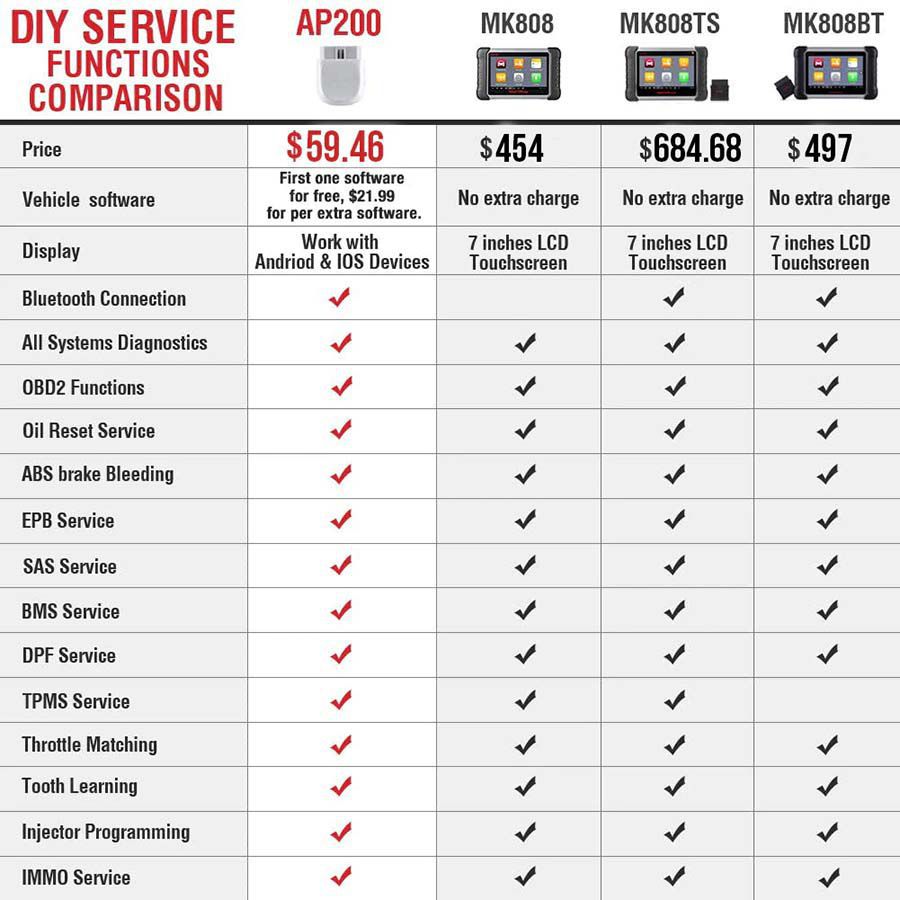 Autel AP200 vs PU-600: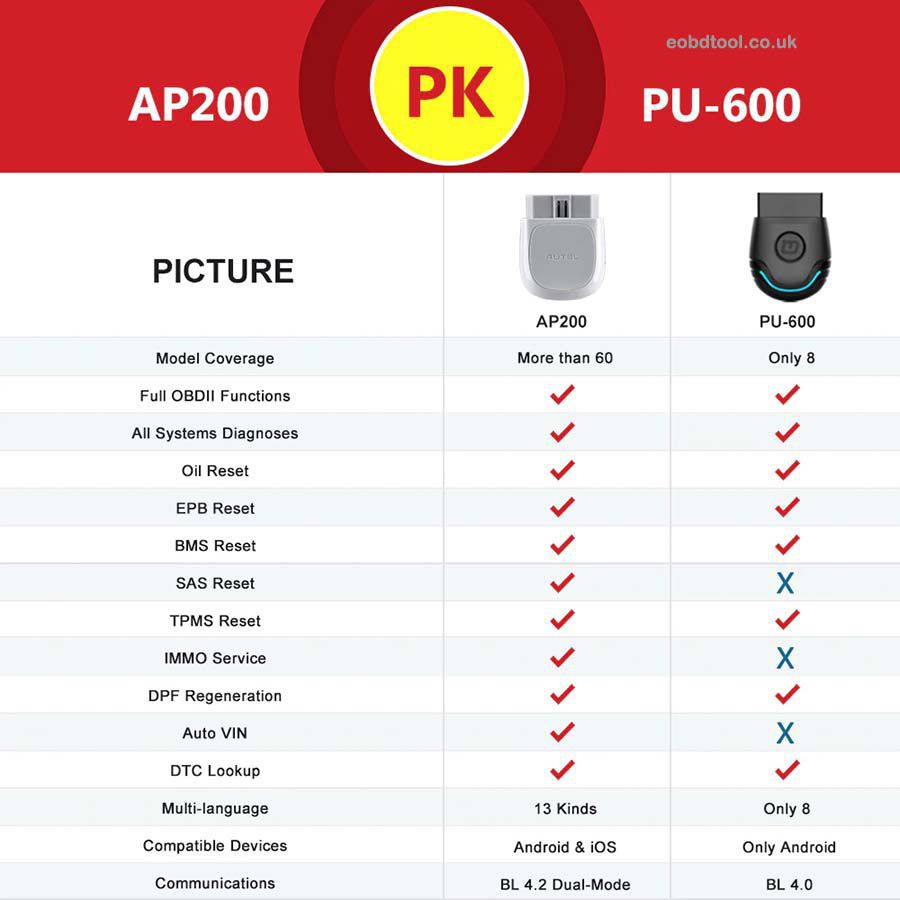 Autel AP200 vs. Launch Easydiag 3.0 Plus:
Product
EasyDiag 3.0 Plus
Autel AP200
Image
Language
Chinese Simplified, English, Chinese Traditional, Japanese, Korean, French, Spanish, Portuguese, Italian, Russian, German, Polish, Romanian, Dutch, Arabic, Czech, Danish, Greek, Persian , Finnish, Hungarian, Swedish, Turkish, Serbian, Croatian
English, traditional Chinese, French, German, Spanish, Portuguese, Dutch, Polish, Swedish, Korean, Japanese, Russian, Italian
Software
2 Car brands free
$50 for 1 car brand
$99.95 for 3 car brands
$149.9 for 5 car brands
1 Car brand free
$15.99 (Android) / 21.99 (iOS) for 12-month for one more model
Operating System
Android/iOS
Android/iOS
Bluetooth
4.0
4.0
System Coverage
Four system
Full system
Vehicle Coverage
Over 50
Over 60
Complete OBD2
X
√
Resetting Service
$50 for one
7
IMMO
X
√
Software Update
One year free, $29.95 for each software
One year using permission
Warranty
Limited 1 year
Limited 1 year
Autel AP200 Reviews:Review 1:
If you are amatour like me and dont need all car models... you get the AP200. This is not a generic reader (thou supports that zero-state), on welcoming you need to download the android app, it will ask you for device serial number, it will allow for free to use it on only one car make, this is how it ONLY costs less than 100 quid.
I must admit im happy i bought this, i could read EVERYTHING in my
BMW
x3, just regreting i dared to waste money on the other obdii generic garbage.
Go and treat urself, if ur not a car mechanic needing all makes - this is perfect fit, once you get it you can anytime have insight if ur car is asking for something (in my case i got all history of all errors, massive list of 17+ faults, with all details and what to fix, previous "obdii scanners" shown ZERO faults always).
Review 2:
The Autel AP200 gives very comprehensive results but takes a long time to do it. Easy to connect/setup but minimal to no instructions for using it. I am still unsure
if it provides a basic set of results for any vehicle or full results only for vehicles for which it has been licensed.
Review 3:
I was very skeptical if a $50 device could actually do what a $500 to $800 code scanner could do. I purchased it to program keys to a new ECU on a 2002 Honda Civic. It was a bit confusing to set up at first, but once I paid the $15 fee for a Honda, it worked perfectly. Sure beats paying $140 to have a dealer spend 10 minutes to program keys. It does so much for $50. Only downside is the $15 per year per vehicle make. But if you only own Hondas, that works well. Bummer I own a
BMW
, Toyota, Isuzu, Mazda, Subaru and a Honda. That's $90 a year for all of them.
FAQ:
Q: Can I connect with my iPhone X for vehicle data transmission?
A: Yes, Autel AP200 Bluetooth scanner will connect with your iPhone X for vehicle data transmission
Q: Is the manufacturer add-ons bidirectional? Or just advanced obd2?
A: Autel AP200 obd2 scanner is not a bidirectional scanner, it's an advanced obd2 scanner with 19 special service functions
Q: Will this read and show 2004 xc90 codes for dem, dim, etc.... or is it just for obd info
A: Yes, Autel AP200 code reader will read and show 2004 xc90 codes for dem, dim, etc.
Q: Will this device allow you to enter the dpf regeneration mode on a sprinter van?
A: Yes, Autel AP200 Bluetooth car scanner will allow you to enter the dpf regeneration mode on a sprinter van.
Q: If i buy an additional car upgrade for my ap200, does it work with both my android and iphone, or do i have to buy it twice (once for each platform)?
A: No need to buy it twice, it will work with both your android and iPhone phones
Q: When buying additional vehicle diagnostic, Does vehicle specific software mean make e.g toyota or toyota highlander?
A: vehicle specific software means vehicle make, i.e., Toyota, including Toyota highlander and other models of Toyota
Q: for how long the purchase of additional licenses is good, I see has and expiration date?
A: the first car make you register is life time free. And we kindly suggest purchasing only 1 year for additional car makes duo to you can re-purchase after it has expired.